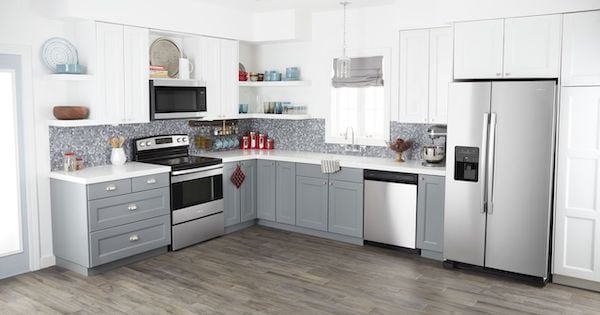 When searching for a new refrigerator, you'll probably want to consider all of your style options: top freezer, bottom freezer, French door, side by side, etc. In this blog, we take a close look at what makes a side by side refrigerator a great choice for your kitchen, as well as how much they cost and their typical dimensions.
Table of Contents
What is a Side by Side Refrigerator?
Side by side refrigerators are very stylish looking with the freezer on the left and the refrigeration section on the right. They provide better access and visibility to the fresh food and better organization in the freezer section. They are also available with ice and water dispensers on the outside of the freezer door. The main drawback of this style is that the freezers are usually very narrow, making it difficult to accommodate very large items. (Note: you can find more info on choosing a new refrigerator in our refrigerator buying guide!)
This style was very popular in the 1980s and early 1990s and have decreased in popularity in recent years, with many consumers opting for French door models. However, there are still people who choose side by side models and there are a wide variety of options offered by mainstream appliance brands.
Advantages & Disadvantages
One thing to consider is the space you have between the refrigerator and the nearest obstruction. If there is an island in your kitchen across from the refrigerator cabinet, the distance between the island and the refrigerator might mean that larger doors may not open fully, hitting the island and making it difficult to maneuver around it and access your food. In this case, a side by side or a French door may be a better choice because the doors are much smaller compared top freezer and bottom freezer refrigerators and will not restrict your movement and accessibility.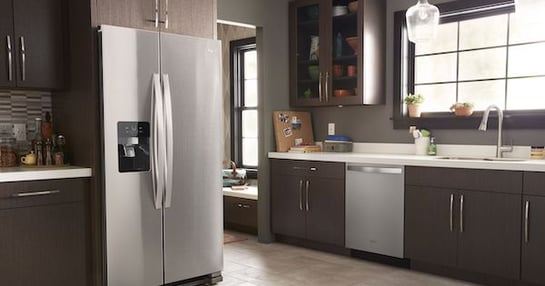 Other benefits of side by side refrigerators:
They tend to offer more freezer space in terms of cubic feet than other types of refrigerators and more storage volume than comparable French door models

They offer plenty of adjustable shelving to organize everything in plain sight - if you hate digging for lost items in the freezer, this type of refrigerator may be for you!

If you are upgrading from a top freezer refrigerator, you may appreciate the in-door ice and water dispensers

Inexpensive - side by sides have been around for decades, so the technology is solid and efficient - meaning you get some serious cost savings!
Some of the downsides include:
Wider items like holiday platters may not fit on the relatively narrow shelves

Most are 36" wide, although there are some 33" wide models - if you only have a 30" space, this style won't work for you

Less refrigerator space in exchange for more freezer space
Typical Dimensions
Width: 33"-36"

Depth: 29"-35"

Height: ~67"-70"
There are plenty of counter depth models available if you'd like a more premium look for your kitchen. They tend to cost about $200-300 more than full depth models.
Pricing
Side by side refrigerator pricing starts at around $1,000 and ranges up to $3,000 for higher-end models, but many are in the $1,000-$1,500 range. Many brands make them, including value brand Amana as well as well-known brands like Frigidaire, GE, and Whirlpool. For about $1,300 you can get a large, well-featured model.
Should You Buy a Side by Side Refrigerator?
A side by side refrigerator may be right for you if:
You are upgrading from a top freezer model and want something that is not too expensive while still having a sleeker look and feel

You need a model with a narrow door swing to accommodate a kitchen island or other obstruction

You have the space for a 33-36" wide refrigerator

You use your freezer often and want plenty of space and organization options
That sums up our overview of the features, pros, and cons of side by side refrigerators. We reviewed the best side by side refrigerators of the year as well as the largest side by side refrigerators currently on the market - click the links to explore our reviews! We hope this helped you decide whether a side by side refrigerator is right for you. Are you a fan of side by sides? Leave us a comment below - We'd love to hear from you!
For more information about side by side refrigerators and the entire refrigerator buying process, feel free to download our FREE Refrigerator Buyer's Guide. It is packed with information to help educate you so that you can make a great purchase.
Editor's Note: This blog was originally written in August of 2016 and has been completely revamped and updated for accuracy as of the publication date noted above.