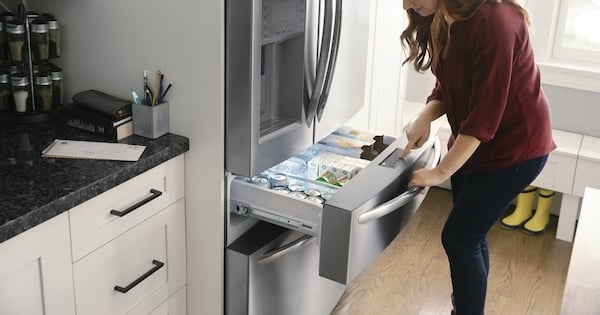 If you are looking for a cutting edge design in a new refrigerator that could save you time, effort, electricity and aggravation, a four door refrigerator may be just what you are looking for.
Four door refrigerators are like French door refrigerators with the addition of a second drawer, which is usually for fresh food storage above the freezer drawer. This space can be very useful to you if you want to have a separate space for compartmentalizing certain foods at a different temperature or storing drinks or other snacks for the kids, so that they can simply open the drawer and grab what they need without the need to open the large French doors. It can also be a convenient place to store those awkward items like pizza boxes or takeout containers. Another variation on the four door design is where the refrigerator and freezer section are both split down the middle (Samsung calls this technology FlexZone), but typically a French 4-door model is going to have the drawer design.
LG and Samsung are innovators in this area as well as door in door refrigerators, but in recent years other brands have tested the waters, including Maytag, Whirlpool, Frigidaire, and Bosch. Frigidaire in particular has offered an in-demand feature in these models: their drawer can be converted fully to a freezer, which no one else offers as of this writing!
The 4-door feature tends to be present in premium models priced at $3,000 and up. LG and Samsung still offer the most models in this category. We'll explore a four door option from LG and Samsung as well as a popular Frigidaire Gallery model below! And if you're looking for more info on choosing a new refrigerator, check out our refrigerator buying guide.
1. The LG LMXS30776S - 30 cu ft - $3,999
This 30 cubic foot Energy Star rated refrigerator features LG's CustomChill Drawer between the refrigerator and freezer sections. It has four temperature settings from 29 to 42 degrees depending on what you need to store, and has adjustable dividers to keep it all organized. Smart Cooling Plus uses a linear compressor and dual evaporators to quickly respond to changes in humidity and temperature levels. This model also features LG's door in door technology with bonus door bins for extra organization and storage!
If you have a bedroom near the kitchen or find that the constant drone of your current refrigerator drives you crazy, this model might be for you: it has LG's LoDecibel Quiet Operation technology. The warranty is solid, too: 1 year parts and labor on the entire product, 5 years parts and labor on the sealed system and compressor, and 6-10 years parts only on the linear compressor.
Click here to read over 220 real customer reviews of this product!
Dimensions:
Width: 35.75"

Height: 68.88"

Depth: 35.25"
2. The Samsung RF28HMEDBSR - 28 cu ft - $3,199
Next up is a four door refrigerator from Samsung with 28 cubic feet of capacity. This model has industrial-styled bar handles for a premium look and is available in stainless steel, black, white, and fingerprint resistant black stainless steel. Samsung calls their drawer the FlexZone Drawer with four temperature settings from 29 to 42 degrees and an adjustable divider, similar to the LG model. Twin Cooling Plus with dual evaporators keeps humidity higher in the refrigerator to keep produce fresher longer and lower in the freezer to prevent freezer burn.
The Ice Master icemaker can make over 5 pounds of ice a day and stores up to 2.7 pounds with a space-saving design. Adjustable shelving surrounded by a stainless steel trim and lit by bright high-efficiency LEDs makes it easy to store your groceries. It prices at around $3,199 and the warranty covers 1 year parts and labor on the entire product, 5 years parts and labor on the sealed system and digital inverter compressor, and 10 years parts only on the digital inverter compressor.
Dimensions:
Width: 35.75"

Height: 70"

Depth: 36"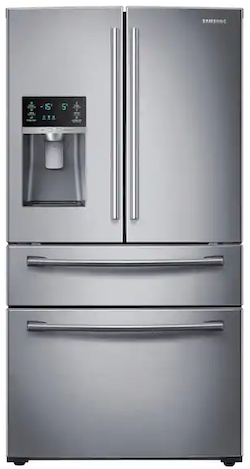 3. The Frigidaire Gallery FG4H2272UF - 21.8 cu ft - $3,199
This 36" wide counter-depth four door refrigerator is 21.8 cubic feet and has the Gallery line's industrial-inspired design and a smudgeproof stainless steel finish. The Custom-Flex Temp drawer comes with five temperature settings: Freezer (-6 °F), Meat/Seafood (28 °F), Cold Drinks (32 °F), Deli/Snacks (37 °F) and White Wine (45 °F). The drawer has a control lock, an adjustable divider, LED lighting, and it self-closes, too. You can use it for additional freezer storage space or for keeping snacks and drinks at the perfect temperatures!
A few of the other thoughtful features in this Frigidaire Gallery model include the cold drink timer option on the control panel above the water and ice dispenser. Cool drinks quickly in the freezer and set an alarm to go off when your drinks are ready! The extra-tall 10" dispenser pocket makes it easier to fill tall pitchers and water bottles, too. This model prices at around $3,199 and comes with a one year warranty.
Have 35 Seconds to Spare? Watch Our Quick Overview of the FG4H2272UF!
Dimensions:
Width: 36"

Height: 70"

Depth: 29.62"
Frigidaire Gallery FG4H2272UF - $3,199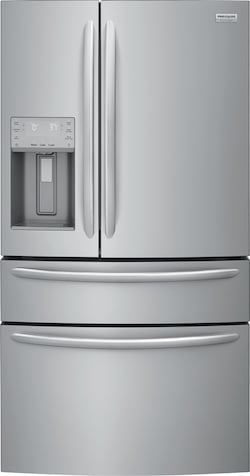 4. The Bosch B36CL80ENS - 20.5 cu ft - $3,399
Taking the four door trend in a slightly different direction, Bosch offers a refrigerator with the VitaFresh Pro drawer that allows you to set both the temperature and humidity level. You can adjust the temperature from 28 °F to 40 °F. There is also a Chiller Drawer in the refrigerator compartment for extra-cold storage of meats and other items.
Bosch's new 2019 refrigerator models offer dual evaporators and dual compressors, bringing high end refrigerator features to a lower price! Plus the pocket handles allow this model to blend in seamlessly with the rest of your kitchen.
Dimensions:
Width: 35.625"

Height: 69.875"

Depth: 27.8"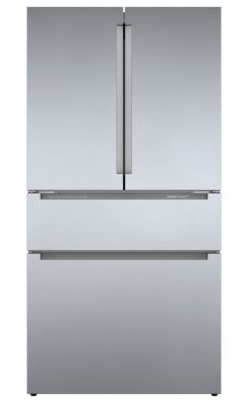 LG is an innovator in this area, but Frigidaire has really knocked it out of the park with their 4-door French door, which offers the widest temperature range on the market. Frigidaire goes down to -6 °F, while LG goes to 29 °F and Samsung goes as low as 30 °F. Frigidaire is in the lead with this one: giving consumers what they've been asking for while being price-competitive as well!
It will be interesting to see if other brands start to offer more options in this category. If you want a premium refrigerator that offers more storage flexibility, a four door refrigerator is definitely worth considering.
Are you thinking about getting a four door refrigerator? What are you going to use it for? Leave us a comment below - We'd love to hear from you!
Editor's Note: This blog was originally written in December of 2016 and has been completely revamped and updated for accuracy as of the publication date noted above.