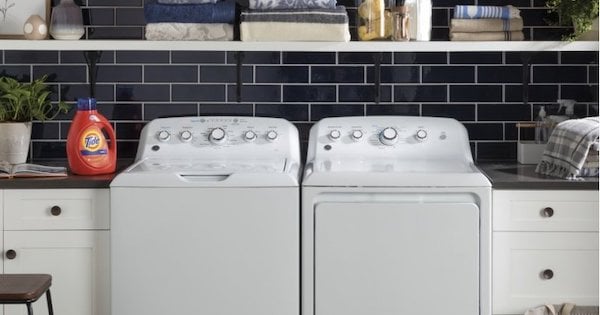 If you're researching a new washer and want good quality and features without breaking the bank, here are a couple of options for you.
GE and Whirlpool offer many different models with many different feature packages that will allow you to find the model that will fit your needs and get the job done. These two top-selling brands have been around for decades and are tried and true in the industry. Both brands have evolved and now offer a full range of washing machines with the latest technologies that consumers are looking for. GE and Whirlpool get high marks for reliability and performance in their new laundry products.
Here is a comparison of two of their best affordable washing machine models, both of which are top loaders.
The GE GTW465ASNWW Agitator Washer - 4.5 cu ft - $729
The popular model GE GTW460ASJWW formerly featured in this post is being replaced by the GE GTW465ASNWW in 2019. Priced at $729, it offers a traditional agitator design with a full stainless steel wash tub. This washer's large 4.5 cubic foot tub allows you to run large loads of laundry so you can do fewer batches, resulting in more free time for you. The dual-action agitator provides a customized wash for different fabrics.
It has 14 wash cycles, providing a cycle option for every fabric, from the most delicate items to jeans and towels. The spiral agitator is capable of continually rotating the clothes under the soapy water for handling tough ground-in stains. It also has a fabric softener dispenser located at the top of the agitator that will dispense during the final rinse cycle. With Auto Load Sensing technology, better known as "Precise Fill," this washer will add the correct amount of water for each batch and also let you override to a manual water level setting for a deep water washing if desired. The final spin speed of 700 RPM will extract a lot of water from the laundry which shortens the drying cycle.
If you want auto load sensing as well as the option to add more water when you need it, this model is a great option!
Features:
14 Cycles: Active Wear, Bulky Items, Casuals, Colors/Normal (Deep Clean, Normal, Light), Delicates, Jeans, Rinse/Drain & Spin, Speed Wash, Towels & Sheets, Whites (Heavy, Normal, Light)

Rinse & Spin Options: 2nd Rinse, 2nd Rinse + Extra Spin, Deep Rinse + 2nd Rinse, Extra Spin

Water Level: Low, Medium, High, Max, Precise Fill

Additional Options: Deep Fill, Auto Soak (Up to 2 Hours), Water Level (Low, Medium, High, Max, Precise Fill), Temperature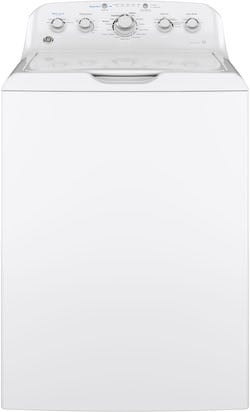 The Whirlpool WTW5000DW Impeller Washer - 4.3 cu ft - $749
Here is another very attractive competing washer from Whirlpool: the Whirlpool WTW5000DW, priced at $749, is a high efficiency non-agitator impeller model with a 4.3 cubic foot stainless steel wash basket. The three-paddled disc (impeller) is responsible for rotating the laundry as a re-circulation pump sends soapy water from the upper spout above the tub and also from the small holes in the impeller which tend to float the items while rotating clockwise and counter clockwise. This gives the laundry precise cleaning action with minimum water usage. It will also automatically determine the appropriate amount of water fill per load.
This washer has 12 cycles with four different soil levels, a pre-soak option and five wash temperature settings to accommodate most types of laundry loads. The advanced control panel is simple in design but with the latest technology under its skin for easy and accurate selection of cycles and options. An advanced vibration control suspension system is fantastic for first and second floor applications and keeps oversized loads balanced throughout the wash and spin cycles. Even with its 800 RPM final spin speed, this washer is 20% quieter than most of its competitors.
If you're looking for an HE washer and don't mind letting the washer choose the water level, this could be a great option for your needs! One downside if you use fabric softener: the GE model has an automatic fabric softener dispensing system, while with this Whirlpool model you'll need to pause the cycle at the right time to add fabric softener.
Features:
12 Cycles: Normal, Cold Wash, Casual, Delicate, Quick Wash, Soak, Clean Washer with Affresh, Rinse & Spin, Drain & Spin, Bulky Items/Sheets, Heavy Duty, Deep Water Wash

Rinse Options: 1 Rinse, 2 Rinse, 1 Rinse with Softener, 2 Rinses with Softener

Additional Options: Presoak On/Off, Wash Temperature, Soil Level
Click here to read over 16,000 real customer reviews of this product!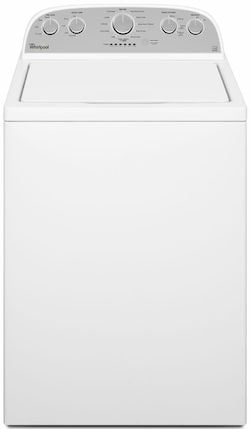 Features Comparison:
Cycles & Options: GE offers more wash cycles overall and a more customizable water level option. If you like to use a deep water wash occasionally but usually find that automatic water levels work fine for your needs, the Whirlpool model may be a better choice, and will use slightly less water overall. Both models also come with presoak and extra rinse options to boost cleaning power! However, GE has an automatic dispenser for fabric softener while the Whirlpool model does not.

Look & Feel: Both models have similar dial control designs and cycle indicator lights, although the GE model offers a slightly sleeker design. Both have stainless steel wash baskets as well.

Other Factors: GE offers a slightly bigger wash basket at 4.5 cubic feet compared to the Whirlpool model's 4.3 cubic feet. The Whirlpool model has a ton of positive reviews but this new GE model is based on a tried-and-true agitator washer that consumers loved. They have one year parts and labor warranties, which are pretty standard today, and are priced similarly as well. The Whirlpool model's higher spin speed will help wring more water out of clothes so they spend less time in the dryer.
So, which model is the best affordable washer for your needs? If you deal with a lot of heavy-duty fabrics and tough stains and soils, you may prefer the GE washer since it offers more options for water levels and rinses. Both models come with the core cycles most households need to handle everything from underwear to sheets and towels. The Whirlpool model will use less water overall even when using the deep fill option since impeller washers use different wash actions than agitator washers, and it uses 179 kWh per year vs the GE's 210 kWh per year. If you use fabric softener often, however, you may prefer the GE model. Check them out in person and see what you think!
There are a lot of new players in the appliance business offering great products for your home. When you are shopping for a new washer, don't forget these two brands. They are still two of the most trusted names in the US appliance industry.
We hope you enjoyed this comparison of two of the best affordable washing machines available. Please leave us a comment below. We'd love to hear from you!
Editor's Note: This blog was originally published in May of 2016 and has been completely revamped and updated for accuracy as of the publication date noted above.