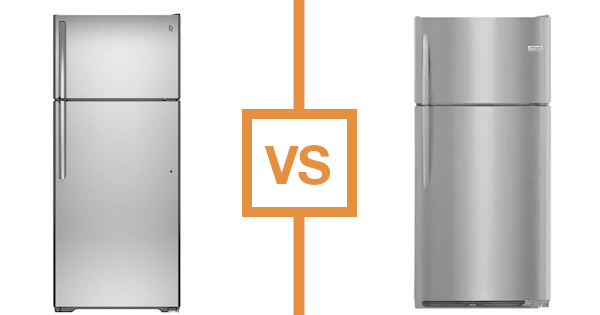 Frigidaire and GE both offer a wide variety of top freezer refrigerators in sizes from 12 cubic feet to 21 cubic feet. From basic models to modern full-featured top freezer refrigerators, they cover all of the bases and offer products to meet the many different customer needs in the top freezer market. These brands both offer top freezers with the feature packages and styling that customers want for their homes.
This style of refrigerator is still in demand for smaller homes, condos, and apartments. Top freezer models tend to have small footprints and lots of interior space for food storage while being the cheapest out of any refrigerator style. You can save 50% or more on a top freezer refrigerator compared to a trendy French door model.
We'll compare two of the best top freezer refrigerators from Frigidaire and GE to help you decide which brand offers the best value and features that you need.

1. The Frigidaire Gallery FGTR1837TF - 18 cu ft - $879
The Frigidaire Gallery FGTR1837TF is an 18 cubic foot top freezer refrigerator selling for $879 in stainless steel that is loaded with features to help you to organize your food and keep it fresh. It also comes in black or white for $779 or premium black stainless steel for $979. If you are considering black stainless steel, check out our article, Black Stainless Steel Appliances - Pros & Cons to learn more about this new finish!
Bright LED lighting illuminates the fresh food and freezer sections without putting off heat. The freezer section features a full width wire shelf and two full width clear door bins. You can install an icemaker as well if desired. The fresh food section features two full-width SpillSafe sliding shelves, two clear humidity-controlled crisper bins, and a full-width clear pantry drawer. The door includes three full-width shelves and a dairy compartment.
If you're looking for some basic interior upgrades like tempered glass shelves and smudgeproof stainless steel, this model is a great option that will conserve space in your kitchen. It's also ADA compliant, although it is not Energy Star rated.
Dimensions:
Width: 30"

Depth: 30.125"

Height: 65.375"
Click here to read over 10 real customer reviews of this product!

2. The GE GTE18GSHSS - 17.5 cu ft - $909
Next on our list of top freezer refrigerator reviews is the GE GTE18GSHSS. This model is slightly smaller at 17.5 cubic feet, but has a different footprint: it's 2 inches narrower in width and 2 inches deeper than the Frigidaire model, perfect for those with limited wall space. This model comes in a wide variety of colors: stainless steel or GE slate at $909 (read more about GE slate appliances here), and black, white, or bisque at $759.
This model has easy to reach up-front controls to regulate both the fresh food and freezer compartments. It has two adjustable full-width glass shelves that are "spill proof" and will hold up to 12 ounces of spilled liquid. The convenient half-width snack drawer under one of the fresh food shelves allows for easy-to-reach storage of your favorite foods for quick access. It also has adjustable humidity-controlled drawers to help you keep your produce fresh longer., plus three full-width door shelves with gallon storage capability and a dairy compartment. It is equipped for the installation of an optional ice maker as well.
This model is Energy Star rated and comes with a covered Never Clean Condenser. It has a contemporary exterior design and comes in a wide range of colors, including the rare bisque color!
Dimensions:
Width: 28"

Depth: 32.875"

Height: 67.375"
Click here to read over 25 real customer reviews of this product!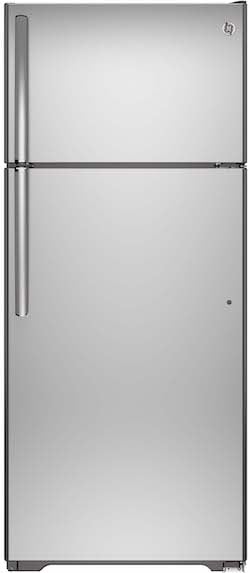 Features Comparison
Capacity & Storage: Both have similar footprints, but Frigidaire has an extra 0.5 cubic foot of capacity. The GE model offers a half-width "snack drawer" while the Frigidaire model comes with a full-width "pantry drawer." The GE model also includes a can storage door shelf. Other than that, both have similar storage configurations with spill-proof tempered glass shelves and humidity-controlled crisper bins.

Look & Feel: The GE model has a slightly more contemporary design with sharper corners and stainless steel accents on the handles. If you're looking for a rare color like bisque or an alternative to stainless steel like slate, you may prefer the GE option.

Other Features: The GE model is Energy Star rated and uses 358 kWh per year compared to the Frigidaire model's 404 kWh. Both are compatible with optional ice makers. The Frigidaire model is ADA compliant, while the GE model is not.
If you are in the market for a nice top freezer refrigerator, be sure to look at these two models and others that are offered by Frigidaire and GE. You may prefer the GE model if you're looking for a sleek, more aesthetically appealing top freezer model, or the Frigidaire model if you want a full-width pantry drawer and transparent freezer door shelving. Ultimately, it's up to you to decide which is the best model for your needs!
We hope you enjoyed this blog featuring top freezer refrigerator reviews for these two great brands. For more reviews, read our article The 6 Best Top Freezer Models of the Year. Please leave us a comment below. We'd love to hear from you!
Editor's Note: This blog was originally written in January of 2017 and has been completely revamped and updated for accuracy as of the publication date noted above.