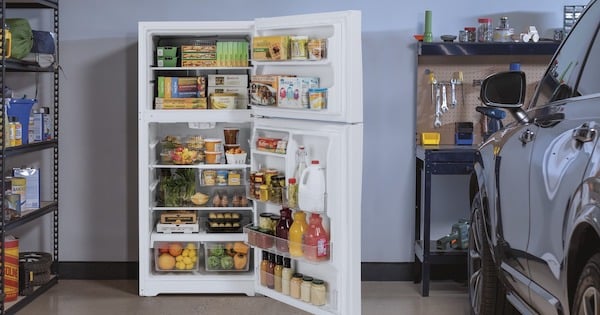 Although you can "trick" a normal refrigerator into working in a garage setting, when it comes to perishable foods, you're better off getting a garage refrigerator specifically made for the task. A typical refrigerator is designed to handle ambient temperatures from around 50 to 85 ºF (although the range varies from model to model), while garage refrigerators can handle broader ranges. In this article, we'll review a few different garage refrigerator models!
It can be frustrating to research garage ready refrigerators and have lots of results pop up that have conflicting information. Although you can technically install any refrigerator in a garage and roll the dice, I've decided to focus solely on models that are explicitly garage ready. This reduces the risk of voiding the manufacturer's warranty due to improper installation, and of drastically shortening the appliance's lifespan. We've separated out refrigerators that can only handle ambient temperatures above freezing and those that can handle colder temperatures under 32 ºF.
What Does Garage Ready Actually Mean?
It's all about the ambient temperature tolerance. There are two basic types of garage ready refrigerators:
Top freezer refrigerators that can handle temps as low as 34-45 ºF

Convertible refrigerator/freezers that can be switched to "freezer mode" when it gets really cold - they can handle temps as low as 0-10 ºF
A garage refrigerator or freezer will also usually have additional design elements to deal with higher moisture in the environment compared to your relatively dry kitchen.
Lots of people install a refrigerator in their garage regardless of these temperature tolerances. If you live somewhere where the temperature never drops below 50 degrees, it might work - but keep in mind you'll likely void the manufacturer's warranty.
If you live in the southern US, one of these top freezer models could work for you. If you live in the northern US where winter temperatures drop below freezing, you should look into all-refrigerator or convertible units. These models can often handle lower temperatures, although a freezerless refrigerator will typically let your food freeze if it gets to that point.
If you live in a climate where temperatures reach 0 ºF or lower, you'll likely need a more advanced solution, like insulating your garage or a portion of it for the refrigerator. This is definitely is outside of our area of expertise!
Regardless of your climate, pay attention to the operating temperature range listed in the installation instructions or owner's manual and double-check that your garage doesn't surpass that zone.
Table of Contents
Why Buy a Garage Ready Model?
In case you're not sure if you really need a garage ready refrigerator, here's what happens when a normal refrigerator is faced with temperature extremes:
Too hot: Your fridge has to work overtime to try to keep things cool, and after running up your electricity bill it's likely going to break down! - Garage ready refrigerators typically come with better insulation to handle wide temperature swings, and use different thermostat and compressor designs as well.

Too cold: You may find that the freezer thaws out and/or that the fresh food section freezes up - because a single thermostat in the fresh food section is telling your fridge not to bother turning on, even though that means the freezer section will get too warm. Mechanical issues can also result if the compressor isn't designed to handle low ambient temperatures.
Not to mention... voiding the manufacturer's warranty.
A "garage refrigerator kit" is designed to help refrigerators handle very cold temperatures. These kits basically stick a heating coil near the thermostat in the fresh food section to trick the compressor into running continuously. The coil's heat helps keep the fresh food section from freezing over while also keeping the compressor running so the freezer section stays frozen. This isn't ideal for energy usage but it's a "good enough" fix in many cases. This article has some great research and resources!
The Best Garage Ready Refrigerators for Mild Climates
Don't expect a top freezer refrigerator to handle below-freezing temperatures, even if you install a heater kit! Frigidaire used to offer more top freezer options that were garage ready but no longer does so as of this writing because proper installation was difficult and people would often expect the refrigerator to perform in below-freezing temperatures.
Other options I could find as of this writing include...
Select top freezer refrigerators from Insignia (a Best Buy brand) - temperature tolerance 41-109 ºF (so a lower tolerance than the GE model below)

Certain outdoor refrigerators, which are typically mini fridges under 6 cubic feet - again, check the temperature tolerances
1. GE GTS19KGNRWW Top Freezer Refrigerator - 19.1 cu ft - $809 MSRP
GE has some new options for top freezer refrigerators in 2020. Their garage ready models have two independent thermostats to regulate the refrigerator and freezer sections to address the issues we described above with regular refrigerators. The GE GTS19KGNRWW can tolerate temperatures from 38-110 ºF!
This model is available in black, white, stainless steel, and even GE slate, so you have plenty of color options. Plus, the white and black finishes are smooth and glossy rather than the pebbled "elephant skin" texture found on most white and black refrigerators. The fresh food door storage includes adjustable clear bins. In the main compartment you'll find a half-width deli drawer, clear crisper drawers, and glass shelves. An optional icemaker is available.
The wide temperature tolerance of this garage refrigerator makes this a good fit for hot summers as well as mild winters. GE also makes a 22 cubic foot version, model GTS22KGNRWW.
Features:
Temperature Tolerance: 38-110 ºF

Glass shelves and modular door storage

Separate thermostat controls for fresh food and freezer sections

Reversible doors
Dimensions:
Height: 66.75"

Width: 31"

Depth: 30"
Click here to read over 225 real customer reviews of this product!
GE GTS19KGNRWW - $809 MSRP - CLICK HERE FOR CURRENT PRICING!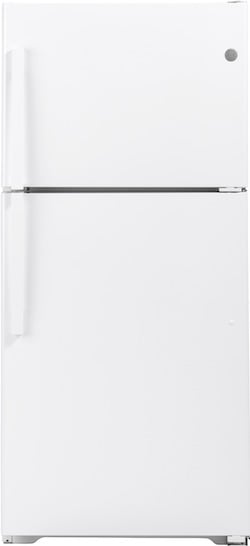 2. Danby DAR044A6BSLDBO Outdoor Compact Refrigerator - 4.4 cu ft - $499 MSRP
I think most people who want a garage refrigerator are looking for something full size, but if you can tolerate something miniature, there are more options if you search for outdoor refrigerators than garage refrigerators. The Danby DAR044A6BSLDBO is 4.4 cubic feet and can be rolled around on casters. It's also Energy Star rated. The temperature tolerance of 45-109 degrees makes it better suited to warmer climates.
This frost free defrost model is rated to IPX4 water ingress protection and has waterproof electrical housing and UV protected plastics. Danby covers it with a 12 month warranty on parts and labor. If you mainly want to store extra beverages, then a refrigerator like this could be worth your while. You could also buy a separate freezer (there are a lot more garage ready freezer options than refrigerators) for longer-term storage.
Features:
Temperature Tolerance: 45-109 ºF

Glass shelves and fixed door storage with CanStor beverage dispensing system

Mechanical thermostat

Automatic defrost

Interior LED light

Reversible door
Dimensions:
Height: 33.06"

Width: 20.75"

Depth: 21.31"
Danby DAR044A6BSLDBO - $499 MSRP - CLICK HERE FOR CURRENT PRICING!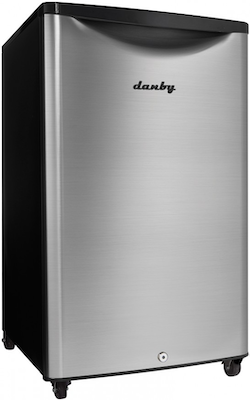 The Best Garage Ready Refrigerators for Freezing Winters
When temperatures reach freezing or below, your options for top freezer refrigerators diminish. You should probably consider a garage ready freezer or "2-in-1" convertible freezer/refrigerator instead, because most top freezer refrigerators aren't rated to function below 30 degrees. Options in this category are particularly limited as of this writing due to the pandemic. The Summit R17FF all refrigerator is one option with an owner's manual that states it can tolerate temperatures 10-110 ºF, but Summit does not recommend installing these units in a garage.
Danby DUF140E1WDD - Convertible Freezer/Refrigerator - 14 cu ft - $799 MSRP
Here is one convertible refrigerator/freezer option that is explicitly listed as garage ready: the Danby DUF140E1WDD. This frost free upright convertible freezer/refrigerator has a door-mounted digital thermostat that's easy to access and adjust. You can switch from freezer to refrigerator mode with the press of a button. There is a quick freeze function you can use after filling up the freezer with fresh items, and a door ajar alarm and high temperature alarm.
This refrigerator/freezer is a great size for families and the narrow 28" width makes it easy to install in tighter spaces. It's also Energy Star rated, which is a great feature to look for in an appliance that runs 24/7! Danby covers this model with a stellar 5 year parts and labor warranty with in-home service.
Features:
Temperature Tolerance: 10-110 ºF

Adjustable wire shelves and fixed door storage

Interior light

Frost free operation
Dimensions:
Height: 61.8"

Width: 28"

Depth: 32.7"
Danby DUF140E1WDD - $799 MSRP - CLICK HERE FOR CURRENT PRICING!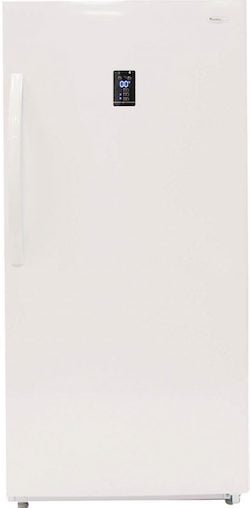 Other Options
The list of brands that currently make officially garage ready refrigerators and convertible fridges/freezers is pretty short:
GE Appliances

Danby

A scattering of others, including Insignia (Best Buy), Midea, and Kenmore
Danby and GE are also your best options for garage ready freezers!
One brand of garage ready refrigerators that we don't currently offer is Gladiator, owned by Whirlpool. They offer an all refrigerator and an upright freezer. These models are designed to withstand ambient temperatures between 0-110 °F and remain operational. Although when ambient temperatures reach 32 degrees and below, the contents of the refrigerator will freeze. The MSRP is around $1,199 each.
Other options available as of this writing include:
Midea WHS-625FWESS1 - 17 cu ft - $849 MSRP - Convertible Fridge/Freezer - 0-110 °F - Garage Ready (There may be other models available from Midea that meet these specs as well)

Kenmore 22142 - 13.5 cu ft - $829 MSRP - Convertible Fridge/Freezer - 0-110 °F - Garage Ready (There may be other models available from Kenmore that meet these specs as well)
Again, availability is limited due to the pandemic.
Major appliance brands that DO NOT make garage ready refrigerators, as of this writing:
Whirlpool

Maytag (owned by Whirlpool)

Amana (owned by Whirlpool)

Frigidaire

LG

Samsung
We hope this article helped you explore some refrigerator options for your garage. Due to the pandemic, some of these models may be unavailable or in short supply. Leave us a comment below - We'd love to hear from you!
Editor's Note: This blog was originally written in June of 2020 and has been completely revamped and updated for accuracy as of the publication date noted above.
This article mistakenly recommended the Summit FF1511SS as a top freezer that could tolerate temperatures as low as 23 degrees and could be installed in a garage. This was an error that has since been corrected.