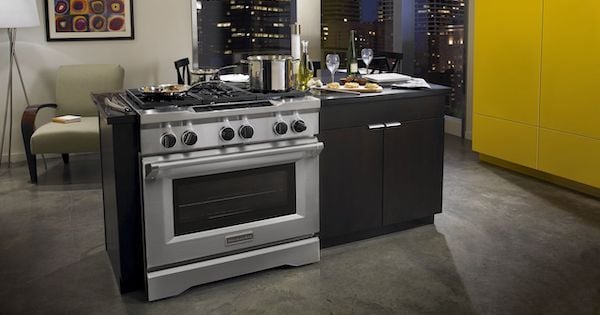 If you've been out looking at professional or pro ranges for your kitchen and are astounded by the prices, we have some good news for you. Many consumers want that professional gas range look but when they start looking at the prices of pro ranges from companies like Wolf, Viking, and even Thermador, they quickly change their minds. Even the KitchenAid model pictured above is pretty pricey for some at over $7,000!
If you want one of these true professional ranges from an ultra premium manufacturer, you're going to have to pay the premium price! However, if you are willing to look at some unique lesser-known professional range options, you might be surprised. (If you're looking for more information on choosing a new gas or electric range, check out our range buying guide!)
Professional ranges are defined mostly by their appearance and the category can be a bit vague. Generally, they are ranges with high BTU burners and a commercial kitchen look. They are usually all-gas or dual fuel with an electric oven. Some consumers prefer form over function and the look is more important than the true professional cooking capabilities - unless, of course, you're a gourmet chef! They are usually 36" or wider with six or more burners. Most cost at least $5,000, with few exceptions.
Here is one of those exceptions if you want that professional range look plus some features that put it above your typical range:
Note: As of August, 2019, the model reviewed below has been discontinued. It may still be available in stores for a while longer or through outlets. We will replace this model with a current one soon!
If you want a professional range but don't want to spend half the price of a new car on it, Frigidaire has some professional gas ranges that may interest you in their commercially-inspired Frigidaire Gallery line. The Frigidaire FGGF3685TS is a 36" pro style range with an 18,200 BTU Power Burner and several smaller burners, including an oval-shaped center burner, for a total of five heat sources. You can move pots and pans around easily on the stovetop thanks to the continuous grates.
The oven features True Convection for fast and even baking and cooking. The built-in temperature probe lets you set the desired internal temperature for a roast chicken, casserole, or other dish, and will switch the oven to a keep warm setting once the probe senses that temperature has been reached.
This model has a sleek industrial look thanks to the minimalist design and hardware. It is priced at $3,599 and is available in stainless steel only.
Frigidaire FGGF3685TS - $3,599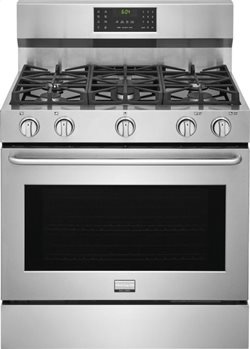 Frigidaire recently discontinued a 40" model at a similar price, the FGDF4085TS, so if you are looking for other cheap professional ranges you will have to go to KitchenAid and other brands with prices starting at around $6,000 in most cases. The Frigidaire model above is a solid option that give you the professional gas range look without breaking the bank! If you are focused on aesthetics as well as features, you may want to consider a slide in range as well, which tend to have that sleeker commercial look.
We hope you enjoyed this look at a budget-conscious professional gas range. Leave us a comment below. We'd love to hear from you!
Editor's Note: This blog was originally written in February of 2018 and has been completely revamped and updated for accuracy as of the publication date noted above.