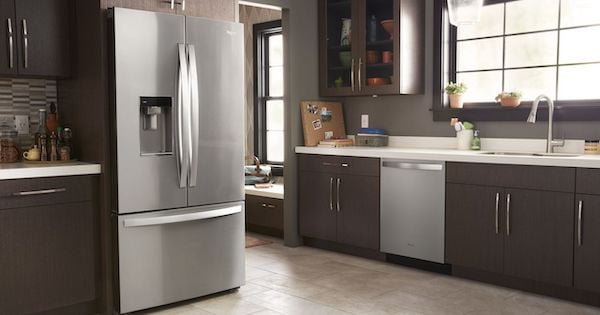 If you are considering a refrigerator with French doors, you are about to make a great choice! The popularity of this style has exploded and many consumers love them! When searching for a new refrigerator, you'll probably want to consider all of your style options. In the past, you may have had the old standby refrigerator with the refrigerator on the bottom and freezer above or the once-popular side by side. We've compared French doors vs side by sides, but for most people the French door refrigerator offers the best elements of the bottom freezer and side by side refrigerator styles. (Check out our refrigerator buying guide for more info on choosing a new refrigerator!)
Table of Contents
French door refrigerators have taken the market by storm and they are especially popular in new home packages and kitchen remodels. Even the most basic models have a lot of nice premium features. They consist of a bottom mount freezer that pulls out like a drawer and two refrigerator doors up top. There have been a lot of cool innovations within this category that we'll address further later on!
They come in many sizes, from 18 cubic feet to 34 cubic feet, and many are available with water and ice dispensers in the fresh food door. Smaller 18 cubic foot models start at around $1,400, and for a model in the 20+ cubic foot range you can expect to pay at least $1,800 in most cases. Counter depth refrigerators in this style are also widely available.
As for the external dimensions, French door refrigerators are typically:
30-36" wide (36" is the most common width)

67-70" tall

29-35" deep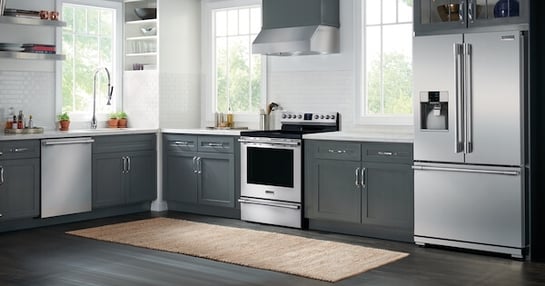 In a nutshell, here are the benefits of French door refrigerators:
Less clearance to fully open the refrigerator doors than a bottom freezer or top freezer model

Can reduce cold air loss by only opening one of the French doors at a time

Lots of storage flexibility in the refrigerator compartment - drawers, adjustable door bins, and tiered shelving are all great features to look for if you're concerned about refrigerator organization

The cutting-edge design makes a statement!
And the downsides:
French door refrigerators take up more space than top freezer or bottom freezer models with similar capacities - they are 33" wide on average but range from 30"-36" wide and can be deeper than single-door models as well

Door storage is narrower, so not a good fit for handling a lot of bulky juice bottles, condiments, etc

Vertical storage is more limited within the refrigerator shelving - look for adjustable or flip-up shelves if you often keep wine, tall bottles, or oversized items in your refrigerator

You pay a premium for the style - if budget is a concern, a bottom freezer or side by side may be a better choice for your needs
Other Features to Consider - Choosing the Best Model
While you're doing your research, keep in mind that water dispensers, ice makers, and any sort of advanced features can make your refrigerator more repair-prone. However, any of the major brands will usually have good reliability - Frigidaire, LG, and Samsung are a few examples. Buying from your local appliance store with in-house warranty and repair service is always a good idea! If you're a hardcore researcher, check for temperature trend data from review organizations like CNET that test these products - refrigerators with door storage can have trouble keeping the door areas cool. The good news: French doors are not a "new" technology, and their reliability and efficiency have only improved after nearly 20 years on the market!
Manufacturers are doing some interesting things with the French door style. One innovation is the door in door refrigerator which is almost exclusively found in the French door style. You can open just the outside section of the righthand fresh food door to access frequently used items without wasting cold air from the interior. Click the link above to learn more!
Another innovation is the French four door refrigerator style. These models offer a drawer sandwiched between the fresh food and freezer sections with adjustable temperature controls. Use it for snacks, or for keeping a sheet cake, cheeses, or meats at the perfect temperature! Click the link above to learn more!
Review: A Top-Selling French Door Refrigerator
One top-selling model is the KitchenAid KRFC300ESS, a 36" wide counter-depth French door refrigerator priced at $2,399. This Energy Star rated model is 20 cubic feet and comes with stylish commercially-inspired towel bar handles. It's also available in black or white at $2,399 or in black stainless steel at $2,499 - read more about KitchenAid black stainless steel here! All models feature contrasting stainless steel handles.
The ExtendFresh temperature management system monitors the refrigerator and freezer with separate sensors so that cooling down the freezer won't freeze fruit juices in the refrigerator, for example. LED lighting offers bright white light so you can easily see everything you need. A MaxCool option helps quickly lower the refrigerator and freezer to the lowest temperature settings when loading in groceries or in other situations where the doors are opened for extended periods.
The refrigerator section features two humidity-controlled crispers with optional produce preservers, a full-width FreshChill pantry drawer with adjustable temperature, four half-width adjustable shelves plus a wine bottle rack, and three compartments in each door. The freezer offers two levels of wire baskets plus an ice maker. An internal water dispenser in the left side of the refrigerator compartment offers easy access to filtered water when you need it.
The full depth option, model KRFF305ESS, offers 25 cubic feet of capacity (with a 35.5" depth) and prices around $2,199.
Dimensions:
Width: 35.75"

Depth: 30.5"

Height: 70.1"
Click here to read over 1,740 real customer reviews of this product!
KitchenAid KRFC300ESS - $2,399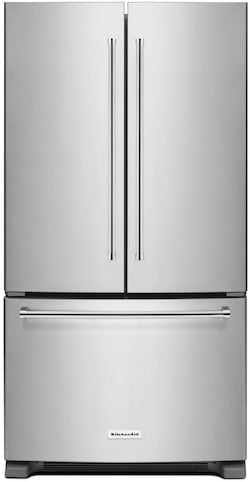 Want to explore more French door refrigerator reviews? Check out our reviews of the largest French door refrigerators of the year or the best French door refrigerators of the year! Other popular brands include Frigidaire, GE, Whirlpool, and more!
Have a question about French door refrigerators? Leave us a comment below - We'd love to hear from you!
Editor's Note: This blog was originally written in November of 2016 and has been completely revamped and updated for accuracy as of the publication date noted above.