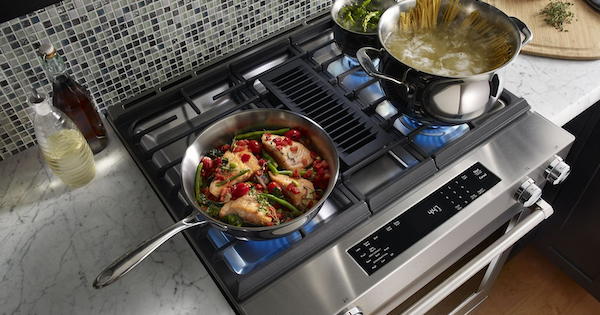 Downdraft ranges used to be a popular option for kitchen islands and peninsulas, but they have become less popular over the years so there are few options today. Downdraft ranges are different from traditional ranges in that they don't need separate ventilation above the stovetop. Instead, they have the ventilation mechanism built right into the range itself. This eliminates the need for an over the range microwave or vent hood to provide separate ventilation. Overall, downdraft vents are not as effective as overhead ventilation, so if you do a lot of cooking, especially with high heat, we don't recommend them.
If you are replacing a downdraft range, you might not be sure what your options are. We'll go over the downdraft ranges on the market today and offer some alternatives as well!
Replacing a Downdraft Range - What Are Your Options?
Besides luxury brand Jenn-Air, KitchenAid is the only brand that still offers a downdraft range (both brands are owned by Whirlpool). If you need to replace a downdraft range, here are your options:
Buy one of a handful of downdraft ranges available from KitchenAid or Jenn-Air - This seriously limits your options if you want to have flexibility in the brand and features you choose. We're also not sure how long these models will be around. However, this can be the most cost-effective option for some kitchen setups.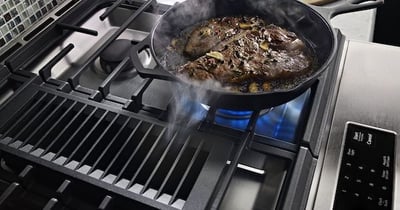 Install a vent hood over your range - This will give you the most flexibility in what new range you choose, but depending on the setup of your kitchen, venting to the outside through the ceiling could be costly. You could also install a recirculating hood that does not require external venting. If your downdraft range is on a kitchen island or peninsula, island mount range hoods are an option. If you have a lot of cash to spend, you could also go for one of the newer ceiling-mounted recessed kitchen vents, AKA integrated hoods, to avoid obstructing your view. They're available from brands like Faber, Best, Miele, and Zephyr, and tend to cost upwards of $1,500. Pictured below: The Zephyr ZRME36DS.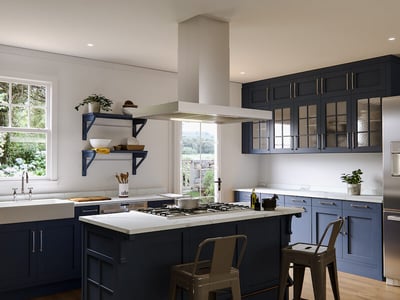 Replace your downdraft range with a downdraft cooktop OR non-vented cooktop + an independent downdraft vent - Independent pop-up downdraft vents take up space under your counter but may be able to use the existing ductwork for your downdraft range (consult with a contractor to make sure). These vents are usually at least $1,000. Downdraft cooktops are more widely available than downdraft ranges and are usually $1,400+. This method will work best if you have space to install a wall oven elsewhere. Pictured below: The Broan 273603.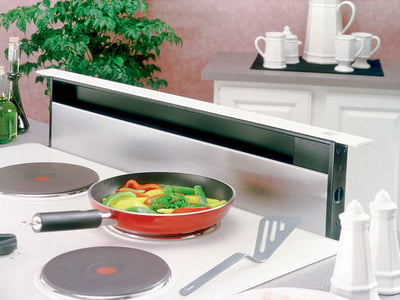 Place your range and vent assembly elsewhere in your kitchen - Another possibility is to move your range's location so ventilation with a range hood through a wall is easier and won't block your view over the peninsula or kitchen island.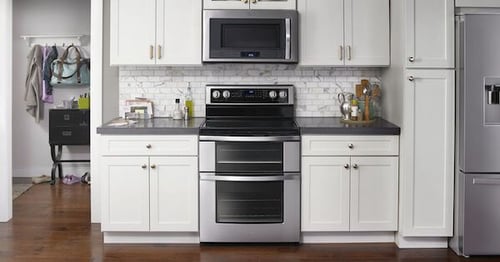 Each of these solutions can have different costs to you depending on your needs and your kitchen's design. Consult with a contractor if you're considering installing new ventilation or changing the location of your range. If you're considering the cooktop option, check out our downdraft electric cooktop reviews.
Depending on your downdraft system, the models available today may not be compatible with the preexisting vent setup. For example, Thermador's downdraft range that was available in the early 2000s or so does not have compatible vent placement with the KitchenAid models available today! It is standard practice for an installer to visit your home before you purchase the appliance to make sure that the ventilation system is compatible, or to estimate the cost of making adjustments.
If cost is not an issue, we recommend installing a different ventilation system, since overhead ventilation will perform better than downdraft and give you more flexibility in the products you choose as well. To learn more about kitchen ventilation options, check out our kitchen ventilation buying guide!
If you've decided that the most effective option for you is to replace your range with a new downdraft model, we'll review what KitchenAid has to offer below.
KitchenAid Downdraft Range Reviews
KitchenAid offers two slide in ranges with downdraft technology: one dual fuel and one smoothtop electric range available in stainless steel only. These models are all well-rated by customers and have a premium look and feel.
The smoothtop range model KSEG950ESS, retailing for around $3,299, features a centrally located downdraft vent and a sleek commercial-inspired style. The 6.4 cubic foot oven features Even-Heat True Convection with a bow-tie design heating element and convection fan. Electronic touch controls give you options for convection baking, broiling, and roasting. The interior includes a Steam Rack, a Max-Capacity Rack, and a Gliding Roll-Out Rack. The stovetop has one dual 12"/6" element and wattage from 1,300W to 3,200W.
KitchenAid offers an almost identical model without downdraft for $2,699, the KSEB900ESS.
Click here to read over 310 real customer reviews of this product!
KitchenAid KSEG950ESS - $3,299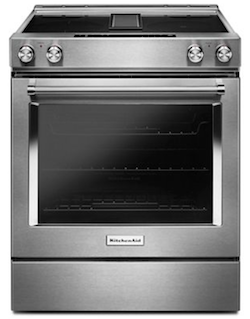 Dual fuel ranges offer the best of both worlds: gas burners and an electric oven. The KitchenAid KSDG950ESS is a four-burner downdraft slide in range with dual fuel technology retailing for around $3,699. Like the previous model, it has Even-Heat True Convection and the same interior oven features and controls. The burner power ranges from 5,000 BTU up to 15,000 BTU. Three continuous grate sections make it easy to move cookware around.
KitchenAid offers an almost identical model without downdraft for $3,099, the KSDB900ESS.
Click here to read over 265 real customer reviews of this product!
KitchenAid KSDG950ESS - $3,699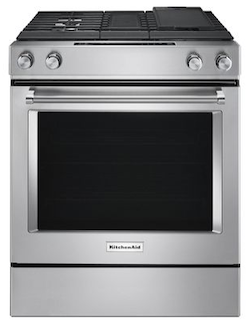 We hope this article has helped you on your new appliance journey. You can do the cost-benefit analysis pretty easily: if you could spend the same amount or less on a new slide-in or freestanding range plus a range hood, you should consider going that route. With the models above, the non-downdraft equivalents cost about $600 less. Slide-in range retail pricing starts at around $1,300, so your savings could be even more significant depending on what you're looking for in a new range. And, of course, holiday sales and package deals can save you hundreds of dollars as well, so if you can time your purchase based on these deals you could save even more.
Are you looking for a replacement downdraft range? What options have you considered? Leave us a comment below. We'd love to hear from you!
Editor's Note: This blog was originally written in January of 2018 and has been completely revamped and updated for accuracy as of the publication date noted above.