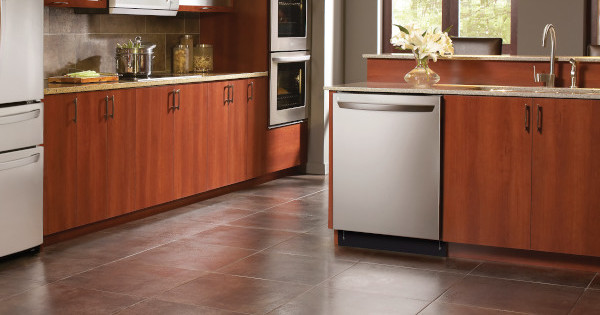 Beyond the typical dishwasher dimensions of a standard built-in dishwasher, there are several additional options on the market today to suit different needs.
Built-in dishwashers come in two standard widths: 24 inches and 18 inches. There are also portable freestanding dishwashers that roll around on casters, which come in 18 and 24 inches, as well as countertop dishwashers and the unique drawer dishwasher from GE Cafe and Fisher & Paykel. These smaller options can be a great choice for apartments, condominiums, and mobile homes. There are also ADA compliant dishwashers that are typically slightly shorter than the standard 34 inches to suit lower countertops.
Dishwasher Sizes - Quick Reference Guide*
Standard 24-inch dishwasher: 24W x 24D x 34H

Compact 18-inch dishwasher: 18W x 23D x 35H


Portable freestanding dishwasher: 18W or 36W x 23D x 36H


Portable countertop dishwasher: 22W x 20D x 17H

*Average sizes, rounded to the nearest inch
18-Inch vs 24-Inch Dishwashers
Compact 18-inch dishwashers start in the $300 range all the way up to $1,000+ (usually for advanced, panel-ready models). They can usually hold about 6-8 place settings and work best for households of 2-3 people.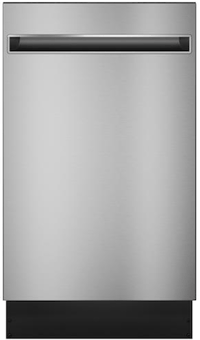 A standard 24-inch dishwasher can hold 12-14 place settings and is a better choice for families and larger households. If it has a Tall Tub design, it may be able to fit up to 16 place settings and have more flexibility for handling large and oddly-shaped items. Standard dishwashers also start in the $300 range, and high-end models can be over $1,000.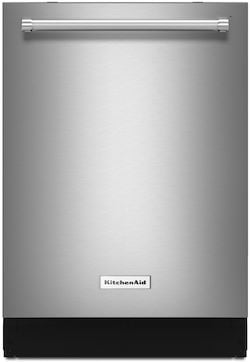 You may also want to know what "Tall Tub" dishwasher is, and if that affects the installation size. A tall tub dishwasher has more interior room due to a more compact motor design and changes to the wash arm locations. Most tall tub dishwashers are standard-size rather than compact models.
If you have a dishwasher that's noticeably smaller than the installation cavity, you may want to consider installing filler pieces on either side of the dishwasher - filler pieces are available through manufacturers, and you can DIY them as well.
Portable Dishwashers
A portable dishwasher can mean either of two possible designs: freestanding models that roll around on casters, and countertop models. This size of dishwasher can be a good option for small households, mobile homes, RVs, and office kitchens. Both types hook up to the kitchen sink to pull water during the cycle. Usually you can fit 8-12 place settings in a freestanding model and closer to 4-8 in a countertop model. The freestanding models price anywhere from $300 to $700 and can be found in 18-inch and 24-inch configurations, and the countertop models are usually around $150 to $300.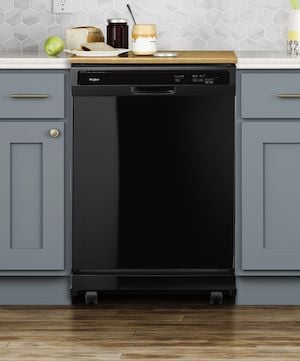 One thing to watch out for in countertop portable dishwashers is the weight - they are usually at least 50 pounds! So keep that in mind if you want a dishwasher you can move around or store away between uses.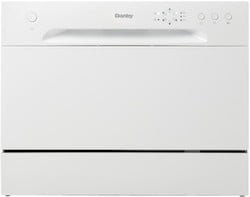 Built-In Dishwashers vs Drawer Dishwashers
Fisher & Paykel single and double drawer dishwashers offer a true half-load capacity dishwasher ideal for condos, small apartments, and specialty settings. GE Cafe also offers double drawer dishwashers. If you have shallower or shorter countertops, a drawer dishwasher may be a great alternative to a portable dishwasher or 18-inch model.
18-inch dishwashers are narrower than standard dishwashers but also tend to be about an inch taller. If you need to install a dishwasher in a kitchen island or narrow space, drawer dishwashers require much less space to fully open the doors: they'll require about 22 inches of clearance in front of the dishwasher compared to 34-35 inches for your typical built-in dishwasher. At the same time, a double drawer dishwasher will provide you with the same overall capacity as a 24-inch dishwasher.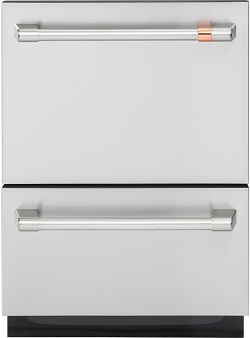 GE Appliances has another option for space-constrained kitchens: the Spacemaker under the sink dishwasher. These models have the capacity for 10 place settings and measure around 24" wide by 25.75" deep and 24" high. They have basic features and are pretty noisy at 64 dBA (check out our article for more info on dishwasher decibel levels), but they retail at around $899, which is in the mid-end range for dishwashers. You can check out the Spacemaker models here.
Place Settings Comparison - Quick Reference Guide
24-inch dishwasher: 12-14 place settings

18-inch dishwasher: 6-8 place settings

Portable freestanding dishwasher: 8-12 place settings

Countertop dishwasher: 4-8 place settings

Single drawer dishwasher: 7 place settings

Double drawer dishwasher: 14 place settings

Under-the-sink dishwasher: 10 place settings
We hope this helped you discover the dishwasher sizes and capacities that are available. If you have a unique space, there are some alternatives to the standard 24-inch width dishwasher that might be perfect for your needs. Check out our dishwasher buying guide for more info on choosing a new dishwasher!
Please leave us a comment below - We'd love to hear from you!