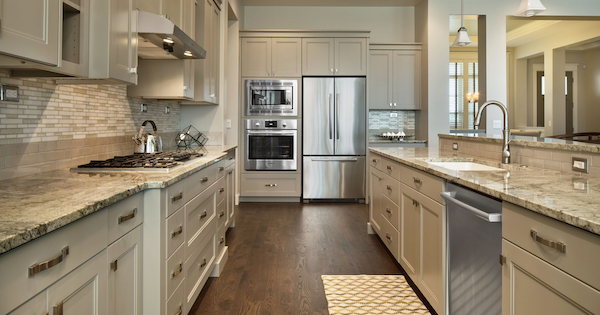 Over the years, German engineering has become synonymous with the production of high-quality products. That's why Bosch is one of the world's largest suppliers of automotive parts in the world and the reason they make high-performance household appliances.
In 1933, Bosch came out with their first electric refrigerator and they have been making innovations in the appliance industry ever since. Bosch notably created what they called "Vita Fresh" technology in 1989 which substantially increased the length of time produce stayed fresh and crisp. They set standards in environmental manufacturing in the 1990s and, more recently, have created a line of connected appliances that can be controlled and monitored from your computer or smartphone.
In this post, we will review a few of Bosch's current refrigerators and explore the differences and similarities between them.
While many appliance companies offer several refrigerator style options like side-by-side, top freezer, and french door, Bosch offers a narrower range to the US market. Their two main styles are French door and compact bottom freezer models, although they now offer one side by side model as well. If you're curious about Bosch's new four door French door refrigerator, check out our overview of four door refrigerators for more info!
We'll review the following types of Bosch refrigerators (click the links to skip to the review you're interested in):
1. The Bosch B26FT50SNS Full Depth French Door Refrigerator - 25 cu. ft. - $2,799
The first of our Bosch Refrigerator reviews is the Bosch B26FT50SNS, which is a standard depth 25 cubic foot French door model priced at $2,799 with an anti-fingerprint stainless steel finish. Unlike most lower end brands, it features a fan-assisted MultiAirFlow cooling system which boosts air circulation, keeping temperature and humidity consistent throughout the whole appliance and allowing foods to retain their flavor longer. A SuperCool function will cool down newly added foods faster when activated.
With hidden hinges, transparent storage, and LED lighting throughout, this refrigerator has an elegant designer appearance. Bosch refrigerators are also known for being quiet and this one is no exception at a near-silent 44 decibels (yes, it's unusual for brands to actually list refrigerator decibel levels)! Another desirable feature for many consumers is that ice and water are accessible on the outside of the door. A quick ice feature that speeds up the ice making process is available at the touch of a button for situations where you need more ice ASAP, such as when entertaining guests. Refrigerator organization features include adjustable spill-proof shelving, full extension crisper drawers, and gallon door storage bins.
Key Features:
All-level LED lighting

Transparent and adjustable storage throughout with spill-proof tempered glass shelves

SteelTouch® Controls

Frameless exterior ice and water dispenser with LED illumination

Energy Star rated

MultiAirFlow™ cooling system

Quick Ice feature for increased ice production needs

SuperCool and SuperFreeze®

Hide-Away Water Filter
Dimensions:
Width: 35.625"

Height: 69.75"

Depth: 32.469"
2. The Bosch B21CT80SNS Counter Depth French Door Refrigerator - 20.7 cu. ft. - $2,999
The next Bosch Refrigerator we'll look at is model B21CT80SNS, a 20.7 cubic foot counter depth French door refrigerator, also coming in a stainless steel finish. Now besides the obvious size difference, there are several features that differentiate this model from the last one we looked at. It lacks an ice or water dispenser for a smooth integrated look, although it has an icemaker in the freezer.
Inside the fridge, you have many of the same features as the last model, including adjustable shelving, gallon door bins, LED lighting, humidity-controlled crisper drawers, and a large covered dairy compartment. An additional feature on this model is a full-width chiller drawer to provide extra cold storage, ideal for meat and fish. Another "cool" feature that this fridge has is a dual evaporator, which effectively provides even temperatures and minimizes odor transfer between the refrigerator and freezer cavities.
Not all counter depth refrigerators are created equal. This model sits flush with the countertop thanks to a perfect case depth. The hidden hinges and tucked away feet help add to the built-in look. It's also available in black stainless steel, model B21CT80SNB, starting at $3,099.
If you're looking for a smart refrigerator, consider the new-for-2019 model B36CT80SNS (also available in black stainless), which also has dual evaporators and dual compressors (formerly only available in the high-end built-in market) and great interior organization options like the "FlexBar," which allows you to use space that is typically wasted and to customize it with hanging shelves of your choice.
Key Features:
Counter-depth styling for nearly-flush installation

All-level LED lighting

Dual AirCool dual evaporator system

SuperCool and SuperFreeze®

Automatic ice maker

Full-width chiller drawer
Dimensions:
Width: 35.875"

Height: 70"

Depth: 28.7"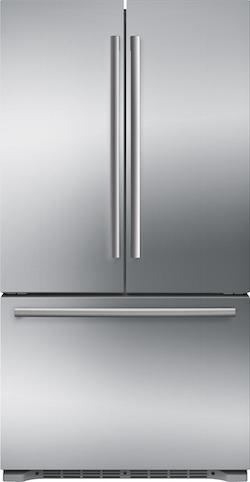 3. The Bosch B20CS30SNS Counter Depth Side by Side Refrigerator - 20.2 cu. ft. - $2,199
Are you looking for a truly stylish side by side? As French doors have dominated the market, side by sides have fallen out of favor... but the Bosch B20CS30SNS offers a sleek counter depth design with a frameless exterior ice and water dispenser. MultiAirFlow cooling ensures even temperature levels throughout the refrigerator. It's Energy Star rated and has bright LED lighting. The interior has a premium look as well with modern-looking storage bins and glass shelving.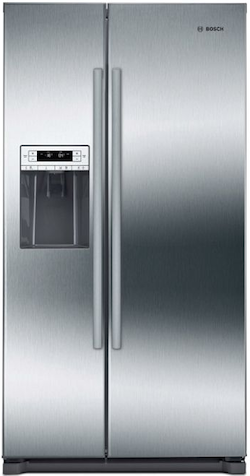 4. The Bosch B11CB81SSS Slim Bottom Freezer Refrigerator - 11 cu. ft. - $2,799
In the last of our Bosch refrigerator reviews we'll take a look at a model that serves a different demographic than the other two french door refrigerators we looked at. The Bosch B11CB81SSS is only 24" wide and is 11 cubic feet in total capacity - although it's almost 80 inches tall compared to the typical 70" for most refrigerators. With a single door refrigerator and freezer on the bottom, it comes in a standard stainless steel finish and is priced at $2,799. This style of refrigerator is ideal for compact kitchen layouts in metropolitan areas where space is limited. The hidden hinge and reversible door design allow for next to wall placement and near flush installation.
Although it is a small refrigerator, Bosch packed many alluring features into it. These include an icemaker in the freezer, all-level LED lighting, a dual evaporator, and electronic controls for temperature management. It also contains a wine rack and "HydroFresh" drawer to keep your fruits and vegetables fresh longer. Most refrigerator companies don't have compact options so this is definitely a niche for Bosch.
Key Features:
All-level LED lighting

Full-width glass shelves with metal trim

Ice maker

Dual evaporator

Electronic controls for precise temperature management

Energy Star rated
Dimensions & Capacity:
Width: 23.5"

Height: 78.875"

Depth: 25.75

Though they may not have a refrigerator to suit every consumer's needs, Bosch excels in the quality of the options they do provide. With legendary German engineering behind their products and a commitment to providing consumers with the features they want, Bosch is certainly a brand worth considering when looking at new refrigerators.
We hope these Bosch refrigerator reviews proved helpful in uncovering the best refrigerator for your specific needs! Please leave us a comment below. We'd love to hear from you!
Editor's Note: This blog was originally written in January of 2018 and has been completely revamped and updated for accuracy as of the publication date noted above.