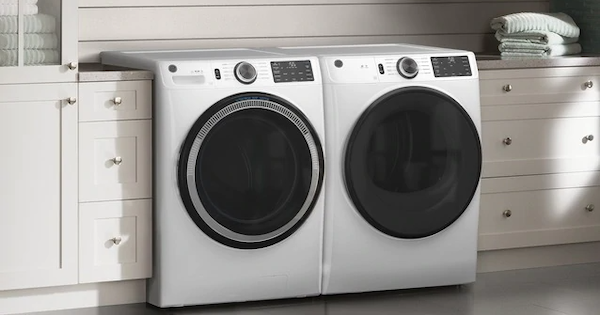 If you're looking for a good value in a new front loading washer without breaking the bank, we have a couple of good options for you. GE and Whirlpool offer great products with many different feature packages that will allow you to find the model that will fit your needs and get the job done. They offer some of the best rated front load washer models on the market. There are many factors to consider when purchasing a new washing machine - reputation is just one of them!
These two top-selling brands have been around for decades and are among the most trusted names in the US market. Both brands have evolved and now offer washing machines with the latest technologies that consumers are looking for. Be sure to consider these two brands when you go shopping for your new washer. To help you make the choice, we are going to compare two fantastic options, both under $1,000!
The GE GFW550SSNWW - $899
The GE GFW550SSNWW, priced at $999, takes a new approach to front loaders with the UltraFresh Vent System. Using a combination of Microban antimicrobial technology, improved water drainage, and a fan built into the door, you can avoid the front loader issues of mold and mildew due to damp spots in the tub and door gasket. Plus, you no longer need to leave the door cracked open for the tub to dry out between washes - instead, run the UltraFresh Vent cycle, and a built-in fan will use convection currents to dry the drum twice as fast.
This washer's large 4.8 cubic foot drum allows you to run large loads of laundry, which means to fewer batches overall and more free time for you. It has ten wash cycles, including Quick Wash, and options like More Water, Pre Wash, and Tumble Care. If you can't transfer clothes to the dryer right away, Tumble Care will tumble them intermittently to keep them fresh.
Optional wifi connectivity is also available so you can receive notifications when a cycle is complete. GE has also made their new for 2020 front loaders with easily reversible doors and an improved balancing system. The UltraFresh models won an award from Good Housekeeping, too!
Cycles & Options:
10 Cycles: Bulky/Bedding, Cold Wash, Delicates, Normal, Quick Wash, Rinse + Spin, Sanitize with Oxi, Self Clean, Towels, Whites

9 Options: Delay Start, Delay Wash, Extra Rinse, More Water, My Settings, Pre Wash, Time Saver, Tumble Care, UltraFresh Vent

Optional wifi connectivity

UltraFresh Vent System with Odorblock fights odors, mold, and mildew

Max spin speed: 1,300 RPM
Dimensions:
Width: 28"

Depth: 32"

Height: 39.75"
Click here to read over 215 real customer reviews of this product!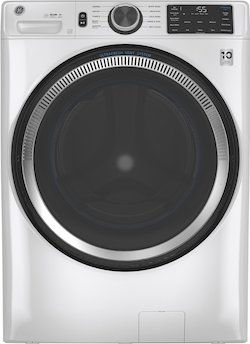 The Whirlpool WFW560CHW - $899
In our search for the best rated front load washer, we now turn to a model from Whirlpool that was released in 2019. The Whirlpool WFW560CHW, a closet-depth washer unit priced at $899, is an upgrade to the highly rated Whirlpool WFW7590FW. The main change for 2019 is that this model uses Whirlpool's innovative "What to Wash/How to Wash" controls rather than the typical turn-dial cycles and options.
This Energy Star rated model carries a 4.3 cubic foot Smooth Wave stainless steel wash basket. The three-paddled drum gently guides the clothes through the wash cycle and helps protect fabrics from fraying and snags, all while the backsides of the paddles collect soapy water and discharge it back into the laundry when rotating clockwise and counter clockwise. This gives the laundry precise cleaning action with minimal water usage.
This unit offers Whirlpool's unique What to Wash/How to Wash controls for a total of 37 cycle combinations with four options, including a Presoak option. Precision Dispense allows you to add bleach, fabric softener, and detergent into compartments in the dispenser so that they get released at the right time during the cycle. It has a 1,160 RPM final spin speed to wring as much water from your clothes as possible for shorter drying times.
Cycles & Options:
What to Wash: Regular, Delicates, Bulky Items, Whites, Colors, Towels

How to Wash: Normal, Wrinkle Control, Heavy Duty, Sanitize, Cold Wash, Quick Wash

4 Options: Presoak, Extra Rinse, Drain & Spin, Clean Washer with Affresh

Max spin speed: 1,160 RPM
Dimensions:
Width: 27"

Depth: 31.5"

Height: 38.625"
Click here to read over 35 real customer reviews of this product!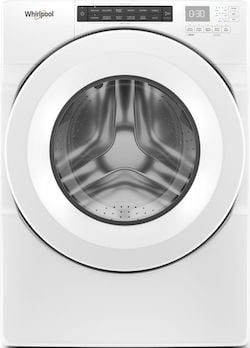 Features Comparison:
Controls: Both models have time remaining displays and touch controls, but Whirlpool offers a different overall control figuration. You may find it simpler to use. However, the GE model has more overall options plus optional wifi connectivity.

Cycles & Options: Helpful settings like quick washes, prewashing/presoaking, sanitize cycles, and extra rinses are present on both washers. However, GE offers Tumble Care, Prewash, a More Water option, and the revolutionary Ultra Fresh Vent cycle to dry the tub.

Look & Feel: Both models have stainless steel drums but the GE model has a more high-end feel overall.
These two models are pretty similar in price, but GE is the clear winner when it comes to looks as well as overall features and options. Take a look at these two models when you go shopping and see if one of them will be right for your home and your budget.
We hope you enjoyed this article. Please leave us a comment below. We'd love to hear from you!
Editor's Note: This blog was originally written in April of 2016 and has been completely revamped and updated for accuracy as of the publication date noted above.