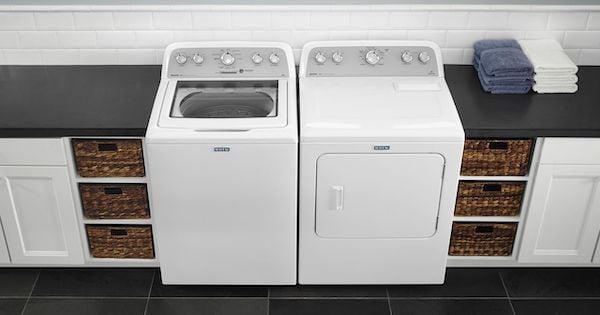 If you think of your clothes dryer as being one of the simplest appliances in your home, think again. Most people think that it just turns a drum and blows heat, but there's quite a bit going on inside that big metal box! If you are in the process of researching a new dryer, you know there are many brands, models, and features to consider (you can check out our dryer buyer's guide for more info). We'll compare LG and Maytag to help you determine the best clothes dryer brand for you.
In order to compare the two models, we need to first look at some of the technology behind drying clothes. Clothes dryers have a variety of safety features to not only go easy on your clothes by preventing over-drying, but also keep your home safe if something malfunctions. The average system will have a temperature range of 80 to 190 degrees Fahrenheit, depending on selected cycles and settings. There are two main ways for a dryer to keep track of the drying progress: moisture sensors and thermistors.
Table of Contents
The Best Clothes Dryer Technology: Sensor Dry
Conductive Moisture Sensors are two stainless steel bars located inside the dryer drum cavity. They may be located on the rear wall or front wall. These two bars will tell the dryer to continue operation if wet or damp clothes are passed over them. They are constantly sensing contact from wet items. If they are wet, the dryer runs. If the dry sensor bars can't talk to each other - if for some reason, they don't have a firm contact between them from the wet clothing items tumbling in the drum - they will shut down the heat and then eventually shut down the rotating drum.
Some dryers use thermistors that monitor the outgoing exhaust temperature. This is the easiest, least expensive way to adjust the dryer's internal drum temperature and monitor the dryness of the clothes, shutting the dryer off when the clothes are dry. This option is not as energy-efficient or as accurate as moisture sensors, but it's still better than old-fashioned manual dry.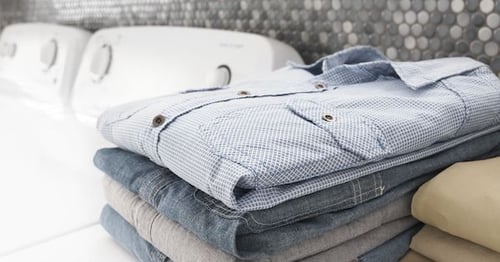 Most dryers also have a time dry selection on the cycle selector which typically ranges from 10 to 60 minutes. This operates like a kitchen egg timer but with high and low thermostats controlling the internal temperature. Set it for 60 minutes, press start, and with any luck, your clothes are dry once the buzzer sounds. This is not the most efficient way to operate as your laundry may be dry in less time and you could be wasting energy and over-drying the clothes. Basically, you're guessing how long this will take.
Long story short: Sensor dry settings are safer for your laundry and your wallet. New dryer features can save time and money, so make sure that you do your homework before buying.
Let's take a look at two leading dryer models from LG and Maytag to help you decide which is the best clothes dryer for you!
The LG DLEX4000W Front Load Style Dryer - $1,049
First up in our comparison of the best clothes dryer models is the LG DLEX4000W, a front load style Energy Star rated electric dryer priced starting at $1,049 in white and $1,149 in black steel. This 7.4 cubic foot capacity dryer offers LG Smart ThinQ technology: use your smartphone to choose a cycle, stop a cycle, and get a notification when your laundry is done!
Other helpful features include the LG Smart Diagnosis technology, so you can troubleshoot any issues and also download custom cycles to your dryer. The LoDecibel Quiet Operation system makes this dryer a great pick for laundry rooms near living areas or second-floor laundry setups. This dryer offers sensor drying. LG TurboSteam quickly dewrinkles clothes and can provide a quick refresh as well to reduce odors and let you wear your favorite shirt another day before washing. The SteamSanitary cycle destroys germs for your peace of mind.
With 12 options, 12 dry programs, and a durable aluminized alloy steel drum, this dryer has a lot to offer! Its door is tempered glass and is reversible. If you need a side venting dryer, a side venting kit is available - model 383EEL9001B. If you're looking for a gas dryer, the gas version is model DLGX4001W, priced starting at $1,149.
Cycles & Options
12 Cycles: Normal, Heavy Duty, Bedding, Anti Bacterial, SteamSanitary, SteamFresh, Perm Press, Delicates, Towels, Speed Dry (Manual Dry), Air Dry (Manual Dry), Downloaded

12 Options: More Time, Less Time, Damp Dry Signal, Wrinkle Care, Control Lock, Wi-Fi, Energy Saver, TurboSteam, Reduce Static, Remote Start, Drum Light, Signal
Click here to read over 110 real customer reviews of this product!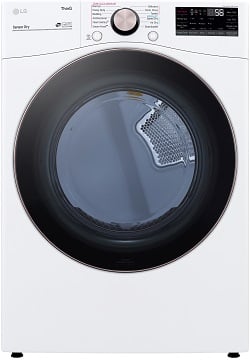 The Maytag MEDC465HW Top Load Style Dryer - $749
Next up in our comparison of the best clothes dryer options: Maytag. Maytag has been in the drying business since the 1950s, well after their introduction of washing machines in 1893. The Maytag MEDC465HW is an American-built dryer that will give any competitor a run for the money.
This 7.0 cubic foot dryer is also large enough to accept those big items like bedding or blankets, even sleeping bags (it's recommended to use the delicate cycle on those). The IntelliDry moisture sensor will monitor drying throughout the cycle and adjust temperatures so items won't shrink, burn, or even wrinkle. Wrinkle Control is a well-designed feature that intermittently turns the heat on and off for just the right amount of time to keep those wrinkles away.
Maytag uses a heavy-duty, commercial-grade motor that provides faster spin and stronger air-flow for optimum performance. This model only offers rear venting rather than multiple venting options. The drum is powder coat rather than stainless steel, and the turn-dial controls are simple with no digital displays or indicator lights. It comes with a side swing reversible door. As for the warranty: How does a 10-year part warranty on the commercial-grade motor and dryer drum sound? (It also comes with a one-year warranty on the entire machine, parts and labor.)
The gas dryer option is model MGDC465HW priced starting at $849.
Cycles & Options
7 Cycles: Timed Dry, Freshen Up, Cool Down, Jeans, More Dry, Less Dry, Wrinkle Control

3 Options: 4 Temperatures, End of Cycle Signal On/Off, Wrinkle Control
Click here to read over 2,600 real customer reviews of this product!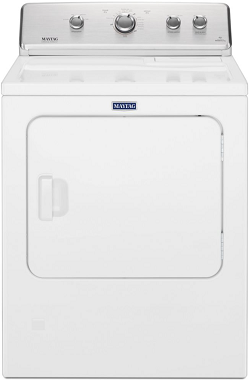 Features Comparison
Look & Feel: It's pretty hard to beat the aesthetic appeal of dryers meant to pair with front load washers like the LG model. The LG model is also offered in two colors as of this writing. It has 0.4 more cubic feet of capacity than the Maytag model and a more high-tech control panel. LG's LoDecibel Quiet Operation makes the LG model a winner for laundry rooms near living areas or on upper floors. LG also uses a chime for the end of cycle signal rather than a buzzer.

Programs & Options: Both offer sensor drying and a good variety of cycles and options. The LG model offers steam cycles, which some people like to have or want to experiment with. LG offers more cycles and options overall, while Maytag offers a more limited and traditional selection.

Price & Warranty: The LG model is more expensive and has a basic one-year warranty on parts and labor. The Maytag model costs $300 less at MSRP and comes with the basic one-year warranty plus a ten-year parts warranty on the dryer drum and motor. There's still a tradeoff in terms of features, capacity, and energy efficiency, so LG isn't at a serious disadvantage here.

Energy Efficiency: Dryers have not been as targeted for energy efficiency improvements as other appliances. If all of the electric dryers in the US were updated to the most efficient models, it would save four billion dollars worth of energy a year. The average household spends $150 per year on the utility costs of an electric dryer. That's $1,500 over the life of the dryer! All of this is to say: an Energy Star rated dryer may quickly pay for the cost difference within the first year or two of use. LG wins here!
We hope you find this comparison of two of the best clothes dryer brand options informative. As you can see, there are some clear differences in features and pricing. Which model would you choose? What do you think about LG and Maytag laundry products? Please leave a comment below. We'd love to hear from you!
Editor's Note: This blog was originally written in September of 2015 and has been completely revamped and updated for accuracy as of the publication date noted above.