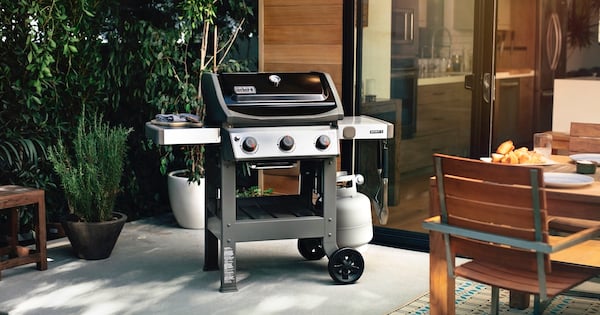 Weber grills have a dedicated fan following, beginning with their invention of the original round kettle grill in 1951. They've made a name for themselves by listening to customer feedback and constantly improving their grill designs while keeping their pricing transparent. If your old gas grill has kicked the bucket or is about to, you may be curious about Weber gas grills and how to choose the right model for you. The Weber Spirit E-310 is one of their most popular models, but how does it compare to the upgraded Weber Genesis E-310?
In this article, we'll compare these two Weber gas grills and their many great features. Of course, these models aren't all that Weber has to offer. To learn more about Weber and their grills, check out our article: Weber Gas Grills - Everything You Need to Know.
Table of Contents
Weber Spirit II E-310 Features & Pricing
The least expensive Weber E-310 model available comes from their Spirit Series. Weber Spirit II E-310 is a fantastic entry-level option in a three burner grill. It's priced at $569. It's a 3-burner gas grill that you could fill with up to about 16 hamburgers in one go if you wanted! The size makes it ideal for the average household with basic grilling needs.
Weber's GS4 Grilling System ensures reliable, consistent performance for years. From the porcelain-enameled lid to the rugged wheels, this grill is built to last!
It also features the following:
High performance stainless steel burners

Two side tables (left side folds down)

iGrill ready

30,000 BTU-per-hour input

Fold-down warming rack

Total cooking area: 529 sq in

Warming rack: 105 sq in

Main cooking area: 424 sq in

Porcelain-enameled flavorizer bars

Porcelain-enameled cast iron grates

Open cart design
This grill offers a lot of bang for the buck at under $600! Weber has updated their warranty and now offers a full 10-year parts and labor warranty covering the entire grill (ordinary wear and tear excluded). This gives you unmatched peace of mind when you buy a Weber!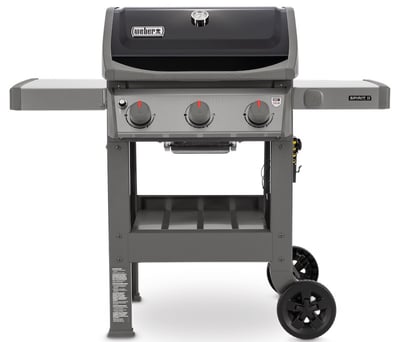 Weber Genesis II E-310 Features & Pricing
If you are looking for a step up, the Weber E-310 in the Genesis Series may be just what you are looking for. The Weber Genesis II E-310 is a great grill loaded with quality features and is built to last. Selling for $779 in black only, it offers a lot for the money and will fit nicely into your budget.
This model is larger than the Spirit E-310 with 669 square inches of total cooking area plus a retractable warming rack. Other features include:
High performance stainless steel burners

Stainless steel Flavorizer® bars

Porcelain-enameled, cast-iron cooking grates

39,000 BTU-per-hour input main burners

Porcelain-enameled lid with thermometer

Fixed side tables

Open cart design

Welded tube frame

iGrill ready
This grill also comes with Weber's 10-year lid to wheels full parts and labor warranty. You can also explore the Genesis II SE-315, which has the same features but with a closed cart design at $879.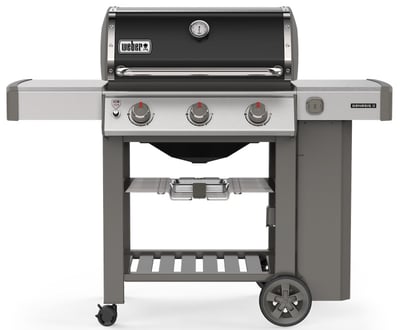 Features Comparison
Both models come complete with Weber's revolutionary GS4 Grilling system and are backed by the full 10-year warranty. Weber offers fixed pricing so these grills should cost about the same no matter where you go.
What do you get when you upgrade to the Genesis II E-310?
20% more BTUs

30% more total cooking area

A Tuck Away warming rack area versus the fixed rack on the Spirit

Welded tube design frame versus the panel frame on the Spirit

Stainless steel Flavorizer bars versus the porcelain enameled bars on the Spirit
For an even more fully featured model that's also available in more colors, check out the Genesis II E-330!
In the end, the decision as to which Weber E-310 is best for you is a matter of personal preference. The Genesis lineup is designed for people who want a nicer grill with more features so they can cook full meals. The Spirit model is a simple and reliable gas grill.
Let us know which one you choose and how you like it after you get it home. We'd love to hear from you!
Editor's Note: This blog was originally written in June of 2018 and has been completely revamped and updated for accuracy as of the publication date noted above.