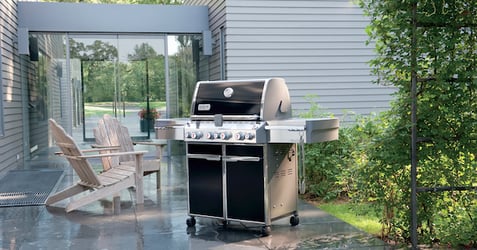 Grilling has become more popular these days as families and friends find comfort in cooking outdoors for one another and some find it a relaxing change in routine from the daily grind. But a grill that's seen better days can stress you out even more - Won't ignite? Burner knobs broken? Cooking grates rusted? Lid falls off?
Even though you don't want to part with your trusty old friend, there are new grills out there that will provide much more enjoyment for you and your family and friends. Go ahead, treat yourself and your loved ones to a grill of your dreams - one that won't need to be bandaged up before you can make dinner.
In this blog we will talk about the features and differences of two industry-leading grills from Napoleon and Weber. These are top-of-the-line models with a ton of great features and grilling power!
The Napoleon Prestige 500 - $1,499
First up: the Napoleon Prestige 500, a six burner gas grill which is loaded with user friendly features so making dinner or grilling for a crowd is fast and easy. This model has a double liner lid and thick cast aluminum cooking box to heat quickly and hold the set temperature more evenly while the grill is in use. Whether it's summer sun or winter snow, this grill will maintain its temperature better than others on the market. The 8mm stainless steel Wave Rod Cooking Grates are designed to keep smaller foods from dropping through and can also leave unique grill markings on meats, fish, poultry, potatoes and even some fruits and vegetables.
Lots of hungry mouths to feed? You'll have an outstanding 900 square inches of cooking area between the main cooking surface and the side burner, totaling 80,000 BTUs. That's enough to grill 38 burgers at once! They didn't forget about your side dish, either. The "Sizzle Zone" is a 14,000 BTU side burner that quickly boils water, pan cooks, or sears, and allows the user to cook directly on the grate over the infrared burner. Impressive! An 18,000 BTU rear broiler burner is perfect for broiling a porterhouse steak, flash cooking vegetables, or adding a crispy texture to mashed potatoes.
Burner knobs are easily visible for accurate adjustments, plus Napoleon includes an All Season Cookbook for those of us that would like to expand our grilling knowledge. We can keep going and going on this model but the bottom line is, if you're looking to replace your grill, consider this model for your grilling arsenal. You won't be disappointed.
This Napoleon model is a great value at $1,499 and Napoleon's limited lifetime warranty (click here for warranty details). For a complete list of other Napoleon models and accessories, Click Here.
Napoleon Prestige 500 - P500RSIBPSS - $1,499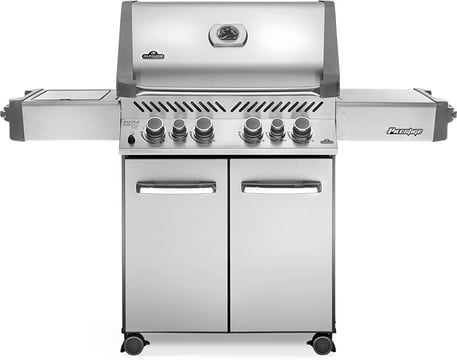 The Weber Summit S-470 - $2,099
Weber has stamped their name in the outdoor grilling archives with the popular model Summit S-470 full stainless steel grill. Loaded? You bet. Let's start with the exterior: durable stainless steel lid, side shelves, control panel, and cabinet doors. The side tables have attractive utensil holders and the lower door handles match the lid's handle. Weber's exclusive automatic handle light allows the user to view the grilling surface when the lid is in the open position and turns off once the lid is closed.
The right side table also includes a 12,000 BTU side burner that comes in handy for quick boiling, vegetable sautéing or even pan searing foods. The left side table doubles as a food preparation area and also contains their Tuck-Away Rotisserie System. This is a unique flip up motor design that can be set up in seconds. Of course, a spit fork is supplied by Weber and conveniently stores behind the closed doors.
Now, let's look at what's under the hood. The first thing that catches your eye are the full width 9mm stainless steel cooking grates that give you 468 square inches of primary cooking surface. No porcelain coated metal grates in this grill! Hovering above is a warming rack offering another 112 square inches. That's 580 square inches of total cooking space! Now, down to the fire… together, all of the four main burners total 48,800 BTUs, and a 6,800 BTU Smoker Box burner and additional rear mounted 10,600 BTU infrared rotisserie burner complete this magnificent work of art. All burners have an industry exclusive Snap-Jet ignition system for quick lighting of chosen burners. Back-lit controls are great for us night-time users and the right side facing electronic LP gas gauge lets you know what's left in the tank.
Weber offers this model at a great price of $2,099 and comes with their 10-year limited warranty (click here for warranty details). For a complete list of other Weber Models and Accessories, Click Here.
Weber Summit S-470 - 7170001 - $2,099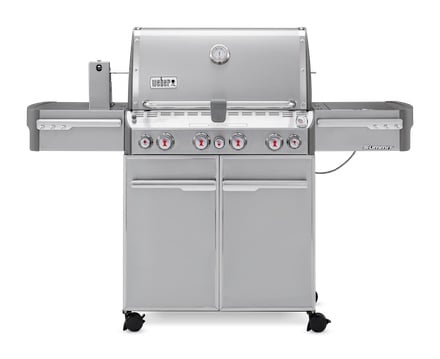 Features Comparison
Burners: Napoleon offers 4 burners in the main cooking area (not counting the infrared rotisserie burner) plus a 14,000 BTU Sizzle Zone side burner for a total of 80,000 BTUs. The Weber model has 88,800 total BTUs with 4 burners in the main cooking area, plus 2 dedicated sear burners and a smoker burner for a total of 6 burners. Both models come with infrared rotisserie burners and side burners. Weber offers a dedicated smoker burner while Napoleon offers smoker accessories but doesn't technically have a burner for this.

Cooking Surface Area: The Napoleon grill has 900 square inches total, with about 500 being the main cooking area (enough room for 31 burgers), while the Weber option has 468 square inches in the main area and 580 total. Napoleon uses 7.5mm stainless steel Wave cooking grates, while the Weber comes with 9mm tubular stainless steel grates.

Exterior Features: Both models are stainless steel with a closed cart design, lighted control knobs, temperature gauges, and tool hooks. The Weber model has a light on the lid handle for cooking after sunset. The Napoleon model's right side shelf can fold down, while the Weber's cannot.

Warranty: The warranties are pretty different and cover different items. Weber offers a 10-year "lid to wheels" parts warranty, covering all parts - of course, this excludes "normal wear and tear," which is namely deterioration that is cosmetic or doesn't impede your ability to operate the grill safely. Napoleon offers a more complex parts warranty - some parts are warrantied for 2, 5, or 10 years, while others are covered for a lifetime.
Both of these grills will give you many years of trouble free use and will be the envy of the neighborhood. Weber has a lot of dedicated fans, and so does Napoleon. The Napoleon Prestige 500 is bigger and cheaper than the Weber Summit S-470, but has a different set of features and burner options.
Which do you prefer: Weber or Napoleon? What do you look for in a high-end gas grill? Leave us a comment below - We'd love to hear from you!
Editor's Note: This blog was originally written in May of 2016 and has been completely revamped and updated for accuracy as of the publication date noted above.