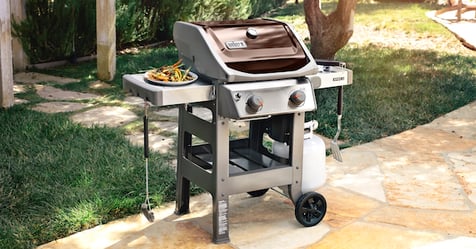 If you're looking for an awesome entry-level grill you can buy without breaking the bank - we've got a great choice for you. In this Weber Spirit E-210 Review, we'll cover everything you need to know from features to prices to colors. This Weber model is a two-burner grill so it is ideal for small households or those with a small deck or patio area that need to fit their grill into a compact space. Weber is one of the best-known gas grill manufacturers anywhere. They build quality grills and back them with an excellent warranty.
Let's dive into the details of this Weber Spirit E-210 review. If you decide you like Weber but this grill isn't for you and you want to learn about Weber's full line up, check out our article: Weber Gas Grills - Everything You Need to Know.
We've broken our Weber Spirit E-210 review into four major categories for your convenience: Key Features, Pricing, Available Colors, Warranty Info, and of course, our Conclusion.
Key Features
The Weber Spirit II E-210 comes with an array of nice features. Here are the most important specs:
Main burners: 26,500 BTU-per-hour input

Dimensions - Lid Open: 57"H x 48"W x 26"D

Dimensions - Lid Closed: 44.5"H x 48"W x 27"D

Primary cooking area: 360 sq in

Total cooking area, including warming rack: 450 sq in

Weight: 103 lbs

2 stainless steel burners

2 side tables (one folding)

6 tool hooks
This model also features Weber's GS4 Grilling System that includes Infinity Ignition, High Performance Burners, Flavorizer Bars and Grease Management System. The design ensures reliable performance and reduces flareups.
Drawbacks of this Grill
Pricing
One of the nice things about Weber is their no-haggle pricing. You'll essentially find Weber grill models sold at the same prices nationwide whether you buy them from a big box retailer, a locally owned appliance retailer or a department store that carries appliances and grills. The Weber Spirit II E-210 sells for $379.
Other Potential Costs:
Assembly

Delivery

Removal of your old grill
Since the prices are rarely if ever discounted, many retailers will include free assembly, delivery and sometimes even removal and disposal of your old grill for free. Be sure to shop around for these options and don't forget to buy a cover to protect your investment!
Available Colors
The Weber Spirit II E-210 comes in four awesome colors, including traditional black, crimson, ivory and sapphire. If you have your heart set on a stainless steel finish, you'll have to look to a larger, more expensive Weber model.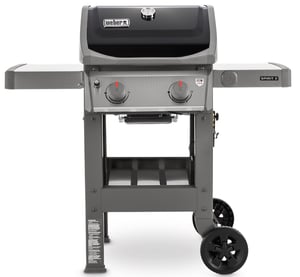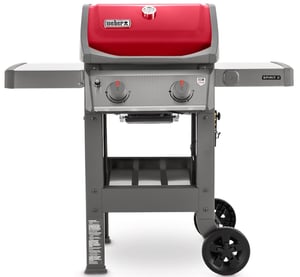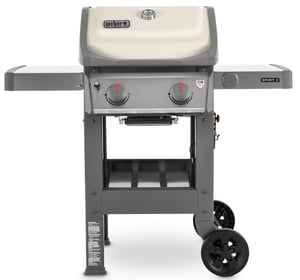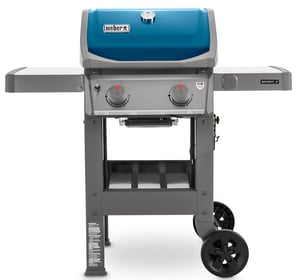 Warranty Info
Like all Weber Grills, the Spirit II E-210 is covered by Weber's exclusive 10-year cover to wheels warranty. This comprehensive warranty covers the entire grill for 10 years, ordinary wear and tear excluded. The Weber grill warranty is the gold standard in the industry. You'll be able to rest easy knowing you are covered for a full decade from the date of purchase. Read the full warranty here for all the details.
Conclusion
Bottom line, this Weber grill is a solid choice for people looking for a compact entry-level grill. Check out the size and make sure it gives you enough cooking area. Beyond that there are few if any drawbacks to the grill. If you want a stainless steel finish or a side burner, this grill won't work for you, but beyond that, it is hard to beat the value for this two burner model.
With all the Weber exclusive features and the 10 year warranty, it is much better value than a low-end off-brand grill you can buy for $200 that you'll end up replacing in just a few years. One of the other great things Weber offers is easy access to parts for repair and a customer service team available to help you troubleshoot any issues. Compare this to that low-end off-brand grill, where if one part goes you'll have to scrap the whole thing, and you can see why the Weber Spirit E-210 is such a great investment.
We hope you enjoyed this Weber Spirit II E-210 Review. Let us know which grill you end up buying and how you like it. We'd love to hear from you!
Editor's Note: This blog was originally written in July of 2018 and has been completely revamped and updated for accuracy as of the publication date noted above.