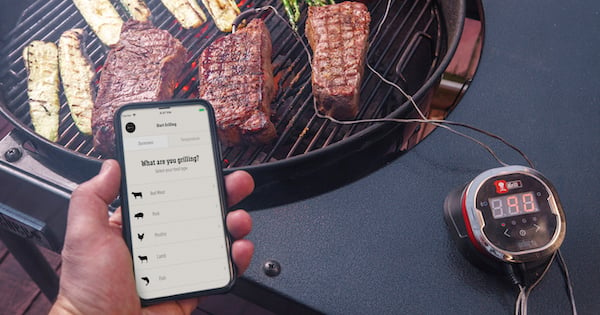 Weber's best-selling grills have a lot going for them, but one feature you might not know about is the iGrill. The iGrill is a digital meat thermometer that uses Bluetooth to let you know through your phone when whatever you're cooking has reached the desired internal temperature - for perfect grilling results every time.
You might be thinking: "I'm not a serious griller, so the iGrill probably isn't for me." You're wrong - but in a good way! The Weber iGrill is great for beginners as well as for hardcore grill enthusiasts. We'll explain why below! (Before we continue: for more info on Weber grills, check out our Weber grill buying guide!)
For some of us, our grilling results are hit-or-miss. It seems like it takes no time at all for chicken to dry out even if you're following the recipe's cook time perfectly, or for a steak to come out a little too bloody because we don't want to risk overcooking it. Although hamburgers and hot dogs are pretty simple, upping your grill game to handle steaks, brisket, and more can be intimidating. If you've ever...
Gotten distracted midway through cooking and accidentally burned a nice cut of meat

Hovered over your grill, constantly prodding and turning something because you can't tell if it's cooked through yet

Committed the "grilling no-no" of cutting into food to check if it's done, resulting in moisture and flavor escaping

Been frustrated by "instant read" thermometers giving you a far-from-instant temperature reading

Been diagnosed as a chronic over- or under-cooker by friends and family
...Then the Weber iGrill will be your new best friend! Here's why:
With the iGrill, you can insert a probe into whatever's on your grill. Then, using the iGrill app, you select what you're grilling and how you would like it done (either by selecting the desired doneness or by temperature or a temperature range). Then the app will alert you when your meat has reached the desired internal temperature - No need to monitor your grill at all! You can get great cooking results even if you're not among the "master class."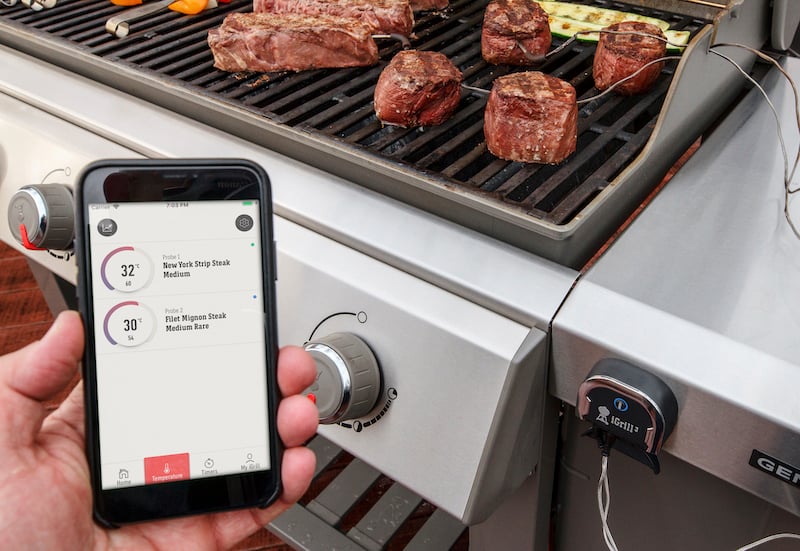 How easy a technology is to use can make or break it - and the free Weber iGrill app you use with the iGrill temperature probes is solid and intuitive. You can also use the Weber Connect app for step-by-step recipe walkthroughs and recipe instructions in addition to managing your temperature probes.
Next, let's dig into the details of what the iGrill system can do so you can decide which type of iGrill is right for your needs.
The iGrill Mini, iGrill 2, and iGrill 3
Weber first acquired the iGrill technology in 2016 and has put a lot of effort into updating it to meet customer's needs. They offer three types of iGrills, while an older version, the iGrill Classic, has been discontinued. The differences between the iGrills are mainly their probe capacities (how many probes you can attach to a single iGrill unit), what information is displayed on the probe "hub," and their battery life.
All current iGrill versions come with the following features:
Bluetooth 4.0 connectivity

Meat probes heat resistant up to 716 ̊ F

Batteries are included!

Used with the Weber iGrill app, available on the App Store® and Google Play™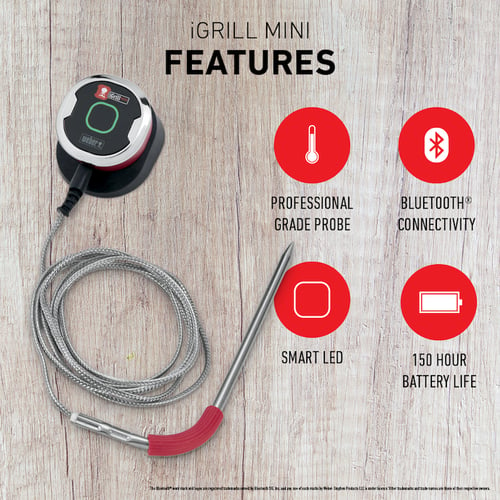 The iGrill Mini is the smallest and most basic probe out of the three. It has a Smart LED display that shows indicator lights for when the iGrill is powered on and connecting to your phone, and the lights change from green to yellow to red to alert you when you are close to or have reached the temperature you selected. The magnetic base attaches easily to any metal surface on your grill, and you should store it indoors between uses. It has a 150-hour battery life and prices at $49.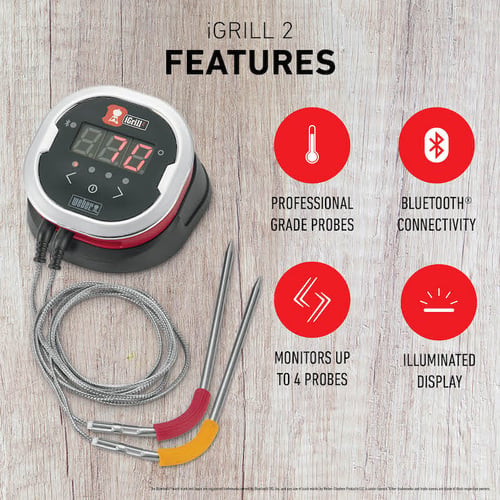 The iGrill 2 comes with two probes but can handle up to four probes if you want to buy more (sold separately). It has a magnetic base as well and should be stored indoors between uses. This option has a digital temperature display and a 200-hour battery life, priced at $99.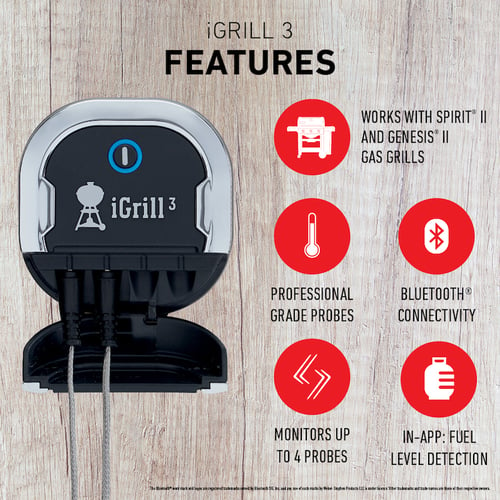 The iGrill 3 is compatible specifically with Spirit II and Genesis II gas grills (and Genesis II LX grills made prior to 2019), so you'll need the iGrill 2 or iGrill Mini for charcoal grills or grills from other Weber model lines. It does not have an LED display on the face of the probe "hub," so it's best for people that want to monitor their cooking progress solely from their smartphone. Unlike the other iGrill options, it "permanently" mounts to the side table in a cutout found on the supported models, so it's designed with weather resistance in mind. Bonus: it can keep track of your remaining fuel, too! It has a 250-hour battery life and retails for $99.
Weber offers both meat probes and ambient temperature probes that are double crimped for increased water resistance. The probes are all interchangeable between the different iGrill types.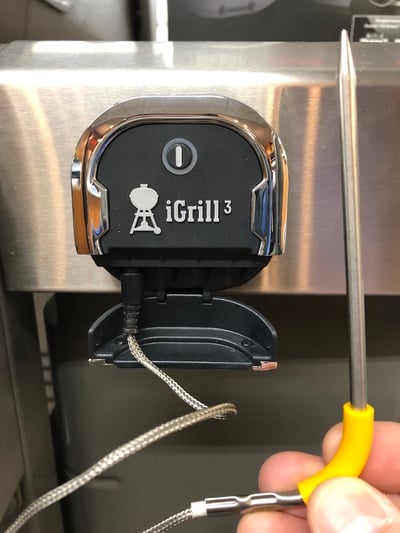 The iGrill App
The Weber iGrill app is free and available for both Android and Apple devices in several languages. It requires Bluetooth 4.0 or higher and is compatible with:
Most Android phones running Android 4.4 or higher (and with Bluetooth 4.0)

Most iOS devices running iOS 9 or higher (including the iPhone 4S or later and iPad 3rd generation or later)
Examples of non-compatible devices include the iPhone 4, 1st or 2nd generation iPads, and Huawei phones.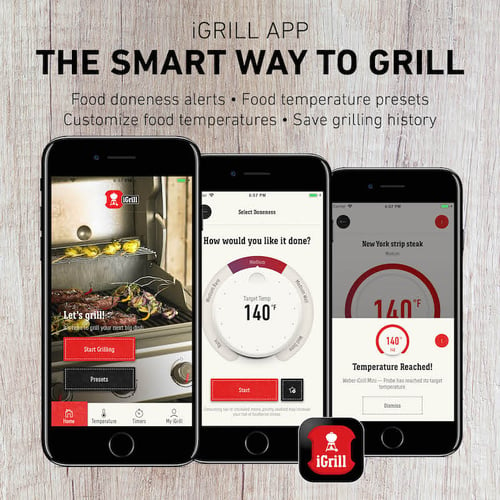 The app is nicely designed and easy to use. First, you'll need to pair your phone with the iGrill through the app. The app guides you through this, step by step, and Weber even has a blog writeup on it for extra help. Then select what type of meat you're cooking and how you want it cooked, and Weber's extensive temperature library will show you the ideal internal temperature. You can also set custom and preset temperatures.
If you like, you can create a Weber-ID account (optional) to save and access past grilling history, add photos and notes, and more. You can check on the progress of whatever you have cooking with the app's temperature graphing feature, too.
Weber has consistently updated this app since it was released in 2016, and you can access customer support as well as manuals and guides through the app as well. Looking at the Play Store app reviews, you can see that Weber replies regularly to people who leave reviews and is eager to help their customers. It's just another reminder that their customer service is hard to beat!
Recently, Weber also released the Weber Connect app, which offers a more fully featured experience. If you want step-by-step recipe walkthroughs, recipe suggestions, and a hub for your iGrill, then check out this app! Weber Connect has the benefit of allowing you to boost how far you can go from the temperature probes by using wifi as well as Bluetooth. So you can move out of Bluetooth range but still receive temperature updates as long as you still have wifi.
Final Comments
The only real limitation of the iGrill is the Bluetooth technology - and this has more to do with your individual smart phone or tablet's capabilities than with the iGrill itself or Bluetooth 4.0. Bluetooth can make your phone or tablet battery drain more quickly than usual, and connectivity can be affected by issues like wireless interference and transmitting through physical obstacles like thick walls. If you have an older smart device, check to make sure it meets the requirements for the iGrill.
That being said, Bluetooth 4.0 can transmit over 200 feet, which should be more than enough for relaxing inside or in the backyard while your grill is chugging along. That's a pretty long leash! If you run into trouble, get in touch with Weber! They have a lot of help topics covered on their website as well.
You can also try the Weber Connect app, which can use wifi for improved transmission distance.
Overall, the Weber iGrill is a great way to "level up" your grilling abilities! What do you think about the iGrill? Leave us a comment below - We'd love to hear from you!
Editor's Note: This blog was originally written in April of 2019 and has been completely revamped and updated for accuracy as of the publication date noted above.