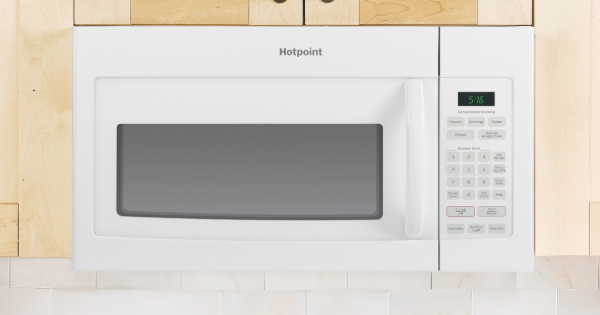 Whether you are putting an entire Hotpoint appliance suite in your kitchen or just looking for a well-priced microwave to replace your existing unit, this Hotpoint microwave may be for you. In this article, we'll review the features of the one and only Hotpoint microwave offered in their model lineup today to help you make an informed buying decision.
Hotpoint is owned by GE Appliances and offers value models for tight budgets. The over the range microwave they offer matches with a Hotpoint gas or electric range and would be a great choice for apartments and other homes.
Like everything else that Hotpoint offers, this Hotpoint microwave is a no-frills model with a great price. Hotpoint microwave model RVM5160DHBB is a 1.6 cubic foot over-the-range model that can be internally or externally vented. This model is available in black, white, or the uncommon bisque color.
It offers 1,000 watts of heating power, which is pretty powerful for a cheaper microwave and will cook noticeably faster than your typical budget 700 watt model. The "convenience cooking controls" offer presets for Popcorn, Beverage, Potato, Reheat, and Defrost by Weight or Time. There's also an add 30 seconds button. You can set the 13.5" turntable to rotate or remain stationary. The ventilation setup offers two speeds for up to 200 CFM, plus a surface light.
Priced at just $219, you can't beat this model if you are looking for a low-cost over the range option. At 1,000 watts it is a little less powerful than some of the mid-range competition but definitely a standout considering the price. If you just need to cover the basics, this microwave may be the one. The lack of handle on the front helps it blend into the surrounding cabinetry, so you're not losing out on aesthetic appeal.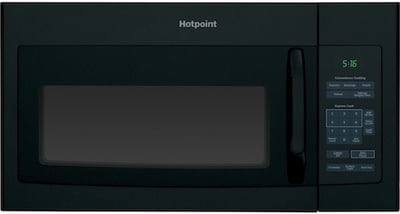 Is the Hotpoint Microwave Right for You?
Should you buy this model? If you're looking for a very strong venting system, you'll want to look to another model with a higher CFM fan (read more about ventilation and CFM in our kitchen ventilation buying guide). Especially if you aren't venting to the outside, this OTR microwave won't be able to handle a ton of moisture and smoke from high-heat cooking.
As you can see, this Hotpoint microwave is a great inexpensive option, especially for those looking for a reliable over the range model with no handle. As of this writing, Hotpoint does not offer a countertop option.
If you're looking for other cheap microwaves, you should consider an Amana microwave (click the link to read our review) or perhaps a model from the Frigidaire Value line. If you want to learn more about the entire line of Hotpoint appliances, click here to read all our Hotpoint appliance reviews. You can also explore more over the range microwave reviews in our article on the best OTR microwaves of the year.
Please leave a comment below - We'd love to hear from you!
Editor's Note: This blog was originally written in December of 2017 and has been completely revamped and updated for accuracy as of the publication date noted above.