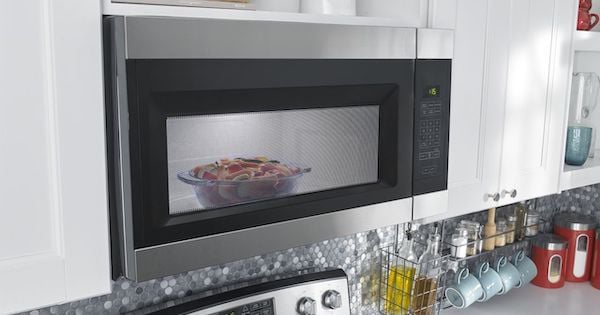 Amana, now owned by Whirlpool, is a value brand offering budget appliances with simple features and solid reliability. If you're looking for an inexpensive over the range or countertop microwave, Amana has some great options.
Amana offers several "universal microwaves" with no handle, eliminating the need to match handles with other appliances such as your refrigerator or range. If you bought an entire suite of appliances a few years back and now have a dead microwave on your hands, this Amana microwave could be a lifesaver as a replacement model that still matches with your kitchen. Handle styles change. The handle style of your beautifully matching four-piece Frigidaire or Whirlpool appliance package from three years ago may no longer be available. So a microwave with no handle is an easy solution to achieving a seamless matched look in your kitchen!
Amana used to offer an over the range model with a handle to match other Amana appliances, model AMV6507RGS, but it has been discontinued. We'll focus on the no handle models.
Watch our video to learn more about choosing a new microwave!
The Amana AMV2307PFS Over the Range Microwave - $249
The Amana AMV2307PFS microwave with no handle has been our most popular Amana microwave. This 1.6 cubic foot OTR model comes in stainless steel at $249 and in black or white at around $229. It's an impressive 1,000 watts as well so it can handle just about any cooking or reheating task you can throw at it.
Sensor cooking presets include baked potato, reheat, defrost, and popcorn. There's also an add 30 seconds button. The controls are very easy to use! The two-speed 300 CFM vent system uses a grease filter and charcoal filter to scrub oils and odors from the air. The 12" turntable can fit most plates, and the cooktop surface lights help you see your stovetop better while cooking.
This Amana microwave isn't fancy, but has good basic features and is certainly suitable for most users who don't need convection microwaves or other higher-end features. It fits into a standard over-the-range microwave cavity.
Dimensions:
Width: 30"

Height: 17.375"

Depth: 15.875"
Click here to read over 210 real customer reviews of this product!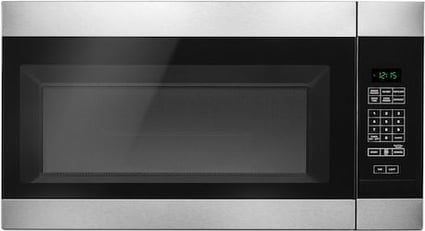 The Amana AMC4322GS Countertop Microwave - $299
Looking for a countertop microwave with no handle? The Amana AMC4322GS might be for you. It comes in stainless steel at $299 and in black or white at $249. This microwave is an impressive 1,200 watts and 2.2 cubic feet of capacity!
Sensor cooking presets include pizza, dinner, defrost, fresh vegetables, frozen vegetables, and more. An add 30 seconds button is also included. The large 16.563" turntable provides plenty of room for large containers. If you're looking for a nice model that will blend in with your other appliances while still cooking your food quickly, this 1,200W Amana microwave is a great choice!
An optional trim kit is available for a built-in look.
Dimensions:
Width: 24"

Height: 12.563"

Depth: 19.625"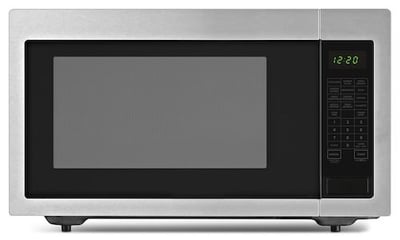 As you can see, Amana has some nice options at good prices if you need a microwave with no handle for your countertop or over the range space. Check out our reviews of the best over the range microwaves of the year for more cool options, our our reviews of the best countertop microwaves if that's what you're looking for!
Please leave a comment below - We'd love to hear from you!
Editor's Note: This blog was originally written in December of 2017 and has been completely revamped and updated for accuracy as of the publication date noted above.