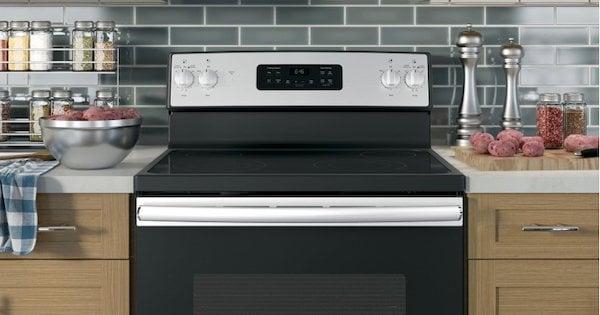 Electric ranges have changed dramatically in recent years, offering new time saving and cooking performance enhancing features that make life easier and better for the cook in the family. GE and Frigidaire are on the cutting edge of the industry, developing many new features of their own. Frigidaire and GE have been manufacturing and selling appliances in the United States for over 75 years and have always held a strong percentage of market share. They are two of the best known names in the industry and have a reputation for quality and value in appliances. Their ranges offer great feature packages at very competitive pricing.
We'll compare two of their most popular smoothtop models available at around the same price point of $799 MSRP to help you decide which brand might offer the best value for your needs. These ranges can go on sale for 10-30% off throughout the year during holiday sale periods.
The Frigidaire FFEF3054TS - Self Clean Oven + 5 Stovetop Elements - $799
One of our best-sellers is the Frigidaire FFEF3054TS, available in black or white for $699, stainless steel at $799, and black stainless steel at $899. This is a nicely designed model with all of the basic features you need to get cooking with a 5.3 cubic foot self-clean oven and four stovetop elements plus a warming zone.
The stove elements include a 100W Warming Zone, an extra-large 12" 2,700W element, two 6" 1,200W elements, and an expandable 6"/9" element with 1,400W up to 3,000W for quick boiling power. The oven comes with 2, 3, and 4-hour cleaning cycles, plus variable broil and options like Delay Bake, Delay Clean, and Control Lock. The extra-large window adds aesthetic appeal to this electric range. A storage drawer underneath provides space for frying pans and cookie sheets.
Overall this is a great basic range - it doesn't have convection or other fancy features but will perform well and look nice in your kitchen. For a little more money, you can get the also-popular Frigidaire Gallery GCRE3038AF priced at around $949 MSRP, which comes with fan convection and other great features.
Click here to read over 1,900 real customer reviews of this product!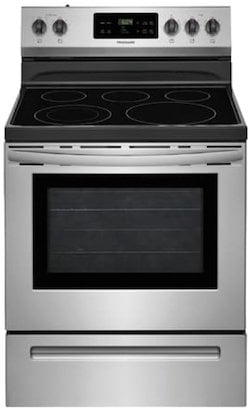 The GE JB655SKSS - Fan Convection + 5 Stovetop Elements - $859
What can you get for $60 more? The GE JB655SKSS offers five stovetop elements, including an extra-large dual 9"/12" element and a 6"/9" Power Boil element, plus an oven with fan convection for more even baking and roasting results. It comes in a rainbow of colors: stainless, fingerprint resistant stainless, GE slate, GE black slate, and the traditional colors of black, white, and even bisque for as low as $809 MSRP. (Read more about slate and black slate here.)
The 5.3 cubic foot oven has a self clean option. A fan at the rear of the oven circulates heat more evenly, making it easier to bake multiple racks of cookies or achieve a perfectly browned roast. Auto Recipe Conversion will adjust the temperature to account for the convection's faster cooking abilities so you don't have to change the cooking time. On the stovetop you'll find a low-heat warming zone as the fifth element. The most powerful element is the 3,100W Power Boil element, which is slightly more powerful than the Frigidaire option.
Again, this is a great mid-priced option that will cover all of your bases. For a little more money you can get the GE JB735SPSS for around $909 which comes with great oven features: True Convection, steam clean and self clean options, and No Preheat Air Fry.
Click here to read over 1,110 real customer reviews of this product!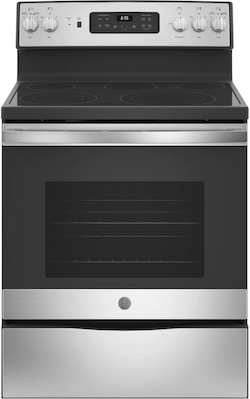 Features Comparison
Stovetop: The Frigidaire model comes with a Warming Zone and an extra-large 12" element. The GE has the same features, but with a dual 9"/12" element. The GE model has a slightly more flexible stovetop but overall they're very similar.

Oven: Both models have 5.3 cubic foot self-cleaning ovens with exposed bake elements and broil options. However, the GE model comes with fan convection with Auto Recipe Conversion. If you want better baking and roasting results, it's definitely worth the extra $60!

Look & Feel: We think GE wins here with a slightly sleeker overall look thanks to the stainless steel burner knobs on a stainless steel backguard. However, if you're looking for stainless steel appliances that have more actual stainless steel, the Frigidaire model may appeal to you since the oven window is framed in stainless steel rather than glossy black. GE's model is available in GE's slate and black slate colors as well if you're looking for a unique finish for your kitchen. Frigidaire's stainless steel is smudgeproof. To get fingerprint resistant stainless for the GE model you'll have to pay a little extra.
Frigidaire and GE offer great products in all categories of appliances. These two models are similar, but check them out in the store to see how it feels to open the doors, move the oven racks around, and use the controls. You may prefer the Frigidaire model if you like the style of the stainless steel oven door, or you may like the GE model if you use the oven more often.
Which model do you prefer? Leave us a comment below - We'd love to hear from you!
Editor's Note: This blog was originally written in December of 2015 and has been completely revamped and updated for accuracy as of the publication date noted above.