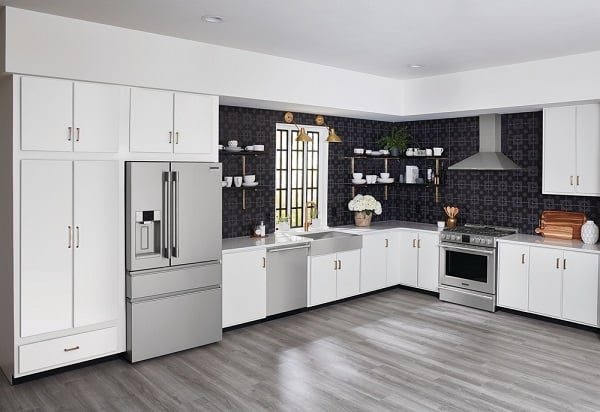 Choosing the right refrigerator is an important task when updating your kitchen, especially since it's a large piece that draws attention when you walk in the room. It represents your style and can be a reflection of your personality. Some product lines provide sleek handles and a smooth contoured appearance while others have a more rugged commercial look. For consumers who are passionate about cooking or just want to feel like the top chef of their own personal restaurant, professionally-styled appliances are a great choice!
When we think of these kinds of professionally-styled appliances, brands like Viking and Wolf often come to mind. If you want that style but are a bit more price conscious, Frigidaire Professional makes a beautifully designed line of products with a commercial edge. While much can be said about Frigidaire's ranges, wall ovens, dishwashers, and cooktops, we're going to look at their Professional line of refrigerators in this article.
This line of products is only available in a stainless steel finish, an idea that strikes fear into parents everywhere over concern of never-ending fingerprint cleanup! But Frigidaire addressed that issue and created the entire line of Professional products with a smudge proof stainless steel finish, making the sleek appearance easy to maintain. They also have gorgeous bar-style handles for a restaurant-inspired look.
Table of Contents
1. The Frigidaire Professional FPHT2097VF Top Freezer Refrigerator
The first model we'll look at in these Frigidaire Professional refrigerator reviews is model FPHT2097VF, priced at $1,249. This model is a 20.0 cubic feet top freezer refrigerator that also fits your old cutout of 18 cu. ft. fridge and has several high-performance features. With adjustable interior shelving, an optional ice maker, and no ice and water dispensers for a smooth, elegant look, this model looks great and is convenient to use.
The PureAir® Air Filter system removes more odor than baking soda so your food smells and tastes fresh. The refrigerator organization is pretty solid: two adjustable gallon door bins, two adjustable shelves and one fixed shelf, plus two crispers. The freezer organization features an adjustable shelf and two fixed door bins.
LED lighting ensures you can see every inch of your shelf space. This refrigerator looks great inside and out! This model is Energy Star rated as well.
Key Features:
PureAir® Air Filter

SpaceWise® Organization System

Smudge-Proof™ Stainless Steel

EvenTemp™ Cooling System

CrispSeal® Crispers with Auto Humidity
Dimensions:
Width: 30"

Height: 66.375"

Depth: 32"
Frigidaire Professional FPHT2097VF - $1,249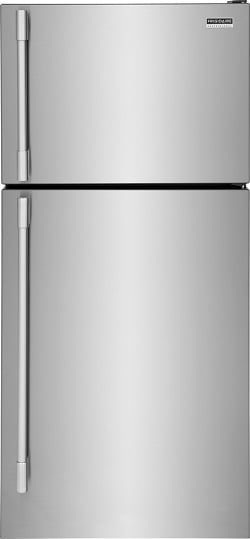 2. The Frigidaire Professional PRFS2883AF Full Depth French Door Refrigerator
Next up is another Frigidaire Professional model, which is a French door refrigerator. Model PRFS2883AF is 27.8 cubic feet and retails for $3,199 in stainless steel. This refrigerator is considered a standard-depth model, meaning the body will protrude beyond the countertop edge for most consumers. If you have several members living in the household and have the room for it, the extra space may make this model more desirable.
Possessing similar internal components as the last fridge and more, this one also adds an external icemaker and water dispenser. It has an icemaker in the freezer as well for extra ice production. Possessing dual icemakers can make entertaining easier and adds to that restaurant style feel in your kitchen. The icemaker in the fresh food compartment takes up part of the top shelf of the refrigerator.
This model is a great option when it comes to organization and keeping a long food life. It has CrispSeal® Plus Crispers with Auto Humidity to preserve your fruits and vegetables. With EvenTemp™ Cooling System, both freezer and refrigerator compartments will have an even air distribution that is also a great help in prolonging the lifespan of your food items. SpaceWise® Organization System includes additional functional spaces like in-door condiment storage, slide under shelf, and accessory railing system.
Bottomline, this model can give you an option to store more items without compromising the food items from spoilage! Also, like the previous model, this option is Energy Star rated.
Key Features:
PurePour™ Water Filter

SpaceWise® Organization System

PureAir Ultra® II Air Filter

CrispSeal® Plus Crispers with Auto Humidity

Dual ice makers
Dimensions:
Width: 36"

Height: 70"

Depth: 35.8"
Frigidaire Professional PRFS2883AF - $3,199
3. The Frigidaire Professional PRMC2285AF Counter Depth 4-Door French Door Refrigerator
This third model is also a 36-inch French door-style model, but unlike the previous refrigerators, it has four doors (learn more about four-door refrigerators here). Model PRMC2285AF is a 21.4 cubic feet counter-depth refrigerator, priced at $3,899. Its additional middle drawer or the Custom-Flex Temp Drawer can be set from -6° to 45°F, so you have the choice to cool your snacks, freeze meats, or chill your drinks in there. Another step up: it's Energy Star certified, so you can save money on utility costs!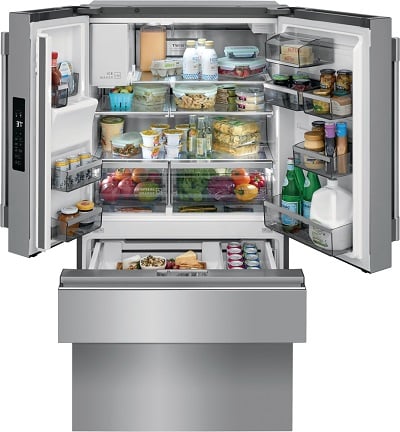 Like the last refrigerator we looked at, this one also has water and ice on the exterior of the door and utilizes similar purifying technology. The TwinTech cooling system and the automatic humidity-controlled crispers both help keep your food fresh. With the SpaceWise organization system, you have the flexibility to fit different food items and drinks and maximize your space in the adjustable gallon door bins, adjustable glass shelves, a SnackZone, and more. If you like the four-door style and want flexibility, check out this refrigerator!
Features:
PureSource Ultra® II Refrigerator Water Filter

PureAir Ultra® II Air Filter

Custom-Flex® Temp Drawer

CrispSeal® Crispers with Auto Humidity

SpaceWise® Organization System

Energy Star rated

Auto-Close Doors

Tall Ice and Water Pocket
Dimensions:
Width: 36"

Height: 70"

Depth: 31.88"
Frigidaire Professional PRMC2285AF - $3,899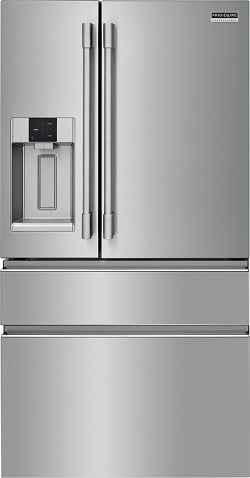 4. The Frigidaire Professional FPRU19F8WF All-Refrigerator Column Model for Built-In Installations
The last refrigerator we'll look at is a 19 cubic feet all-refrigerator option, model FPRU19F8WF, which is priced at $3,699. This refrigerator is different from other models in that it is only 32" wide. Customers who purchase this refrigerator often have a very large space in their kitchen where they can put a corresponding all-freezer model right next to it (in this case, model FPFU19F8WF).
Combine with an optional trim kit to cover a 75" or 79" wide space. Like the other refrigerators we've looked at, this one has quality features including SpaceWise shelving, a full-width crisper drawer, and the PureAir Ultra® filtration system. Upgrades from the previous version of this column refrigerator before the 2021 update include:
Internal water dispenser

Enhanced LED lighting throughout, including areas like crispers and door bins

Auto-close doors

CrispSeal® Plus Crispers with Auto Humidity

No exterior brand badge for a more premium look
The previous lineup (featuring the FPRU19F8WF and matching freezer) cost $1,000 less. These new features and others mean the upgraded models have more to offer.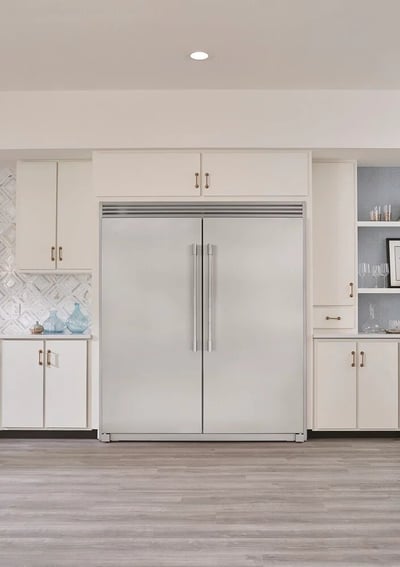 If you need a replacement for an existing built-in refrigerator but don't want to shell out $10,000 or more, you can get the built-in look for less with these column refrigerator and freezer pairs from Frigidaire Professional! You can read about more options in our article on all-refrigerators.
Key Features:

Smudge-Proof™ Stainless Steel

Sleek digital temperature controls

Sabbath Mode (Star-K® Certified)

Enhanced LED Lighting
Dimensions:
Width: 32.88"

Height: 72.5"

Depth: 27"
That's a wrap on our Frigidaire Professional Refrigerator reviews. This line of products gives your kitchen a restaurant-inspired, heavy-duty design without a full kitchen renovation. These refrigerators are all reliable, high-quality products that will look great in almost any kitchen.

We hope these reviews proved helpful in uncovering the best refrigerator for your specific needs! Please leave us a comment below. We'd love to hear from you!
Editor's Note: This blog was originally written in April of 2018 and has been completely revamped and updated for accuracy as of the publication date noted above.