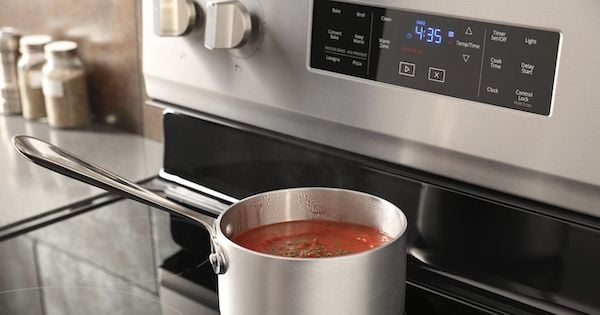 When you're on the hunt for the best electric range, you may wonder what the "real" differences are between appliances that look very similar. How do you know if it's worth it to go for an electric range model in a higher price range? To help show these possible differences, we're going to review and compare two 30" freestanding smoothtop electric ranges. Both are available in sleek and stylish stainless steel. But besides being good-looking, how do you know which one is right for you?
KitchenAid is known for their stand mixers, but they also offer premium appliances with serious aesthetic appeal. They're now owned by Whirlpool, one of the largest appliance manufacturers in the world. How do two $1,400 ranges compare to one another? If you can afford a higher-end model but aren't sure if it's right for you, how should you choose? Let's dig into some KitchenAid vs Whirlpool electric range reviews and find out!
The KitchenAid KFEG500ESS - $1,399
First up is a great range from KitchenAid. This model is available in a stainless steel finish, model KFEG500ESS, as well as in white at $1,599. The new black stainless steel is priced at $1,699. This KitchenAid electric range packs a ton of features into its 30" width.
The oven includes Even-Heat True Convection and has an above-average 6.4 cubic foot capacity. Three oven racks with seven rack guides mean you have plenty of maneuverability for cooking multiple dishes at once. Two of the racks are "Max Capacity" racks made for handling larger items. The settings include several easy convection options to make cooking with convection easy as pie: Easy Convect Meats, Easy Convect Baked Goods, and Easy Convect Pizza. If you entertain regularly or make a lot of large meals, this oven can handle it! It also has a Keep Warm setting and a Proofing setting. Use the Aqualift steam cleaning option to quickly steam clean your oven in 40 minutes with low temperatures.
On top, the range has five surface heating elements including a warming zone. There are two dual elements - one 12"/9" element and one 9"/6" element - and two 6" elements. The most powerful burner offers up to 3,000W of cooking power, while the smallest offers 1,200W.
With contrasting stainless steel knobs and a towel bar style handle, this KitchenAid electric stove is stylish as well as versatile!
Click here to read over 390 real customer reviews of this product!
KitchenAid KFEG500ESS - $1,399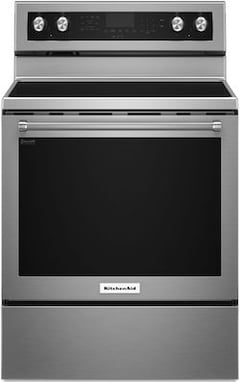 The Whirlpool WFE775H0HZ - $1,419
Whirlpool is actually the parent company of KitchenAid. The Whirlpool parent company offers their high-end products under the KitchenAid name and their mid-tier models under the Whirlpool name. But if you wanted to spend a little less on an electric range (especially during a holiday sale period!), what could you get for the money? The Whirlpool WFE775H0HZ is available in black or white starting at $1,199, stainless steel for $1,419, and black stainless steel at $1,519.
To start with, this model has a nicely featured 6.4 cubic foot capacity oven with fan convection (a step down from True Convection) and "Frozen Bake" technology to skip preheating and cook frozen favorites more quickly. It comes with self-cleaning technology, closed door broiling, and a Keep Warm setting. The oven comes with three racks and seven rack guides.
The stovetop offers two FlexHeat dual elements - one 9"/12" and one 6"/9" - plus two 6" elements and a Warm Zone. Power ranges from 1,200W to 3,000W for the main elements.
If you're looking for a nicely featured model with upgraded styling, check out this Whirlpool option!
Click here to read over 30 real customer reviews of this product!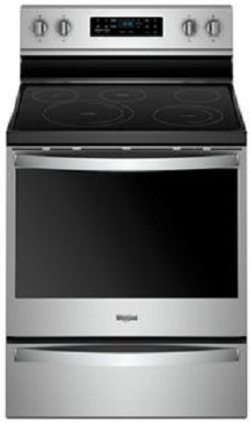 Features Comparison
Stovetop Features: Both models have five elements, and overall have the same stovetop setup with dual 12"/9" and 6"/9" elements with up to 3,000W of cooking power.

Oven Features: KitchenAid is the clear winner here with true convection and plenty of settings to help you utilize it. The KitchenAid model offers steam cleaning only, while the Whirlpool model offers high-heat self-cleaning. They have a similar capacity at 6.4 cu ft.

Look & Feel: Another point goes to KitchenAid! If you want to explore black stainless steel or prefer a commercial feel, take a look at the KitchenAid model in-store. Whirlpool's option is not far behind, however, with sleek lines and plenty of stainless steel.
Which model should you choose? Here are some questions to consider:
Do you need an extra-large capacity oven? If you don't do a lot of heavy-duty cooking outside of Thanksgiving, an XL-capacity oven might not be useful to you.

Do you want a fully-featured oven with all the bells and whistles for baking and roasting with convection, or do you just want a little bit of an edge to help you get meals to the table in a timely manner?

What type of cleaning do you prefer? Steam cleaning is faster but needs to be done more often, while high-heat self cleaning takes longer and can heat up your kitchen quite a bit.
The KitchenAid electric range is undeniably full-featured and is a great choice for people who cook, bake, and roast regularly for groups, family, or crowds. And a convection option is a great feature to have in any oven, even if you aren't big on baking. So if you're a serious chef and want an oven that makes juggling multiple dishes at once easier, you'll love the KitchenAid model!
If you're looking for an upgrade to an older range model and want a few "fun" features and upgrades, the Whirlpool model is a solid oven available in professional-looking stainless steel as well as basic black and white or premium black stainless steel. This mid-tier model covers your bases and won't let you down.
We hope this comparison of KitchenAid vs Whirlpool ranges gives you a better idea of why two ranges that look similar on the outside can have such different prices! Leave a comment with your thoughts - we'd love to hear from you!
Editor's Note: This blog was originally written in September of 2017 and has been completely revamped and updated for accuracy as of the publication date noted above.