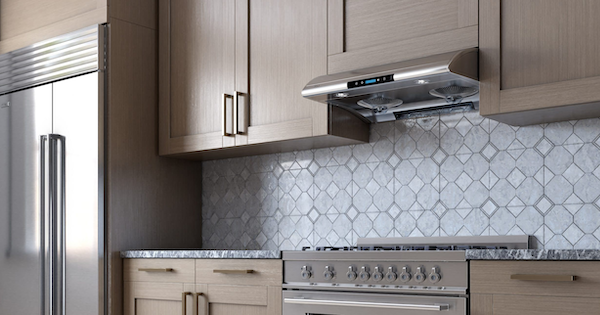 Many consumers focus on ranges, cooktops, or wall ovens when they think about cooking in the kitchen, but the true chef knows that ventilation is an equally important consideration. This is particularly true if you do a lot of cooking and have an open floor plan home or do a lot of entertaining in or near the kitchen. (For more info on choosing a new range hood, check out our ventilation buying guide!)
When looking for your next hood, you may want to consider XO Ventilation. Many appliance companies offer ventilation products, but XO Ventilation is a true specialty manufacturer offering a full suite of products, including under-cabinet hoods, wall mount chimney styles, custom hood inserts, island mounts, glide-outs, and professional models.
XO range hoods tend to be...
Quiet, even when running at high speeds

Nicely designed for a modern look

Innovative in terms of features
XO prides itself on its Italian heritage, which is evident in their designs. Let's take a closer look at the brand and a few of their best sellers across the product line, from undercabinet models to chimney hoods and pro hoods.
Table of Contents
The "Starter" Undercabinet Models - The XOA Series
Starting with the basics, XO Ventilation produces great products for the under-cabinet market. Their XOA Series includes the XOA30S in 30 inch and the XOA36S in 36 inch.
Taking a closer look at the 30 inch, the XOA30S has two 550 CFM high velocity blowers designed to powerfully remove grease, smoke, and odors. It operates in a sound range of 1.0 to 5.5 sones, or up to around 54 decibels (for reference, the average conversation takes place at around 60 decibels). There are six speeds to choose from via the illuminated touch controls.
Two 20W halogen lights provide ample illumination of the cooking surface. It can be top or rear vented and has a 6 inch round duct opening that can be converted to 3.25" x 10" as needed. This product has a FilterLess design, so there is no need to clean filters - what a time saver! Instead, any grease sucked up by the fans is liquified and collects in a tray that is easy to clean.
The 30 inch XOA30S prices at $379, while the larger XOA36S is available at $419, both in stainless steel. Both models also come in black or white at slightly lower prices. They have a one year parts and labor warranty.

Sleek Glide-Out Undercabinet Models - The XOC Series
Maybe you are looking for something non-traditional in the under cabinet market - something sleek and clean looking. A slide-out model, which XO refers to as a "glide-out model," may be just what you are looking for. XO has cutting-edge glide-out hood offerings in a variety of CFM ratings and widths that will give your kitchen that clean modern look but still allow for superior ventilation when needed.
Typically, slide-out hoods allow you to use the lighting and blower only when the hood is fully extended, but that's not the case with XO's glide-out system. You can use the lighting and blower even when the hood is "closed" for added convenience!
Let's take a look at a best seller in the 30" category, the XO XOC30SC glide-out hood. This 395 CFM 3-speed model virtually vanishes when not in use. It can be vented externally or with ductless recirculation, and features illuminated electronic controls and two High Efficiency 3000K LED Lights. The aluminum mesh filters are dishwasher safe for easy cleaning. It offers a great value at $649. Plus, it comes with a two-year parts and labor warranty!
This glide-out also now features the advanced Code Compliance Control. In some areas, you are required to add make-up air blowers if your range hood is at a certain power level. With the CCC, you can avoid these make-up air requirements by setting the range hood's CFM to 395 instead.
One important note with this product and all glide-out models is that despite its sleek exterior appearance, the operational components need to go somewhere! In this mode, the unit will protrude into the cabinet above over 9 inches, effectively eliminating the use of that cabinet.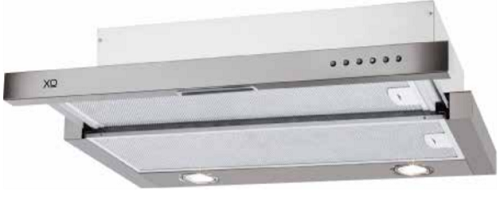 Wall Mount Chimney Hoods - The XOB Series
XO also offers great products in the wall mount chimney hood category. The XO XOB30SC is one such chimney hood that offers great styling and features. At a price point of $649 and a two-year parts and labor warranty, it will look great and perform to meet your highest expectations.
It offers a 600 CFM blower with three speeds (plus Power Boost) which operate with a sone level of 1.0 to 6.4. It comes equipped to install up to 9-foot ceilings and can vent up to ceiling heights of 10 feet with the optional extension kit. This hood can also be converted for ductless installation, using an optional conversion kit.
The right-side front-mounted push button controls are illuminated for easier operation, and the two high-efficiency 3000K LED lights will do an excellent job of lighting the cooking area. The filters are washable and dishwasher safe.
This XO hood also features the Code Compliance Control, allowing you to set the CFM to 395 instead. This is definitely a model that you should consider for your home. Be sure to take a look at it when you go shopping!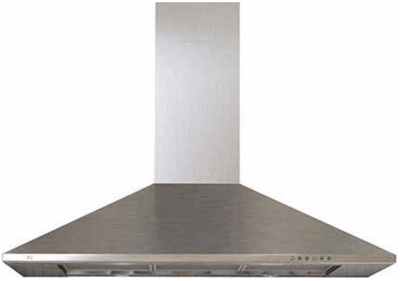 Island Mount Chimney Hoods - The XOMI Series
Perhaps you are in the market for an island hood. These beautiful pieces can really set your kitchen apart and are the perfect accessory to an island cooktop or slide-in range. The XO XOMI36GC is a great option in the 36-inch island category. This model has a 600 CFM high velocity blower and operates in a sound range of 1.0 to 6.5 sones. It has four high-efficiency 3000K LED lights for great illumination and is constructed of high-quality stainless steel and glass. Dishwasher-safe aluminum mesh filters add convenience, and the 3-speed (plus Power Boost) illuminated electronic controls are easy to use.
It is designed to fit ceilings up to 9 feet tall and should be mounted 27-32 inches above the cooking surface. When installed to vent to the exterior, a 6-inch duct is required. It can also be configured for ductless operation where no ducting options are available. Just like the previous models we reviewed, it features the Code Compliance Control, allowing you to set the CFM to 395.
This 36-inch model prices at $1,299. XO also offers a similar 42-inch model, the XOMI42GC at $1,399. They come with a two-year parts and labor warranty.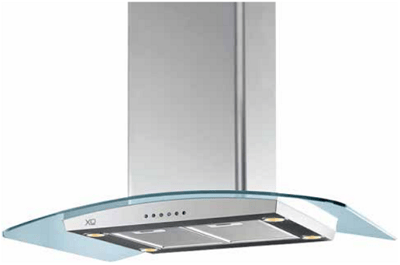 The Pro Range Hoods - The XOT Series
If you are in the market for a high-powered professional-grade model, XO Ventilation has you covered there as well. They offer both wall and under-cabinet high CFM professional models in a variety of widths.
We'll take a look at the popular 1,000 CFM 36 inch XOT1836KS Wall Pro. This model features a high-velocity blower to easily remove smoke, grease, and odors. Sound levels range from 2.0-8.0 sones, and this powerful model is perfect for high-heat cooking on gas stovetops. It has 3-speed push button controls and features two 50W Halogen lights. Its professional stainless steel baffle filters are dishwasher safe.
This model needs to be installed 27-32" above the cooking surface and requires an 8 inch round vertical duct. It is not available in ductless. XO offers 600 CFM and 395 CFM models that can be converted to ductless operation if needed. This powerful model prices at $1,199 and comes with a two-year parts and labor warranty.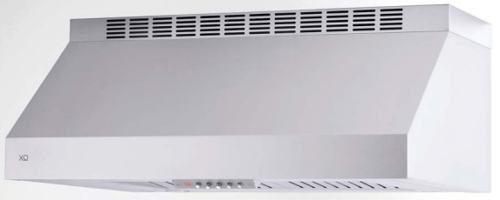 The hood is a very important part of the kitchen appliance package! XO Ventilation offers a wide variety of hood styles, so take a look at all the models they have to offer and you may find the one that is right for your home. As you can see, they offer thoughtful features built into high-quality designs.
We hope this was informative and will be helpful for you in your journey to find the best hood for your home. Please leave us a comment below. We'd love to hear from you!
CLICK HERE FOR A LIST OF ALL XO HOODS
Editor's Note: This blog was originally written in March of 2017 and has been completely revamped and updated for accuracy as of the publication date noted above.