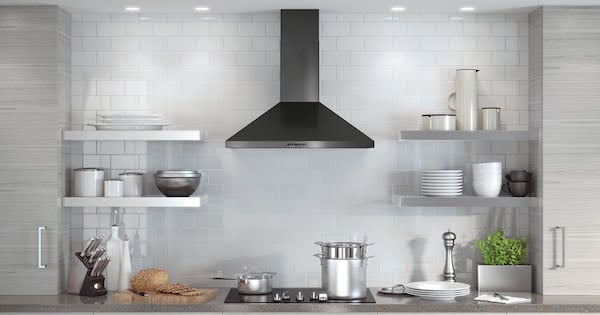 Are you considering a suite of black stainless steel kitchen appliances? Finding a matching range hood just got easier with our black stainless steel range hood reviews! In this article, we'll review five chimney-style range hoods available in black stainless steel from several brands. We recommend taking a look at these models in person, because each brand has a slightly different take on black stainless steel - read our article Black Stainless Steel Appliances - Reviews (Pros and Cons) to find out more!
Now, let's dig into the chimney-style black stainless steel range hood options currently available. These are an important appliance to consider if you're looking into appliance packages to bundle a kitchen revamp into one purchase. The products are numbered for your convenience but are listed in no particular order.
Table of Contents
Models marked with a * retail for under $1,000.
Before We Start - Basic Range Hood Features to Know
Sones: How loud is your range hood during operation? Rather than decibels, many ventilation products use sones to represent a fan's noise. However, you can convert sones to human-audible decibels (dBA) to get a better idea of the noise levels. For example:

1 Sone = 28 dBA - Whisper-quiet

2 Sones = 38 dBA - Very quiet

3 Sones = 44 dBA - Moderately quiet

4 Sones = 48 dBA - Less quiet, but still not intrusive

CFM: This stands for Cubic Feet per Minute, and is a measure of how quickly your range hood can scrub the surrounding air. For heavy cooking, you'll want at least 350 CFM. One rule of thumb is 1 CFM per 100 BTU of cooking power - so for burners producing 45,000 BTUs, you'll want a 450 CFM range hood.

Ventilation Options: Many range hoods are convertible, so they can be set up as recirculating or vent to the outside, depending on your kitchen setup. Make sure your range hood choice is either convertible or comes in the ventilation setup you need!

Explore our ventilation buying guide for more information!
1. GE Profile UVW9301BLTS - $1,248
First on our reviews of black stainless steel range hood models is an option from GE Profile, which is GE's sleek line of streamlined appliances with leading-edge features. If you're considering a GE Profile appliance package with premium black stainless steel models, the GE Profile UVW9301BLTS is a must-see.
This convertible ventilation designer chimney hood is one of GE's smart appliances with Wi-Fi Connect, allowing you to control this range hood from your smartphone or with your voice through a virtual assistant. Or you can use the remote control if your phone isn't nearby! It looks amazing from every angle, from the perimeter venting to the LED backlit glass touch control and triple LED dimmable lighting. Use Chef Connect to sync the hood's lights and fan with the range, and let the Time Delay Shut-Off handle any leftover smoke while you dig into your freshly prepared meal.
The nitty gritty: it comes with removable, dishwasher-safe grease and charcoal filters to scrub grease and cooking smells from the air. It offers four speeds from 100-380 CFM on Low/Medium/High plus a Boost Speed of 610 CFM. The high speed maxes out at 4.0 sones. It's compatible with ceilings up to 10 feet thanks to included duct cover extensions, and optional accessories can be used to reach up to 14-foot ceilings. It's also available in a 36-inch model, linked below.
Find out more about GE black stainless steel appliances in our article!
Check out the 36-inch model here: GE Profile UVW9361BLTS
GE Profile UVW9301BLTS - $1,248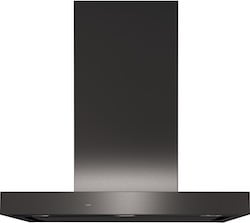 2. GE JVW5301BJTS - $838
Another black stainless steel range hood from GE, the GE JVW5301BJTS is a less expensive wall mount chimney hood alternative to the GE Profile model. This model is a mid-end design without the bells and whistles of a smart appliance. However, you get the perks of easy do-it-yourself installation plus an optional remote control.
Backlit push-button electronic controls are up-front and intuitive. Dual halogen cooktop lighting provides bright light over your cooktop. An optional charcoal filter is available for additional filtering power. Three fan speeds from 150 up to 350 CFM max out at 6.6 sones (about 55 dBA) when using the Boost Speed setting. The filter is dishwasher-safe for easy cleaning.
If you have high ceilings, you'll want to look into the optional 9-foot ceiling duct cover kit (Model JXDC72TS). The convertible venting allows you to recirculate or vent air outside. It's also available in a 36-inch model, linked below.
Find out more about GE black stainless steel appliances in our article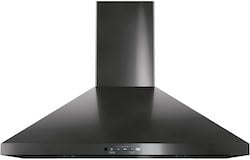 3. Samsung NK30K7000WG - $1,399
Samsung smart appliances are on the leading-edge, and their fingerprint resistant black stainless steel range hood model NK30K7000WG is a prime example! Pair it with a connected Samsung cooktop, and bluetooth technology will automatically sync the fans and lights with your cooktop burners! Plus, Wi-Fi connectivity lets you monitor and control your cooktop hood from anywhere. Wonder if you left your range hood running now that you're miles away from home? You can check your smartphone to know for sure!
This is one of the rare ADA compliant range hoods since you can control it from your smartphone - you can explore more ADA compliant appliances in our article. Digital smooth touch controls look seamless and are easy to clean. LED lights provide bright lighting for your cooktop surface.
The Samsung chimney hood comes with three fan speeds plus a booster speed with a noise level of up to 10.8 sones (74.3 dBA) and max power of 600 CFM. If you have a high-powered cooktop, that CFM level is a good option! However, it's less quiet than the KitchenAid model reviewed previously.
Find out more about Samsung black stainless steel appliances in our article!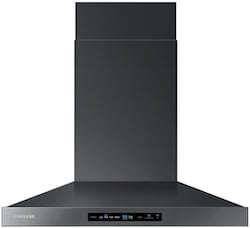 4. Whirlpool WVW53UC0HV - $799
The cheapest black stainless steel range hood option on our list of chimney-style range hoods comes from the #1 selling appliance brand in the USA: the Whirlpool WVW53UC0HV at $799. It comes with three speeds for up to 400 CFM and a max sound level of 69 dBA, or 5.6 sones. Plus, the black stainless steel finish is fingerprint-resistant, like the Samsung model.
The grease filters are dishwasher-safe, and the ventilation is convertible to recirculating or vented depending on your needs. The LED task lighting is bright, energy-efficient, and lasts a long time. The simple push button controls are intuitive and minimalist.
There is also a special order 30 inch black stainless steel range hood model with the same stats. However, it has a different design: it features a concave glass look around the vent duct rather than the traditional metal pyramid style. It's a unique look for the same price of $799: Whirlpool WVW51UC0HV.
Check out the 36 inch model here: Whirlpool WVW53UC6HV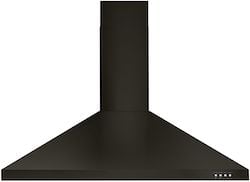 5. LG HCED3015D - $1,199
LG's black stainless steel range hood model HCED3015D comes with a powerful blower and a 5-inch low-profile body, and the black stainless finish is fingerprint-resistant, too.
Infrared touch button controls provide quick feedback, allowing you to adjust the dual-level LED lighting and the five speed levels. The speeds range from 200 CFM to 600 CFM, so they're ideal for high-powered burners, and the sones range from 1 to 6, so even at full power, it's not too noisy. The two filters are dishwasher safe.
The low-profile hood design means this chimney hood will complement your kitchen rather than take it over. It comes with a one-year parts and labor warranty.
Find out more about LG black stainless steel appliances in our article!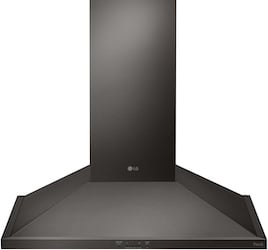 That concludes our overview of some of the chimney style black stainless steel range hood options from various brands! No brand has the same take on black stainless, so a matching suite of appliances is a must if you're interested in this premium appliance color. Discover more range hood options in our reviews of the best range hoods of the year, or check out all of our ventilation blog posts by clicking the topic below this post!
What do you think about these models? What will your black stainless steel kitchen remodel look like? Leave us a comment below - We'd love to hear from you!
Editor's Note: This blog was originally written in December of 2018 and has been completely revamped and updated for accuracy as of the publication date noted above.