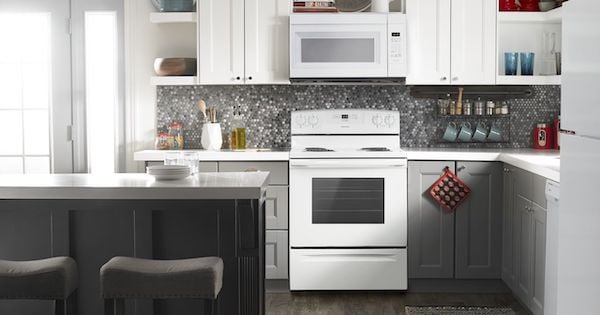 If you're looking for a quality range without breaking the bank, Amana is a brand worth looking at. Unlike many other national brands, Amana doesn't have a lot of national advertising and therefore may not be as familiar as kitchen appliance brands like KitchenAid or Maytag.
What you may not realize is that Amana is manufactured by the well-known Whirlpool brand: Amana is Whirlpool's value line. Their products are manufactured in the US, and Amana has several great offerings in the range category to suit any budget. They expanded their lineup back in 2017 to include five 30" electric range model options. Let's dig in!
1. The Base Model - Amana ACR2303MFW - $459
First up on our list of Amana electric ranges is the Amana ACR2303MFW, retailing around $459 in white only. This base model is a top seller and a great option for a rental property, summer cottage, in-law apartment or for your main kitchen if you are on a tight budget but need a new range you can rely on.
This coil top electric range comes with two 6" 1,250W elements and two 8" 2,100W elements with chrome drip bowls on a porcelain-steel upswept cooktop. The 4.8 cubic foot oven comes with a 2,400W bake element and a 3,400W broiler element, plus two racks and five rack guides inside. Below the oven is a storage drawer. It has manual dial controls for the oven and stovetop, and the Temp Assure cooking system helps distribute heat evenly throughout the oven. This model is ultra-basic and lacks a timer or digital clock. An indicator light will let you know if an element is on but will will not let you know if an element is still hot to the touch.
Click here to read real customer reviews of this product!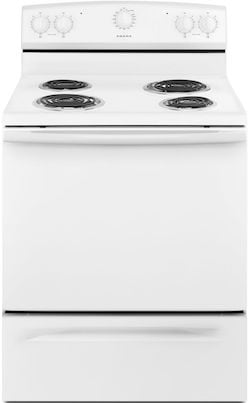 2. The Next Step Up - Amana ACR4303MFS - $659
Next up is the Amana ACR4303MFS electric range, available in stainless steel at $659 and in black or white for $609. Like the previous model, it's a coil top with the same element sizes and wattages plus the "Element On" indicator light. The upgrades include:
Easy Touch Electronic Controls Plus

An extra-large oven window

An interior oven light

Oven control lockout option

Bake Assist Temps presets

Electronic clock with timer

Adjustable broiler
The Custom Broil and Warm Hold settings are handy oven control features added to this model. This model comes in more colors and has a sleeker look and feel compared to the previous option!
Click here to read over 15 real customer reviews of this product!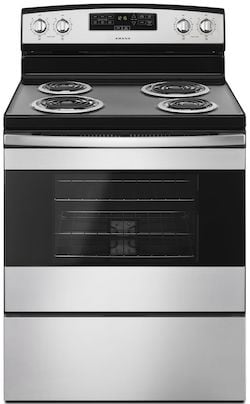 3. The Self-Clean Coil Top Model - Amana ACR4503SFW - $649
This model is currently available in black or white only at $649. It offers a 2-hour or 4-hour self-clean option. Learn more about self clean ovens here. Other than that, it is identical to the 4303 model above!
Click here to read over 10 real customer reviews of this product!
4. The Basic Smoothtop Model - No Self Clean - Amana AER6303MFS - $649
Are you looking for a smoothtop electric range on a budget? (If you're not sure, compare the pros and cons of smoothtop vs coil top.) Then you may want to take a look at the ultra-affordable Amana AER6303MFS, retailing at around $649 in stainless steel or at $599 in black or white. It has a glass-ceramic top with two 8" 1,800W elements and two 6" 1,200W elements. The controls include On/Hot indicators rather than just "Element On." You'll also find a Delay Bake option for the oven and a Keep Warm setting. However, the oven does not have a self-clean option.
Click here to read over 100 real customer reviews of this product!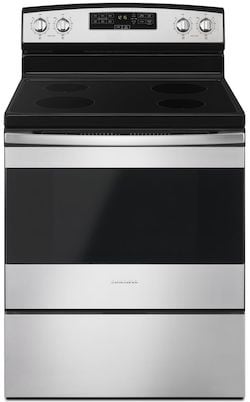 5. Amana's Top-of-the-Line Option - Amana AER6603SFS - $699
Last but not least in the Amana electric range lineup is model AER6603SFS. It comes in stainless steel at about $699 or in black or white at $649. The oven has an adjustable self-clean option (two or four hours). On the stove you'll find two 6" 1,200W elements, an 8" 1,800W element, and a dual 9"/6" convertible element with up to 3,000W of cooking power. This is the most full-featured option and the exterior design is pretty stylish, too!
Click here to read over 35 real customer reviews of this product!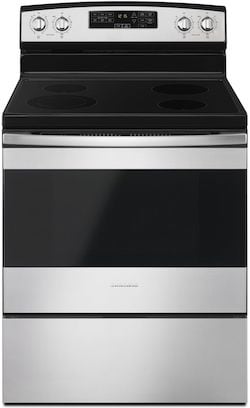 All of these models are compatible with the Amana AMV2307PFB over the range microwave. You can also find an apartment-sized 20" coil top electric range from Amana, model AEP222VAW, for around $599 in white only.
As we said at the outset, Amana electric ranges offer a great value for budget-conscious consumers. Just because Amana isn't advertised as widely as other brands doesn't mean it lacks in quality, features and value. When shopping for a new electric range, don't overlook Amana!
We hope you enjoyed our Amana electric range reviews. Feel free to leave us a comment below. We'd love to hear from you!
Editor's Note: This blog was originally written in October of 2017 and has been completely revamped and updated for accuracy as of the publication date noted above.