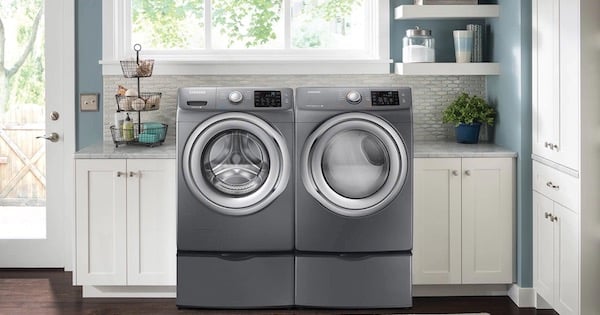 Samsung and LG are two powerhouse brands in the laundry industry. If you are looking for the best dryer for the money, these two definitely offer great value. These brands offer cutting edge technology and innovative features. These two brands should definitely be on your shopping list when you are researching new dyers (check out our dryer buying guide for more info on choosing a new model). They are here to stay as major players in the US appliance industry.
Dryers are not all the same. Some companies still offer very basic models that hit the low price points. However, if you are looking for the newest features and better performance, you'll get it in these two brands. Take a look and see what they have to offer. Let's compare two of their top selling front load style models!
The LG DLEX4000W Dryer - 7.4 cu. ft. - $999
The LG DLEX4000W with a retail price of $999 is a great energy efficient dryer with many new features saving you time and money. It has a 7.4 cubic foot drum, made to match a larger front load washer in the 3.5-4.0 cubic foot range. The drum material is aluminized alloy steel, and a drum light and 4-way venting are additional helpful features.
It has 12 drying programs which are dedicated to different laundry loads and designed to take better care of your fabrics and keep your clothes looking better and lasting longer. Sensor drying ensures that your clothes aren't over-dried or left damp. The steam cycles can be used to freshen up clothes, remove wrinkles, and sanitize things like pillows and other items that are not easily washable. The Wrinkle Care option helps to keep the clothes from wrinkling if you don't remove them from the drum immediately after the cycle is done.
Another great feature is LG's LoDecibel Quiet Operation technology. More consumers are looking for quiet appliances, and this dryer is a good option for laundry rooms near living areas or on upper floors. The Smart ThinQ app connectivity allows you to check on cycles and receive notifications when your laundry is ready to be folded from your smartphone! With the LG Smart Diagnosis technology, you can also troubleshoot any issues and download custom cycles to your dryer. This dryer has a solid array of features and a nice look and feel, too.
Dry Programs & Options:
12 Programs: Normal, Heavy Duty, Bedding, Anti Bacterial, SteamSanitary™, SteamFresh™, Perm Press, Delicates, Towels, Speed Dry (Manual Dry), Air Dry (Manual Dry), Downloaded

12 Options: More Time, Less Time, Damp Dry Signal, Wrinkle Care, Control Lock, Wi-Fi, Energy Saver, TurboSteam™, Reduce Static, Remote Start, Drum Light, Signal

6 Temperature Settings

5 Drying Levels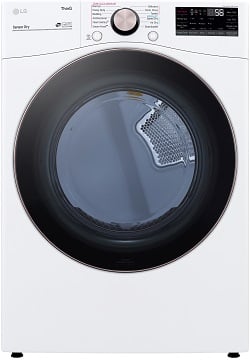 The Samsung DVE45R6100W Dryer - 7.5 cu. ft. - $899
Next up in our LG vs Samsung dryer review is the Samsung DVE45R6100W, a top selling dryer retailing at $899 that also offers 4-way venting plus a reversible door. The drum is 7.5 cubic feet, just slightly larger than the LG model. It has Multi Steam Technology for freshening up clothes and removing wrinkles, allowing you to spend less time ironing. The water for the steam cycles is directly connected to your water supply, eliminating the need to refill a reservoir.
The programs include Steam Sanitize+ to remove 99.9% of germs and bacteria, 95% of pollen, and 100% of dust mites - ideal for allergy sufferers! The Multi-Steam function infuses your laundry with steam, removing odors, static, and wrinkles. The Refresh cycle also uses steam to release wrinkles and remove odors.
The Smart Care feature allows you to troubleshoot any issues using your smartphone. Other features like the lint filter indicator light and drum light add to the convenience of using this dryer.
Dry Programs & Options:
10 Programs: Refresh, Steam Sanitize+, Normal, Heavy Duty, Permanent Press, Bedding, Delicates, Time Dry (Manual), Air Fluff (Manual), Quick Dry (Manual)

9 Options: Damp Alert, Wrinkle Prevent, Adjust Time (Up), Adjust Time (Down), Eco Dry, Child Lock, Smart Care, Alarm Off, Drum Light

5 Temperature Settings

5 Drying Levels
Click here to read over 60 real customer reviews of this product!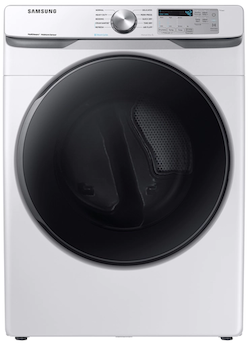 Features Comparison
Drying Programs: Both offer sensor dry programs and steam dry options as well as the ability to download custom cycles from your smart phone to the dryer. They offer a similar array of programs and options, but the LG model offers SteamSanitary for cleaning items that usually aren't washable, such as throw pillows or stuffed animals, while Samsung's Steam Sanitize+ is designed for washable items.

Smart Technology: We think the LG model wins in this category. Samsung offers the Smart Care diagnosis system for troubleshooting issues with your smartphone, while LG offers this plus Smart ThinQ - the ability to start cycles and get notifications when the cycle is complete.

Price & Warranty: Warranties are similar, with both offering one full year parts and labor. With no major MSRP price difference and not too many tradeoffs in terms of features, either model could be a great option. Keep an eye out for package deals and rebates if you want to save extra money!
Thanks for reading our best dryer for the money comparison of LG versus Samsung dryer models. Take a look at our dryer buying guide for even more information on choosing a new dryer. We hope you enjoyed! Which model would you choose? Please leave a comment below. We'd love to hear from you!
Editor's Note: This blog was originally written in May of 2015 and has been completely revamped and updated for accuracy as of the publication date noted above.