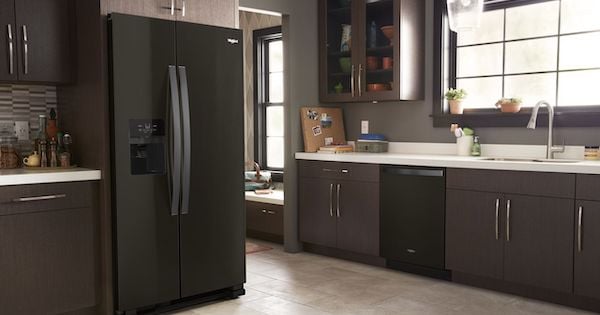 If you want to upgrade your kitchen with a new distinctive and rich look, the new black stainless steel that was released by Whirlpool back in 2018 might be a great fit. With all the new colors that have come and gone in the appliance industry, black stainless steel has the strongest commitment from the manufacturers and will probably give stainless steel a run for its money in the future.
It is also currently offered by LG, Samsung, KitchenAid, Frigidaire, Bosch, and GE. The color, finish, and the manufacturing process are all slightly different from one manufacturer to another.
When considering black stainless steel appliances, keep in mind that you should generally plan on purchasing all the appliances from the same manufacturer in an appliance package if you want an exact match. They are all sleek-looking and fingerprint resistant.
Color Overview & Available Appliances
Whirlpool may be the single most recognized brand in the appliance industry. Whirlpool is an American company that also owns the KitchenAid and Maytag brands. In their Whirlpool line, they offer a complete suite of kitchen appliances in this exciting new color, from refrigerators to wall ovens and dishwashers, and includes their redesigned Whirlpool handle.
Here's a quick overview of what you can expect from Whirlpool's black stainless steel line:
A matte finish, brushed black metal that's fingerprint resistant

An elegantly curved handle

Smart appliance options
The Whirlpool line's black stainless has slightly more of a "grain" or brushed look than the KitchenAid line and has very closely color-matched handles. Like many brands, they have focused on adding this finish option to their mid- and higher-end appliances. Initially they offered a range of appliances in black stainless, but they are now moving towards offering most of their models in fingerprint resistant black stainless steel rather than the original non-smudgeproof black stainless. These non-smudgeproof black stainless models are being phased out.
Click here to search for Whirlpool black stainless models!
Appliances Whirlpool offers in black stainless steel include...
The low profile microwave for over the range installations (exclusive to Whirlpool and KitchenAid)

Slide-in and freestanding ranges in gas and electric

30" and 36" wall mount range hoods

Bottom freezer, French door, side by side, and top freezer refrigerators (not all brands offer top freezers or bottom freezers in this color), including four door French door refrigerators

Dishwashers with hidden top controls

Single, double, and combination microwave wall ovens
These Whirlpool black stainless steel products all have model numbers ending in the letter "V." When shopping online, you'll be able to differentiate the new color by looking for the "V" line.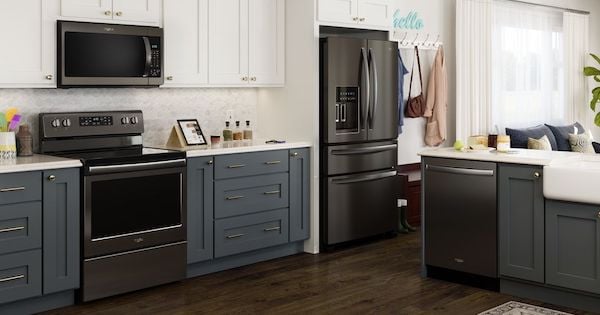 Whirlpool's black stainless steel appliances create a whole new look for the kitchen that is soft, elegant and different. They are exceptionally beautiful products and a great alternative to regular stainless or black appliances. Once you see them you will probably fall in love with the look.
Black stainless steel has a long way to go to catch up with the popularity of "regular" stainless steel, but it is on its way as more products are being introduced in the color and more customers are seeing it on display in stores and in friends' and family member's homes. There is no way to be sure, but my opinion is that black stainless steel is here to stay.
Head out to the stores and take a look at black stainless steel appliances. They are really a game-changing item in the appliance industry. Even if you are not ready to buy yet, you might want to see them in person and experience the look.
We hope you enjoyed reading about the new Whirlpool black stainless steel line. We encourage you to leave a comment below. We value your input!
Editor's Note: This blog was originally written in February of 2019 and has been completely revamped and updated for accuracy as of the publication date noted above.