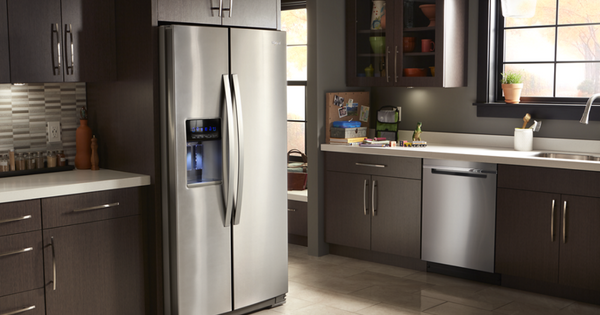 As buying groceries in bulk becomes more popular, more consumers are looking for refrigerators with extra freezer space to hold it all. Although some people are turning to chest freezers or upright freezers to store their bulk buys, other people prefer to keep it all in one place. If you want a large refrigerator with the largest freezer you can find, you're in the right place: we'll discuss what to look for if you want a refrigerator with a big freezer. If you're looking for freezers, check out our reviews of the best upright freezers of the year.
For more info on choosing a new fridge, check out our refrigerator buying guide!
Table of Contents
Which Refrigerator Types Offer the Largest Freezers?
If you're looking for refrigerators with larger freezers in general, check out side-by-side refrigerators since they tend to have a more even split (50-50) between the fresh food and frozen sections (click the link to see our reviews of the largest side-by-side models of the year). With other refrigerator styles, the ratio is about 60-40 refrigerator to freezer capacity. The larger the refrigerator is overall, the more freezer space it will have - but make sure to check the dimensions to see if it will fit in the space you have available! French door refrigerators offer the largest capacities on the market, followed by side-by-side models.
However, how the space is arranged is almost as important as the amount of space: one complaint about side-by-side refrigerators is that the narrow shelves make it difficult to store larger items like frozen pizzas or large platters. On the other hand, French door refrigerators usually organize the freezer section with two tiers of drawers, so food can get buried under other items and be forgotten.
Other factors to consider to maximize freezer space include:
Compact ice makers, ice makers in the fresh food compartment, or no ice maker at all

Adjustable storage dividers or shelving

Avoid 33" side by side refrigerators, as they tend to have a narrower freezer section

Look into freezer organization methods, such as freezing food flat in a bag rather than in a container

Counter depth models are shallower overall, which means less capacity, but this could be a benefit if you tend to forget food in the back of the fridge if you can't see it
If you really want to stock up on frozen goods, you may want to consider a chest freezer or upright freezer to supplement your refrigerator's frozen food storage space.
Which Model of Refrigerator Has the Largest Freezer?
1. French Door Style: The LG LRFDS3016S - 30 cu ft - $4,099
Drumroll, please... that honor belongs to LG if we're going by the sheer number of XL models they offer! LG is a leader in the XL refrigerator niche with several French door refrigerator models around 30 cubic feet as of this writing. New this year is the enormous 29.7 cubic feet LG LRFDS3016S, pricing at $4,099. The fresh food section is 19.3 cubic feet while the freezer is 10.4 cubic feet.
Any refrigerator THIS big is going to have a lot of space in both sections! In the fresh food section, you'll also get a door-in-door design to save energy and make accessing snacks and drinks easy as pie. In the freezer section, you'll also find LG Craft Ice, which makes spherical ice ideal for craft beverages or fancying up some lemonade.
Check out more XL models in our largest French door refrigerator reviews! Or, in general, look into LG or GE for XL models.
Dimensions:
Width: 35.75"

Depth: 36.625"

Height: 68.875"
A Few Close Seconds:
Click here to read over 185 real customer reviews of this product!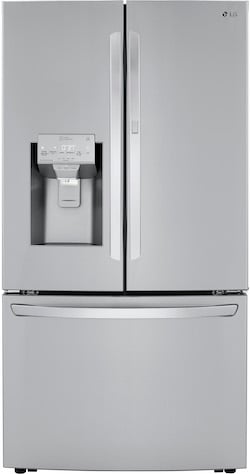 2. Side-by-Side Style: The Whirlpool WRS588FIHZ - 28.5 cu ft - $2,099
You can save some money by choosing a side-by-side refrigerator. This style maxes out at almost 29 cubic feet, and you have fewer options overall in the XL category. Whirlpool is in the lead with the 28 cubic feet Whirlpool WRS588FIHZ.
This model has a 10.93 cubic feet capacity freezer. It's cheaper overall than the previous option since it has fewer premium features, so if you need the largest freezer on a budget and a huge refrigerator overall, check out this model! For more options, see our largest side-by-side refrigerator reviews.
Dimensions:
Width: 36"

Depth: 34.875"

Height: 69"
A Few Close Seconds:
Click here to read over 775 real customer reviews of this product!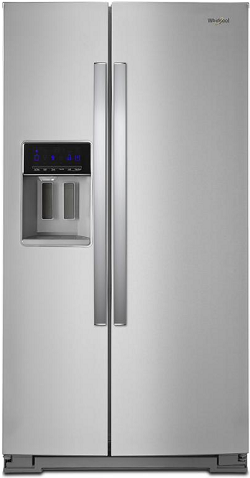 As you can see, these refrigerators have a lot to offer in addition to the largest freezer capacity! LG offers some truly mammoth refrigerators with a lot of smart features. In general, any full-depth side by side or French door that is 36" wide will offer capacities of at least 27 cubic feet.
If you want to explore more of the largest refrigerator models on the market, check out our blog series comparing different styles of XL refrigerators:
Do you think the largest freezer on the market is big enough for your needs? Leave us a comment below - We'd love to hear from you!
Editor's Note: This blog was originally written in September of 2018 and has been completely revamped and updated for accuracy as of the publication date noted above.