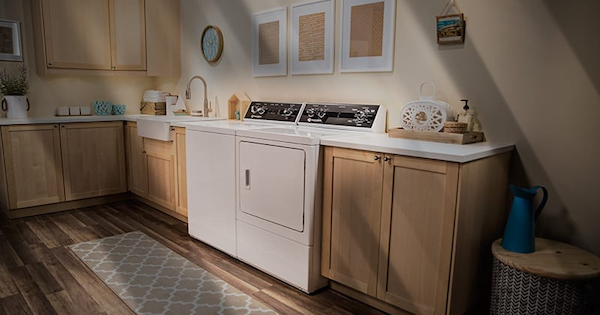 Wondering where to buy Speed Queen washers and dryers? Speed Queen is a specialty manufacturer of laundry appliances. They produce the most durable and dependable washers and dryers on the market today. Unlike many other appliance brands, Speed Queen appliances are not widely available at Big Box retailers and department stores.
When you're looking to purchase Speed Queen washers and dryers you have two basic options: online retailers and appliance specialty retailers. Let's take a look the options and discuss some pros and cons for each.
CLICK HERE FOR CURRENT SPEED QUEEN MODELS, SPECS, & PRICING
CLICK HERE FOR A LIST OF SPEED QUEEN DEALERS NEAR YOU
Online Retailers
Buying major appliances from an online only retailer can be a good option, especially if you know exactly what you want and are focused mostly on price. As in any industry, online retailers tend to have some advantages when it comes to pricing over traditional brick and mortar retailers. They have lower operating costs because they don't have the expenses associated with physical store locations.
However, there are a few downsides. First, you'll most likely need to go to an actual store to view the product unless you are comfortable with buying it sight unseen. Secondly, delivery is something you'll really want to check into with online retailers. Here are some of the questions you should ask:
How long will the products will take to arrive?

What kind of truck will the products arrive on?

If the shipper is using a tractor trailer truck, for example, is that practical for your home?

What is included with delivery?

The most bare-bones delivery is where the shipment is left in your driveway, and you'll have to move and install the appliance yourself.

More robust delivery services will include setting up your new appliance and even removing your old one if applicable.

What are your options if the product is damaged or has a service issue?
Remember - buying a washing machine or dryer online is a very different transaction from buying a pair of sneakers or a book online!
Appliance Specialty Retailers
Appliance specialty retailers are generally family-owned single or multi location appliance stores that specialize in home appliances. These stores have many advantages for the appliance consumer. As specialty retailers, these stores and all of their staff members are focused on just one thing - providing a great customer experience for appliance consumers. You'll have access to...
Expert sales staff with vast product knowledge

In-house delivery teams, generally with installation of the new model and disposal of old appliances included

In-house repair staff that can quickly handle any warranty issues and other repairs
This can make the buying experience more pleasant from selection to delivery and disposal of old appliances to future service or repairs that your appliances may need. The inevitable bumps in the road that often come up with appliance delivery and installation can often be easily smoothed out by the staff of the local dealer. The stores generally offer a large selection of brands and models and competitive pricing.
Like with anything, there are a few drawbacks. Generally these stores don't have quite as many models on display as home improvement centers or department stores. This isn't really a factor when it comes to Speed Queen though as they are only carried by appliance retailers and are not available in big box stores. Also, these stores may not be located in the most convenient shopping centers accessible to highways like some of their competitors.
In terms of pricing, their prices are often competitive with larger stores. In cases where they are higher, these retailers have been known to match prices or offer extra services to compete with other retailers to win customer business. Don't overlook this option when purchasing new Speed Queen laundry pair or other appliances.
We hope you enjoyed this overview of the options on where to buy Speed Queen appliances. If you have any questions, don't hesitate to reach out. Also, we encourage you to share your comments and experiences below. We'd love to hear from you!
CLICK HERE FOR CURRENT SPEED QUEEN MODELS, SPECS, & PRICING
Editor's Note: This blog was originally written in July of 2017 and has been completely revamped and updated for accuracy as of the publication date noted above.