Benefits of Weber Flavorizer Bars
Enhancing flavor - Juices, marinades and spices that fall from food are vaporized by Flavorizer bars and are locked back into food for additional grilled flavor.

Distributing heat - Flavorizer Bars are located above the burners but below the cooking grates. Their placement helps distribute heat more evenly throughout the cooking box.

Protecting burners - Grill burners have open holes in them where flames shoot out. Falling food particles and liquids can drip directly into those holes, clogging them over time and shortening the life of the burners. Flavorizer bars help protect against this.

Preventing flare-ups - In addition to clogging burners, falling grease can cause flare ups. Flavorizer bars burn off excess grease and help prevent the remaining grease from making direct contact with the flames, curbing flare ups.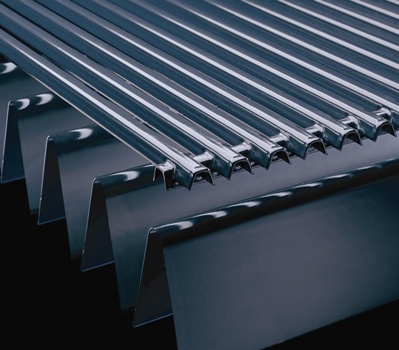 Using Weber Flavorizer Bars
Using Flavorizer bars couldn't be easier. When your new grill is assembled, the bars will be put in place below the grates, just above the burners. While you want to remove them for cleaning and maintenance, you don't need to touch your Flavorizer bars during regular use. They work automatically. When you place food on the grill and it begins to heat up, juices, excess marinade, rubs and spices will naturally fall between the grates. The Flavorizer Bars will catch the falling goodies and vaporize them. The vapors then waft back up into the food being cooked on the grates and add an extra level of deliciousness to your meal!
Nothing could be easier to use than Weber Flavorizer bars - they do all the work themselves!
Types of Weber Flavorizer Bars
Weber offers two types of Flavorizer bars in their grills: porcelain enamel and stainless steel. Weber's smaller and less expensive models, such as the Spirit II line, offer porcelain enamel Flavorizer bars while their higher end and larger models have stainless steel Flavorizer bars. As of 2019, all Weber Genesis II models come with stainless steel Flavorizer bars with burner viewing windows so you can easily check if a burner is lit.
While stainless steel Flavorizer bars last longer, they will likely not last the lifetime of your grill. Even stainless steel will succumb to rusting with all the juices, salt, and so on dripping on them over time. The Flavorizer bars are covered under Weber's new 10-year warranty on all Spirit, Genesis and Summit models. Under Weber's old warranty plan, there were different warranties on the porcelain enamel and stainless steel version but that isn't a concern anymore.
You can also upgrade to stainless steel from porcelain enamel when you replace your bars if you are so inclined. One of the great things about Weber is that they don't make replacement parts hard or impossible to find! Learn more about Weber's warranty and replacement parts and accessories in our complete Weber model review.
Porcelain Enamel Flavorizer Bars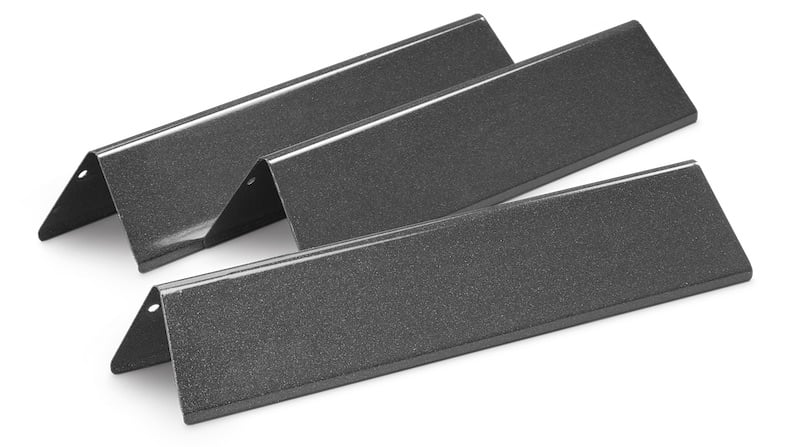 Stainless Steel Flavorizer Bars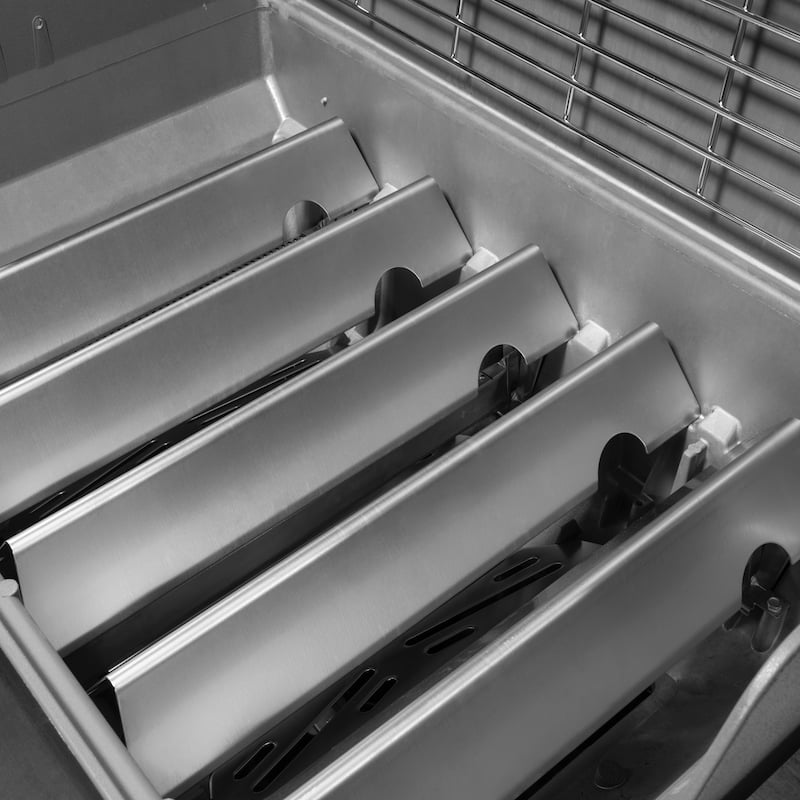 Caring For Weber Flavorizer Bars
Like all the important parts of your grill, your Weber Flavorizer Bars should be regularly cleaned and maintained. You'll want to clean the bars when the grill is cool and the grates and bars are cool to the touch. Simply remove the grill grates to access the Flavorizer Bars. Once you've removed the bars, regular cleaning is quite simple and can be done with a standard grill brush. Some grill masters recommend a plastic putty knife to help with additional baked-on grime.
For deep cleaning, soak the Flavorizer bars in the sink with delicate dish soap, thoroughly scrub them with a cloth or dish sponge, then hand dry them and put them back into your grill.
Replacing Weber Flavorizer Bars
Don't be too quick to replace your Flavorizer bars. Clean them regularly and keep them looking as good as possible but don't be fooled - a bit of corrosion and grime is normal. The bars, whether porcelain enamel or stainless steel will never look as good as they did when your first brought your grill home. After years of use (or less if you neglect to clean them) your bars will finally start to corrode deeply and may even begin to flake apart. At this point, it is time to replace them.
If it is within 10 years of your purchase - great, they are covered. If not, no problem, replacement parts are available. For a complete list of over 120 Weber accessories including Flavorizer bars, with prices, click here.
Additional Resources
We hope you enjoyed our review of the Weber Flavorizer Bars. To learn more about Weber, read our full article - Weber Gas Grills - Everything You Need to Know!
If you want to learn more about the process of comparing gas grills from different manufacturers and all the different styles, types and features of grills across the industry, download our Free Grilling Buyer's Guide below.
Editor's Note: This blog was originally written in July of 2018 and has been completely revamped and updated for accuracy as of the publication date noted above.