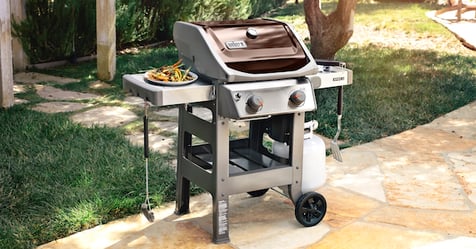 Looking for Weber gas grills and trying to find authorized Weber dealers? There are many different places across the US where you can find Weber grills sold. Authorized Weber dealers range from small mom and pop appliance and hardware stores to regional retail chains to national big box home improvement and general merchandise retailers.
In this article we'll discuss some of the various options you have in looking for Weber dealers, discuss why all dealers are not created equally and help you to find a dealer in your area that suits your needs. If you want to learn about Weber's full lineup and why they have such a dedicated fan following, check out our article: Weber Gas Grills - Everything You Need to Know. It will help you navigate Weber's entire model lineup.
Types of Weber Dealers
Weber gas grills are sold just about everywhere these days. From Dick's Sporting Goods to Walmart to Amazon, the options are almost limitless. Here are just some of the places you'll find Weber gas grills:
Online retailers, including Amazon.com and Wayfair.com

Home improvement centers, including Lowe's and Home Depot

Hardware chains, including Ace Hardware

Independent appliance dealers, like us!

General merchandise retailers like Target and Walmart
As you can see, there is no shortage of places to buy Weber products - so how do you know which option is the best option for you? We'll take a look at some of the important factors in the next section.
Considerations When Choosing A Weber Dealer
Not all retailers are created equally. While all Weber dealers have access to their full product line, there are many other considerations when choosing a Weber dealer. For example, does your dealer...
Display a wide variety of models and colors?

Offer assembly services?

Offer removal and disposal of your old grill?

Offer delivery? How much does it cost?

Have trained sales staff that can review the features of the product with you or help you troubleshoot any issues in the future?

Sell accessories?

Have an easy return/exchange policy if your grill arrives damaged or is defective?
There are other considerations when choosing a Weber dealer, but these are definitely some of the most important. Weber has national pricing so choosing a dealer really comes down to convenience, knowledge and service considerations, not price.
One factor that can be very important to customer is whether the grill comes pre-assembled. Some dealers will offer free or reduced-cost assembly services throughout the year. Some just offer these specials during the "off-season" (usually winter). So if you can plan your Weber grill purchase in advance, it's worth buying during these promotions!
Dealer Locator
There are authorized Weber dealers all across the United States. The best way to find a dealer is to use the dealer locator on Weber's site. Click here, enter your zip code, and you'll be given a list of dealers near you. Be sure to contact the stores to see if they have the models you want on display!
Let us know where you buy your next Weber and how your experience with the Weber dealer was. We'd love to hear from you!