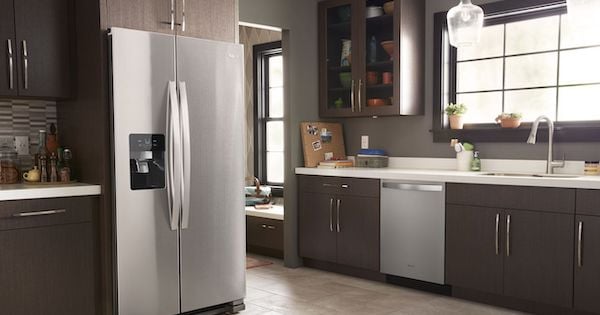 LG and Whirlpool didn't start out making refrigerators, but their side by side refrigerator offerings available today provide some great features that consumers love! Side by side refrigerators offer a unique setup where you can place your often used items in both the refrigerator and freezer conveniently at eye level rather than having to bend over to reach one or the other in a top or bottom freezer refrigerator model. A side by side refrigerator will usually require less space in front of it to fully open the doors. However, side by side refrigerators tend to be wider than comparable top freezer and bottom freezer models.
In this article, we compare two of the best side by side refrigerator models from these brands, with links to customer reviews and more. If you want to explore even more options, check out our complete reviews of the best side by side refrigerator models of the year!
1. The LG LSXS22423S - 33" - 22 cu ft - $1,699
Need a side by side refrigerator for a narrower space? The LG LSXS22423S is a 33" wide model with 22 cubic feet of capacity. It's available in stainless steel at $1,699, is ADA compliant, and under 66" tall for specialized kitchen spaces as well.
If you're looking for a side by side model that looks and feels high-end, you'll love this LG option. The tall ice and water dispenser features a shiny stainless steel finish with a smooth-touch display with LEDs for controlling the ice production and the temperatures of the fresh and frozen food sections. Plus it's designed to accommodate large containers like vases and water bottles with ease. The freezer section includes five glass shelves rather than wire shelves, and the SpacePlus Ice System puts the icemaker in the door to free up shelf space.
This Energy Star rated fridge also comes with a one-year parts and labor warranty, five years parts and labor on the sealed system and the linear compressor, and parts only for years 6-10 on the compressor.
Features:
SpacePlus Ice System in-door ice dispenser frees up shelf space

Tall Ice and Water Dispenser

LED lighting

Energy Star rated

ADA-Compliant

Digital Temperature Controls and 5 temperature sensors
Dimensions:
Width: 32.75"

Depth: 35.625"

Height: 65.625"
Click here to read over 80 real customer reviews of this product!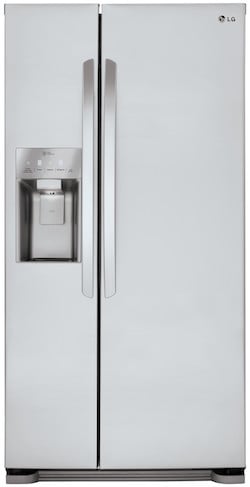 2. The Whirlpool WRS325SDHZ - 36" - 24.6 cu ft - $1,399
Whirlpool is a well-known brand with a lot to offer. The Whirlpool WRS325SDHZ is available in fingerprint-resistant stainless steel for $1,399. (Learn more about black stainless and who offers it in our article!) Its 24.6 cubic foot capacity makes it a little over 10% larger than the LG side by side refrigerator model above. You'll notice that this model is also wider and taller than the LG model, but has a slightly smaller depth so it will stick out less from your counter.
This Whirlpool model includes an exterior ice and water dispenser with an LED night-light, adjustable gallon door bins, a deli drawer, and frameless glass shelves that maximize your storage space. The Adaptive Defrost system sets the freezer to defrost based on factors like how many times the door has been opened rather than just being on a timer. Like the LG model, this option is ADA-compliant. It has about the same refrigerator-to-freezer space ratio as the LG model and a similar sleek exterior.
If you're looking for a stylish side by side refrigerator that won't break the bank, you should definitely take a look at this Whirlpool model!
Features:
ADA-Compliant

Ice and Water Dispenser with EveryDrop Water Filtration

LED lighting

Up-front electronic temperature controls
Dimensions:
Width: 35.875"

Depth: 33.625"

Height: 69.625"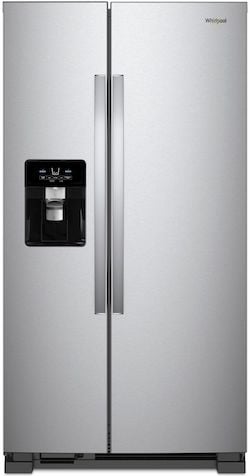 Features Comparison
Look & Feel: Both models have a similar premium exterior design, including the dispensers. LG's tall dispenser is a nice option if you fill tall sports water bottles or other containers often. The Whirlpool model is available in premium black stainless steel, while the LG model is not. Overall they offer similar aesthetic appeal for the money!

Storage Options: The Whirlpool model does not have in-door ice storage so you lose some freezer space as a result. Both models offer deli drawers and crisper drawers - Whirlpool offers one climate-controlled and one not, while both of LG's crispers are climate-controlled. Whirlpool's glass shelves are frameless to expand storage flexibility, while LG's are framed in plastic to help contain spills.


Warranty: LG offers a more robust warranty covering the compressor that is hard to match, while Whirlpool offers the industry standard of one year parts and labor.
The LG model has a narrower width to fit more easily in smaller kitchens, plus its Energy Star rating means it will help you keep your utility bills low. By comparing the Energy Guide for each model, you can see that the Whirlpool model uses an estimated 702 kWh yearly, while the LG model uses 606 kWh/year. That difference can add up over the lifetime of the refrigerator! But for some people, the extra capacity and cooling features of the Whirlpool side by side refrigerator may balance out this additional electricity cost.
There are a lot of factors to consider when choosing a new side by side refrigerator. Leave a comment below to share your thoughts and questions - We'd love to hear from you!
Editor's Note: This blog was originally written in April of 2018 and has been completely revamped and updated for accuracy as of the publication date noted above.