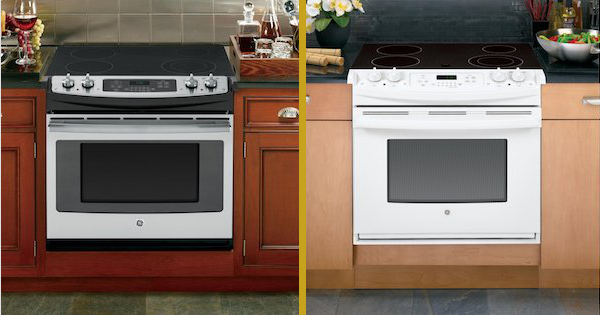 Drop-in ranges were quite popular in the 70's and into the early 80's, but their popularity has since plummeted and they are difficult to find today. The models still available today are mostly limited to 30" electric drop in range models. We'll review what drop-in range options are still available and discuss whether it's worthwhile to purchase a more common range style instead. You can learn more about choosing a new kitchen range (gas or electric) in our range buying guide, too!
Drop-In Ranges: What Are They, & Should You Get A New One?
If you are replacing an existing drop-in range, you probably already know a bit about them. Drop-in ranges are different from standard free standing ranges and slide in ranges. They are like slide in ranges in the way they overhang the countertops but they are actually suspended by the counter surface over a bottom cabinet or shelf and do not touch the floor.
Also, these ranges are usually direct wired into a junction box behind the range and don't have a standard cord that plugs into an outlet. At this point, unless there are extenuating circumstances, we wouldn't recommend designing a new kitchen to accommodate a drop-in range as their availability is so limited. If you are looking for a premium alternative, a cooktop over a wall oven could take up the same space while still maintaining that built-in look and feel.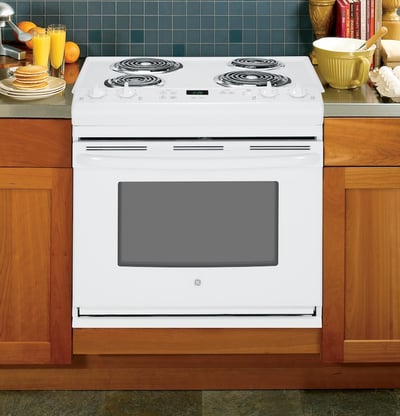 So, you should consider a freestanding or slide-in range (or wall oven and cooktop combo) to replace a drop-in range if:
You are rebuilding your kitchen (and can remodel cabinets to accommodate a different cooking setup) or building a new one

You are looking for a less expensive option, or a range that has a lot of great features for the price

You would like to explore a wide variety of models with different colors, styles, and feature packages rather than a limited few
However, if you have an existing drop-in range, like it, and want to replace it, you have a few options... for now. GE currently produces two models, which we will review below. They are a bit pricey compared to a traditional range with similar features, pricing at around $1,500 to $1,800. These models are often special orders so you'll need to shop around and be sure to check availability. GE still produces a 27" wide model, but most of the options available today are 30" models.
What Are Your Options for Drop-In Ranges?
When this article was initially written in late 2017, Whirlpool was making drop-in ranges, but has since left the market. Now, in 2019, Frigidaire has dropped out of the market as well. The options are dwindling! Only GE is still in the running.
One option comes from GE Appliances, the stainless steel GE JD630SFSS, priced at around $1,749. This smooth top electric range has contemporary styling and is also available in white or black. It includes a self-cleaning oven with an expandable 9"/6" Power Boil element. The oven has a dual-element design to help produce more even cooking results.
Click here to see the product specs and read over 20 real customer reviews!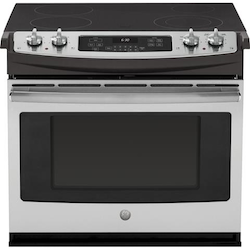 If you are looking for a 27" drop in range, the GE JM250DFWW might suit your needs (and is also the only 27" model still in production as of this writing). At $1,499, it's pricier than a lot of nicely featured freestanding units and is also a coil top model. It won't be winning any prizes for good looks, but it will fit in that 27-inch-wide space in your counters! It has a 3.0 cubic foot capacity self cleaning oven and basic controls. It is available in white or black.
Click here to see the product specs and read over 10 real customer reviews!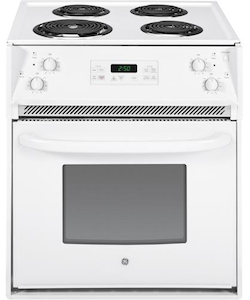 In Conclusion...
You may want to consider modifying your cabinets so you can go with a more common free standing or slide in range, giving you more choices if you don't like the drop-in models you find. The drop-in style is definitely on its way out, and if your drop-in range is a standard 30-inch width, it won't require too much cabinet modification to replace it with a freestanding or slide in model. That being said, GE's remaining models have been highly rated by customers overall, so at bare minimum they should be high-quality replacements for your old model.
If you want to explore alternatives to drop in ranges, check out our reviews of the best electric ranges of the year and the best gas ranges of the year, or read our slide in electric range reviews.
In the end, it's up to you! We hope this article has helped you in your new appliance journey. Leave us a comment below. We'd love to hear from you!
Editor's Note: This blog was originally written in January of 2018 and has been completely revamped and updated for accuracy as of the publication date noted above.