Try out the fan-enabled ProDry system if you hate having to towel off drippy dishes and tupperware. Or use Express Wash for an ASAP clean! These, and many other features, make this product another great choice for your home! After one year of parts and labor, the warranty covers five years parts on the nylon racks and electronic controls and a lifetime warranty on the stainless steel tub and inner door liner.
Features:
5 Cycles: ProWash, Tough, Normal, Express Wash, Rinse Only

5 Options: 2-4-8 Hour Delay, Extended ProDry, Bottle Wash, Hi-Temp Wash, Sani Rinse

Fan-enabled ProDry System

Bottle Wash option with adjustable spray nozzles
KitchenAid KDTE334GPS - $1,199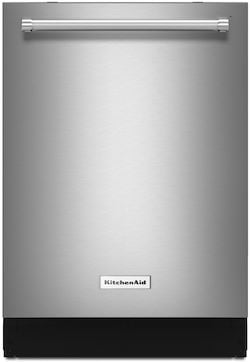 Features Comparison
Both of these dishwashers are excellent, well featured appliances for your home. It will be up to you to determine which is the best dishwasher value for you. After all, "value" isn't just about price: these high-performing dishwashers will stay relevant for years to come thanks to their many innovative features. But here are a few quick areas you can compare them in:
Wash Cycles & Options: Both offer similar cycle choices. The KitchenAid model includes a fan-assisted dry option, while the LG model does not have a fan. The KitchenAid model includes spray nozzles in the upper rack for washing tall, deep items, but has three wash arms to the LG model's four. Both have adjustable racks and third-level racks.

Look & Feel: The KitchenAid model offers an industrial-inspired bar handle, and both are available in the unique black stainless steel finish. LG's matte black stainless steel is also a must-see! The stainless steel KitchenAid model is fingerprint-resistant as well, and both feature a smooth-gliding upper rack.

Smart Appliances: The LG model's connectivity is a good choice for busy households. Find out more about LG smart appliances in our article!

Warranty Coverage: Only the LG model comes with a 10-year limited warranty on the motor. Both offer lifetime warranties on the door liner and tub and 5-year warranties on the nylon racks and electronic controls, plus one year parts and labor.
Consider purchasing from a local independent appliance dealer for better service after the sale. Most local dealers will match the prices of Big Box stores!
What features do you think offer the best value in a dishwasher? Please leave us a comment below. We'd love to hear from you!
Editor's Note: This blog was originally published in January of 2015 and has been completely revamped and updated for accuracy as of the publication date noted above.