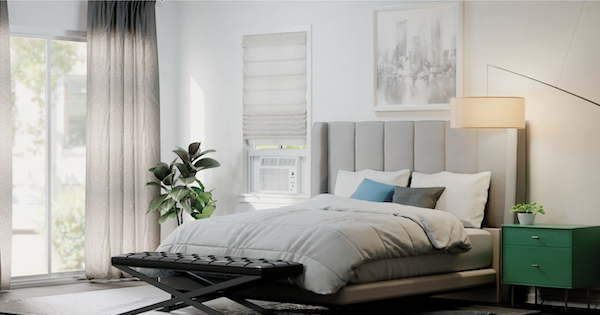 After winter frosts and snows melt into spring slush, we welcome the heat of summer... to a point. A 6,000 BTU air conditioner is the perfect size for a bedroom, small play room, or home office, and will generally suit small rooms up to 250 square feet (read more about air conditioner sizes here). Although there are lots of cheap air conditioners out there that tend to pop up in stores around the summer months, choosing an AC unit from an established brand can ensure that you end up with a model that is quieter, energy efficient, and more reliable.
With that in mind, we've reviewed three great 6,000 BTU models from GE, Frigidaire, and Friedrich to help set you up for success this summer. Each model comes with a different feature package and price, so it's up to you to decide which model will met your needs.
For more info on choosing a new air conditioner, check our our air conditioner buying guide!
Table of Contents
3 Factors to Consider When Buying a Window Air Conditioner
Energy Efficiency/Cost to Run. Air conditioner efficiency is important since it's directly connected to how much the unit will cost you while it's running. Besides looking at the energy guide, you can also check out the CEER, or Combined Energy Efficiency Ratio. This ratio takes into consideration the cooling capacity (BTU/hr) and the power used while in use and while in standby mode. The higher the CEER, the better. You should only compare CEER ratings between AC units with the same BTU output. Based on the Energy Star website's ratings for 6,000 BTU air conditioners, the best CEER ratings for this type of AC unit max out at 12.4.

If you'll be running your AC constantly for most of the summer, you may also want to look for a model with an Energy Saver mode. This mode typically checks the temperature of the room every few minutes and only turns the fan on if the temp has risen above the level you've chosen.

Noise Level/dBA. Many air conditioners now come with decibel measures in dBA, similar to dishwashers. This measures the approximate noise level of the unit. Since the average conversation level takes place at around 60 decibels, units that are 60+ dBA can be disruptive. Besides noise level, higher pitched noises are more grating to the ear than lower, deeper noises. Try to listen to a display unit in your local appliance store to get a solid idea of the noise performance!

Note that a 6 to 10 decibel decrease will sound like a 50% reduction in noise level, while a 3-decibel change will only be 1.23 times louder or quieter. So don't sweat small decibel differences between models, but pay attention to differences of 8 or more decibels.

Weight & Installation. Luckily, the lower the BTU rating of an AC, the less it weighs. If you are DIYing the installation, consider the weight of the unit (and check the installation height and width requirements to make sure it will fit in your window).
3. The Friedrich Chill Premier CCW06B10A - $419 MSRP
Last but not least in our 6,000 BTU air conditioner reviews is a model from specialty brand Friedrich. Friedrich air conditioners tend to be more expensive than brands like Frigidaire, but they make up for that with quiet operation, reliability, and high owner satisfaction.
The Friedrich CCW06B10A promises ultra quiet operation and is Energy Star rated (the savings could be notable if you plan to run your air conditioner most of the day, or need an air conditioner for year-round use in a warm climate). It has an antimicrobial filter, and the controls on the unit can be hidden behind a cover when not in use for a smooth look. The Auto Air Sweep setting moves the louvers back and forth to cool a broad area so you don't have to manually adjust the fan direction. The slide out chassis design is convenient for permanent installation but works well for seasonal installs, too.
New for 2020, this model comes with Wi-Fi connectivity and voice control with Amazon Alexa. You can control your AC from anywhere with your phone! Friedrich offers a one year full parts and labor warranty plus five years on the sealed system.
Features
CEER: 12.1

Noise Rating: Not listed, but quiet

Weight: 44 lbs

Estimated Yearly Energy Cost: $54

Digital display and touch controls with remote

Wi-Fi connectivity

Energy Saver mode

24-hour on/off timer

Auto Restart

Auto Air Sweep swing louvers distribute air evenly

Energy Star rated
Friedrich Chill CCW06B10A - $419 MSRP - CLICK HERE FOR CURRENT PRICING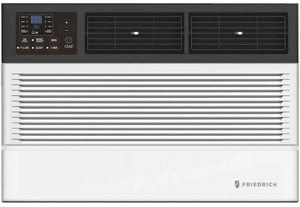 That sums up our comparison of three 6,000 BTU models from three great brands! Although Friedrich is more expensive than other brands, they're very popular with high owner satisfaction. Frigidaire and GE also offer a lot of nicely featured models for reasonable prices.
Do any of these models appeal to you? What do you look for in a window air conditioner? Leave us a comment below - We'd love to hear from you!
CLICK HERE TO EXPLORE MORE 6,000 BTU AIR CONDITIONERS!
Editor's Note: This blog was originally written in July of 2020 and has been completely revamped and updated for accuracy as of the publication date noted above.