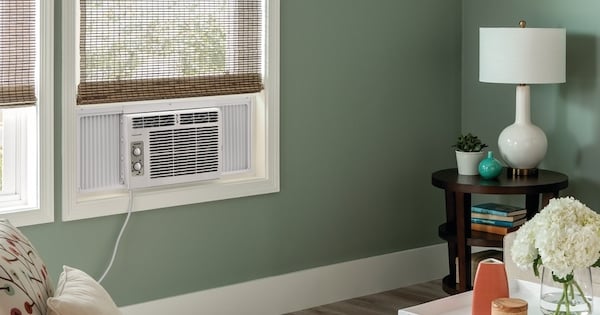 Summers in New England can be sweltering at times, with high humidity levels and record-breaking temperatures. Many of us choose to cool things down with a window air conditioner, but which model should you choose? It's easy to find no-name brands in any store, from the pharmacy to the supermarket. However, if you want your air conditioner to last, we recommend going for a known brand like Friedrich or Frigidaire.
In general, when it comes to window air conditioners you should consider a lower BTU model for dens, offices, and bedrooms since they are quieter while in operation. When it comes to window installations, there is a wide range of physical sizing from 23" to 42" wide, which includes the supplied accordion or side filler panels.
Friedrich AC models are known for being quiet, and they also offer slide out chassis air conditioners that can be window or wall mounted. The frame or cabinet can be installed separately, and then you can lift the 60 pound air conditioner into that frame rather than trying to hold it in place while you work! Frigidaire is widely sold and starts at a lower price point than Friedrich. Both brands have some great options available!
In this article, we'll go over what you can expect from Friedrich AC in terms of features and pricing for different types of air conditioners, and compare that to what Frigidaire has to offer. Let's dig in!
Friedrich Window Air Conditioner Features
When it comes to the Chill series of window air conditioners, a popular lineup from Friedrich, the fan assemblies are designed with quiet operation in mind. The cooling fan blade is well-hidden behind the face plate and channeled through the air discharge on the right front face, which equates to low decibel levels while in operation. The all-metal cabinet and slide out chassis (component tray) help isolate any compressor and condenser fan noise that's associated with window and wall air conditioners.
From a servicing point of view, the slide out chassis models are much easier to work with because the consumer will not need to disturb the window or wall if cleaning is needed. A simple turn of a few security screws and a quick pull leaves the sleeve mounted behind as you remove the unit. At most, a cover would be needed to keep out drafts and insects in the event of servicing.
These models also tend to be Energy Star rated and they come with remote controls, 24-hour start and stop timers, and a built-in automatic air swing option. Select Friedrich models have Wi-Fi capabilities for unit programming and operation when away from your home. Be sure to give Friedrich air conditioning products a look when you are in the market for a new air conditioner.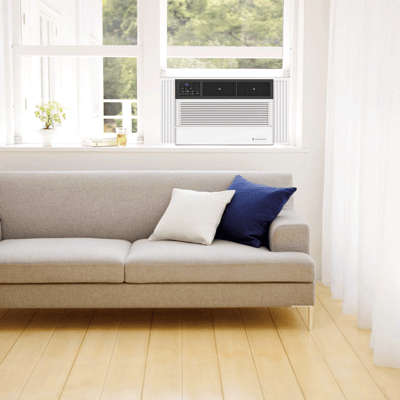 Friedrich Pricing & Options
Friedrich offers basic window AC models as low as $279 for 5,200 BTUs, all the way up to $2,000+ for 35,000 BTU "Kuhl" models that can heat as well as cool for year-round comfort. Portable Friedrich air conditioners start as low as $379 up to $699 (these higher-end units can also be used as dehumidifiers, fans, and heaters).
Wall fit options range from around $599 for 13,000 BTUs to $939 for 14,000 BTUs plus supplemental heat. Friedrich's Uni-Fit technology allows these models to fit in 24.5", 26", and 27" sleeves thanks to a universal trim ring to fill gaps up to 1" on the sides and .5" on top. They also offer the commercial-grade heat pump WallMaster series starting at $749 up to $1,299 for a through-the-wall installation that's compatible with thicker walls.
All that being said, our most popular Friedrich AC models are typically window units from the Chill series pricing from around $329 to $629 for models from 6,000-10,000 BTUs.
CLICK HERE TO SEE ALL FRIEDRICH AIR CONDITIONERS
Frigidaire Window Air Conditioner Features
Frigidaire manufactures models ranging from 5,000 to 25,000 BTUs. They offer air conditioners for both window and wall installation. Their traditional top facing air discharge has two rotating air-flow guides to precisely direct the cool air where you want. With an Energy Star Rating, these models will run efficiently while keeping the temperature down to comfortable levels.
Select models have thermostatically operated remote controls that can be placed in another room to act as the thermostat for the unit. This selection can be made on the remote control and is appropriately named "Remote Sensing." When turned on, the air conditioner and remote control will communicate with one another and attempt to maintain the programmed temperature where the remote control is located. This remote control could be called a walking thermostat. For example, if the air conditioner is installed in the living room, you can activate "Remote Sensing" and carry the remote control into the kitchen and place it on the counter. You can program the remote to a temperature, say 72 degrees, and it will notify and adjust the air conditioner's temperature and fan speed to help keep working to try to achieve the specified temperature in the other room where the remote is located. Smart technology!
Frigidaire air-conditioners are a bit louder than than their competition but can certainly cool quicker as the fan assembly is bigger and stronger to move air more efficiently. Programmable timers are offered for presetting on and off time running. Select window mounted units now have additional side curtain insulation panels that can be cut to the window width size to help with sound deadening and thermal protection.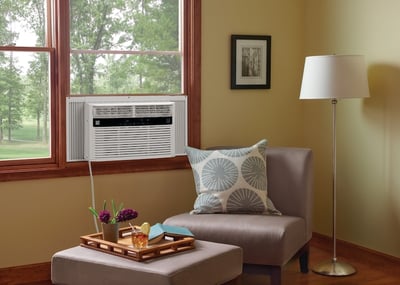 Frigidaire Pricing & Options
Frigidaire's window units start at just $149 for 5,000 BTUs, all the way up to $999 for 28,000 BTU models. Portable Frigidaire air conditioners start at just $349 up to $649 for smart models with wifi control and other features. Wall fit options range from around $559 for 8,000 BTUs to $979 for 14,000 BTUs plus supplemental heat.
Our most popular Frigidaire models are mostly window mounted air conditioners (with a few portable models thrown in the mix) that are around $209 to $399 with BTU ratings from 6,000-15,000.
CLICK HERE TO SEE ALL FRIGIDAIRE AIR CONDITIONERS
In Conclusion
Both Friedrich and Frigidaire offer a wide variety of air conditioners, including window units, wall units, portable units, and mini splits. Friedrich promises quieter operation and has a sleek design throughout their model lineup, but is more expensive across the board. Frigidaire could be a great option if you need a basic air conditioner that's reliable, but as you approach higher-end models the differences are less obvious. Take a look at their products the next time you go shopping and you will surely find a model that will fit your needs. If you want to compare products, check out our Frigidaire vs Friedrich window air conditioner review!
Editor's Note: This blog was originally written in September of 2016 and has been completely revamped and updated for accuracy as of the publication date noted above.