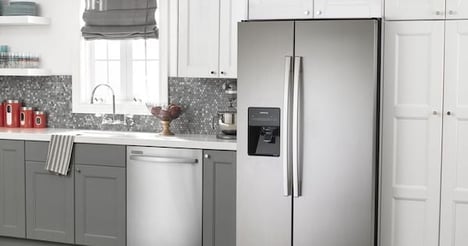 Amana is well-known in the appliance industry and carries a reputation for making quality products. Now a subsidiary of Whirlpool Corporation, the Amana name still carries on with the reputation for making great products at affordable prices. Amana is truly a value brand. If you are shopping for a new refrigerator and considering a side by side, Amana is definitely worth a good look. You will be surprised at what you get in features and styling for the price that you will pay.
Although Amana offers a limited line of products with only a few models in each category, they offer exceptional value in each of their products. Let's take a look at the Amana side by side refrigerator lineup and see if one of these models might be right for you.
The Amana ASI2575GRS - 36" Wide - 24.5 cu. ft. - $1,149
The Amana ASI2575GRS is a 24.5 cubic foot 36" wide side by side refrigerator with a dispenser in the door offering ice cubes, crushed ice and water with EveryDrop water filtration. Retailing at $1,149 in stainless steel, this refrigerator offers a lot of features and will fit nicely into your budget.
The Temp Assure freshness management system keeps your fruit and vegetables fresh. Inside the fresh food section you'll find adjustable door bins with gallon capacity provides easy access to drinks and condiments. The dairy center provides a nice space to store butter and other items. The interior has glass shelves with slim plastic frames, with limited adjustability. One full-width drawer is humidity controlled, ideal for fruits and vegetables, while a second drawer is not.
A somewhat bulky icemaker and dispenser assembly eats up space in the freezer section, leaving room for three wire shelves and a bin inside plus four non-adjustable door bins. Pricier models from other brands tend to have slimmed-down icemakers to maximize freezer capacity.
This model offers a 15.46 cubic foot fresh food section and a 9.11 cubic foot freezer section. It also comes in black or white at $1,049.
Dimensions:
Width: 35.875"

Depth: 34.125"

Height: 69.25"
Click here to read real customer reviews of this product!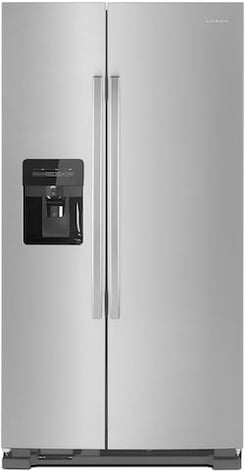 The Amana ASI2175GRS - 33" Wide - 24.5 cu. ft. - $1,149
Amana also offers a smaller 33" wide side by side refrigerator: model ASI2175GRS with a 21.4 cubic foot capacity to fit in smaller kitchens. This model has similar features to the larger model and retails at the same pricing of around $1,049-$1,149 in black, white, and stainless steel.
This model offers 6.77 cubic feet of freezer space and 14.64 cubic feet in the refrigerator. It offers similar organization options to the larger model and comes with an external ice and water dispenser, too.
Dimensions:
Width: 33.125"

Depth: 34.125"

Height: 66.25"
(Both models look the same except for the width. Here's what the interior looks like:)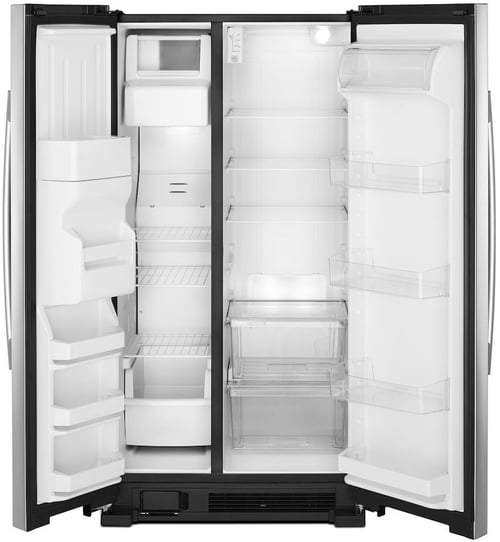 Be sure not to overlook these and other Amana appliances for your home. They offer great pricing and exceptional value. The look and feel won't be quite the same as a pricier model, but they're a solid budget brand with simple features. Other brands offering value-priced models to consider for a new refrigerator include Hotpoint (which offers top freezer models only, as of this writing), Frigidaire, and Whirlpool.
We hope you enjoyed our Amana side by side refrigerator reviews. Looking for more side by side refrigerator options? Check out our reviews of The Best Side by Side Refrigerators of the Year!
Please leave us a comment below. We'd love to hear from you!
Editor's Note: This blog was originally written in June of 2017 and has been completely revamped and updated for accuracy as of the publication date noted above.