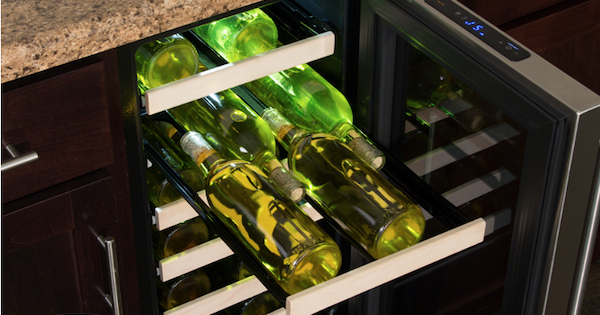 Are you a wine enthusiast looking for the ideal place to store your collection of red and white wines? Are you looking for the best wine cooler options for your home? If so, specialty brand Marvel should definitely be up for consideration. In this wine refrigerator review, we'll go over the different sizes, price points, and options among Marvel wine coolers. Marvel has both single and dual temperature zone wine refrigerators available, all at a high level of quality.
There are certainly many other brands that offer wine coolers at lower price points, but if you want the best in quality for your wines, both inside and out, you should consider Marvel's wine coolers. They stand apart thanks to their focus on energy efficiency, leading the industry in fast and responsive cooling thanks to Dynamic Cooling Technology, and professional features. The following three models are some of their most popular options.
All of the Marvel wine refrigerators in our review include the following:
Front-breathing design for built-in installations

Vibration Neutralization System to protect wines from agitation

Tinted, UV resistant Argon-filled dual pane glass doors to protect wines from damaging ultraviolet light

Sleek designer styling, including panel-ready options

Basic Warranty: 1 year parts and labor, 5 years parts on the sealed system

Integrated digital controls with LED display on top of the door

Designed for quiet operation
1. The Marvel MLWC215SG01A - 15" Wide, Single Zone Cooling, 24 Bottles - $2,319
First on our list of Marvel wine coolers is the Marvel MLWC215SG01A. This wine fridge has a 24 bottle capacity with six four-bottle roll-out wine racks. If you would love to have a full-fledged wine cellar but don't have space for one, this compact model could be a perfect option for you.
The thermally-efficient cabinet provides energy efficiency and optimum wine preservation while maximizing capacity. A Vibration Neutralization System protects wine from agitation. The combination of enhanced microprocessor technology for temperature control, an ultra-efficient and durable compressor that cools quickly, high airflow commercial condenser design, and a high-efficiency fan motor provide a perfect controlled environment for wine.
Digital temperature controls integrated into the top of the door allow you to set temperatures from 34 to 60 degrees Fahrenheit. The natural maple shelf fronts are stainable to match cabinetry, and the black toe grill is adjustable. Arctic white theater-style LED lighting set into the midnight black interior shows off your collection.
Dimensions:
Width: 14.875"

Depth (Including Handle): 26.219"

Minimum Height: 33.75"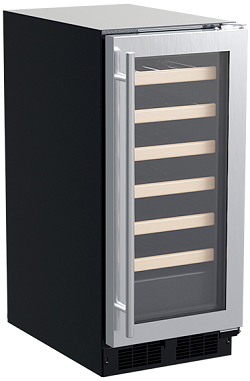 2. The Marvel MLWD224SG01A - 24" Wide, Dual Zone Cooling, 40 Bottles - $3,509
Another great model from Marvel is the Marvel MLWD224SG01A. This option is perfect for those seeking dual zone cooling capabilities and large volume wine storage. It has a 40-bottle storage capacity with an upper zone of three eight-bottle roller-glide wine racks and a lower zone of one eight-bottle roller-glide wine rack and two four-bottle half-depth roller-glide wine racks. Store your red wines on top at 38-65 degrees and your whites on the bottom at 38-65 degrees. Or use one section for long-term storage and one section for keeping your wine at the perfect serving temperature.
Marvel's Dynamic Cooling Technology offers the industry's best temperature stability while also providing a wine cooler that is up to two times more efficient than leading competitors. This model also comes with the Vibration Neutralization System as well as roller-glide three-quarter extension shelving that prevents jarring. Integrated controls offer precise temperature management. Use the Star-K compliant Vacation/Sabbath mode to conserve energy as needed when the refrigerator is not in use.
Like the previous model, this option features arctic white LED lighting and natural maple shelf fronts. This is really an exceptional model with its large capacity, high-end features, and two-zone storage setting capabilities!
Dimensions:
Width: 23.875"

Depth (Including Handle): 26.219"

Minimum Height: 33.75"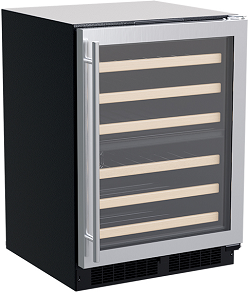 3. The Marvel MPWD424SG31A - Professional 24" Built-In Dual Zone Model with Door Lock & More - $4,509
Last up on our list of Marvel Wine cooler reviews is the Marvel MPWD424SG31A. This model is truly one of the best wine refrigerators available on the market today. This built-in dual zone model has a 40-bottle storage capacity and allows you to choose a temperature range from 38 to 65 degrees in the lower zone and 33 to 45 degrees in the upper zone to suit your preference. The upper zone is configured with three eight-bottle full wine racks, and the lower zone is configured with one eight-bottle full wine rack and two four-bottle half-depth wine racks. This model is backed by a robust three-year warranty on parts and labor plus five years on the sealed system (see manufacturer specs for full details).
Like the previous models, you get Dynamic Cooling Technology, integrated controls with precise temperature management, elegant midnight black interior and more. In this model, you'll find a strong full-length handle and stainless steel accents that project a professional styling unlike the handle from the previous models. You'll also have access to a door lock to protect your collection!
The soft-close door can be positioned in a way that you like it--whether for right or left swing, and the LED lighting allows you to set the stage with sapphire blue, or arctic white LEDs. If you want top-of-the-line wine storage for your collection, this is the one for you!
Dimensions:
Width: 23.875"

Depth (Including Handle): 26.219"

Minimum Height: 33.75"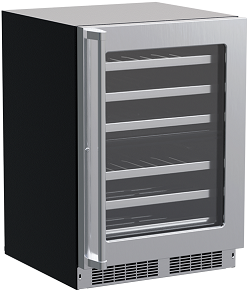 CLICK HERE FOR A COMPLETE LIST OF WINE REFRIGERATOR MODELS

This is by no means an exhaustive list of Marvel wine products, and there are of course other brands to choose from, such as Zephyr, Silhouette, U-Line, and Frigidaire. But if you want to invest in high-quality storage to keep your bottles of wine in perfect condition, these wine coolers are an amazing option! If you want to read about wine coolers from different brands, feel free to take a look at our wine refrigerator reviews covering a range of different models at different price points.
We hope you enjoyed these Marvel wine refrigerator reviews and that this article helped give you some direction in picking your next wine cooler. Let us know what you think of this article by leaving a comment below. We'd love to hear from you!
Editor's Note: This blog was originally published in December of 2016 and has been completely revamped and updated for accuracy as of the publication date noted above.