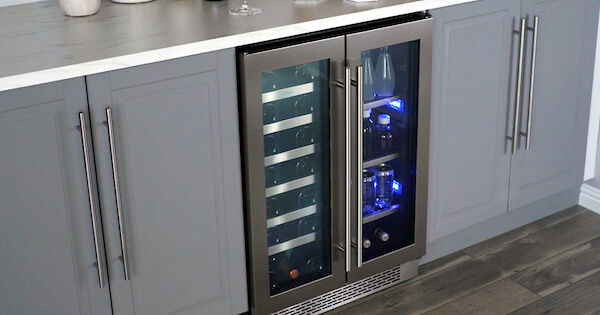 Are you a wine lover looking for an ideal place to store your precious vino? We've compiled these wine refrigerator reviews designed to help a wine enthusiast on any budget choose an ideal model of wine refrigerator for their home. Wine refrigerators vary in size, installation options, temperature range settings, number of compartments, and of course, aesthetic appeal.
In-depth wine refrigerator reviews can be tough to come by, but we've selected four models at different price points and with different feature packages to help you choose the ideal model.
Table of Contents
*This model is 20" wide. All other models are 24" wide.
4 Tips for Buying a Wine Cooler (Especially If It's Your First Time):
Dual vs Single Temperature Zones: Dual zone models allow you to set two different temperatures for two different sections of the wine cooler. This lets you choose the ideal serving temperature for different types of wines. If your only concern is keeping your wines at the ideal long-term storage temperature of around 45 to 55 degrees, then you can probably go for a single zone model. Dual-zone models are usually more expensive.

Built-In vs Freestanding: If you want the built-in look, you'll generally have to pay upwards of $1,000. Built-in refrigerators are "front breathing," so they don't require ventilation space on the sides or rear. If you try to install a freestanding model into a built-in space, you'll need a replacement pretty quickly! Frigidaire is a leader in offering built-ins for less if you want the best of both worlds.

Temperature Controls: All but one of the models in our wine refrigerator review have digital temperature controls rather than dials. This feature is not hard to come by but can be easy to overlook if you're new to the wine cooler game! We prefer the digital controls over dials since they are more exact and offer precise adjustments for different types of wine.

Interior Features: Options like showcase lighting, wooden wine racks with vibration dampening, and other features can be more costly, but can be worth it. Make sure to try pulling the shelves in and out when you're looking at different models in-store, preferably loaded with a full wine bottle or two. Shelves that glide nicely are a nice basic feature to look for that will make using your wine cooler more enjoyable!
Now that you know about what to consider when buying a wine refrigerator, let's take a closer look at models from Danby, Frigidaire, Marvel, and Danby Silhouette.
1. The Danby DWC114BLSDD - Inexpensive Dual Zone - $719
First up on the list is an entry-level model from specialty manufacturer Danby. Danby has been around for over 50 years and is a leading refrigeration and specialty appliance company in North America known for its mini fridges, beverage centers, and wine coolers. If you're looking for a freestanding wine refrigerator that won't break the bank, the Danby DWC114BLSDD is a great budget option. It's 20" wide and holds 38 bottles, so it's a bit narrower than the more popular 24" width, which can hold around 50 bottles.
This 38-bottle dual zone wine cooler has a stainless steel finish with a tempered glass door that blocks harmful UV rays. White LED interior lights show off your collection without putting off heat. There is a digital thermostat that you can easily check on through the reversible door. The shelves are black wood trimmed with stainless steel.
Danby offers a quiet operation for limited noise and no vibration. The dual zones allow you to set the perfect serving temperatures for whites and reds from 39.2 to 64.4 degrees Fahrenheit. This inexpensive wine refrigerator comes with an 18-month warranty on parts and labor. Overall, this product offers a lot of bang for the buck at just $719!
Dimensions:
Width: 19.4"

Depth: 24.9"

Height: 33.1"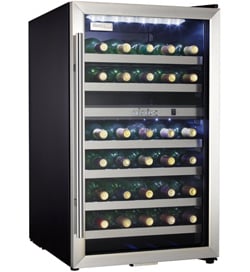 2. The Frigidaire FGWC5233TS - Built-In for Less - $699
The Frigidaire FGWC5233TS is a popular 52 bottle wine refrigerator that can be used in built-in or freestanding installations despite retailing at under $700 MSRP, a rarity among built-in wine coolers! This model offers a reversible door swing, a tinted glass door framed with stainless steel, LED exhibit lighting, and soft-coat wire wine racks trimmed with wood plus a convertible shelf than can be used to hold 12-oz cans or wine bottles.
The precision electronic temperature controls allow you set the temperature from 41 to 64 degrees. The integrated touch controls have a premium feeling, and with such a large capacity, you'll have plenty of room to store a variety of your favorite wines. This model doesn't have all of the bells and whistles like dual temperature zones, ball bearing rack glides, or multi-level LED lighting, but it will look great in your home and do its job well.
So if you're looking for a cheap built in wine refrigerator, you should definitely check out this Frigidaire model! If you're looking for a dual zone model, Frigidaire offers a smaller freestanding 38 bottle wine cooler, model FFWC3822QS, for just $699.
Dimensions:
Width: 23.44"

Depth: 23.44"

Height: 34.25"
Click here to read over 120 real customer reviews of this product!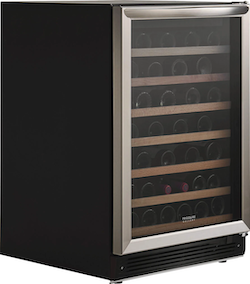 3. The Marvel MLWC124SG01A - High-End Single Zone - $1,609
Looking for a higher-end wine refrigerator? One great option is the Marvel MLWC124SG01A. This single zone wine center can store a whopping 54 bottles on heavy-gauge interior racks!
It features a stainless steel framed reversible door, a UV-resistant tinted dual pane glass window, 6 8-bottle smooth glide-out wine racks for effortless loading and unloading, and a 6-bottle fixed wine cradle. The interior is colored in elegant midnight black, and arctic white LED illuminates the inside of this refrigerator. It also has sleek electronic controls and a sound-buffering design. This built-in model features frost-free operation and dynamic cooling technology that is ideal for preserving wine. It comes with a 1-year parts and labor warranty and a 5-year sealed system parts warranty.
This model has elegant styling and a large capacity, but the controls are pretty basic. If you want to make precision adjustments to your wine refrigerator's temperatures or are looking for a dual-zone model, this model may not be for you. However, if you're looking for a large-capacity wine cooler with gorgeous styling inside and out, this model is a great option.
Dimensions:
Width: 23.875"

Depth: 23.7"

Height: 33.75"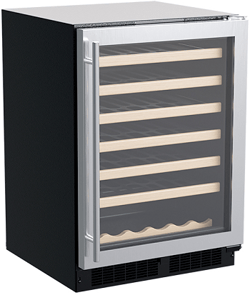 4. The Danby Silhouette DWC047D1BSSPR - Premium French Door Dual Zone - $1,729
The built-in Danby Silhouette DWC047D1BSSPR immediately stands out due to the design choice of French doors with zero-clearance hinges for flush installation. Each side can be set from 41-64 degrees with the precise digital thermostat controls. The LED display is visible through the door. Fan-forced cooling ensures even temperatures throughout, and low-E glass provides insulation.
The storage design is high-quality: the Prowave liner provides improved shelving stability as well as space for larger diameter wine bottles on the bottom of the refrigerator. The full-extending Proglide shelving system uses ball bearing glides and exclusive anti-vibration technology to avoid jostling your wines. White LED lighting illuminates your collection.
Danby covers this model with a 2-year parts and labor warranty with in-home service. It can store up to 42 bottles total (21 on each side).
Dimensions:
Width: 23.82"

Depth: 25.59"

Height: 34.41"
Danby Silhouette DWC047D1BSSPR - $1,729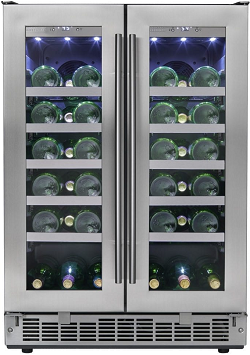 CLICK HERE TO EXPLORE WINE REFRIGERATOR MODELS
We hope you enjoyed these wine refrigerator reviews. These are just a few of the available options on the market. If you're looking for more high-end wine refrigerators, check out our Marvel wine cooler reviews! Other great brands to consider include Avanti, KitchenAid, U-Line, and XO. Avanti offers some of the ultra-cheap options under $300 that we didn't touch on here. If you want to spend less than $600, then Frigidaire, Danby, and Summit are all great brands to consider. XO, Marvel, KitchenAid, and others offer many high-end models in the $1,000+ range.
Hopefully, this article helped give you some direction in picking your next wine refrigerator. What do you look for in a wine refrigerator? Is this your first time buying one? Leave us a comment below - We'd love to hear from you!
Editor's Note: This blog was originally published in December of 2016 and has been completely revamped and updated for accuracy as of the publication date noted above.