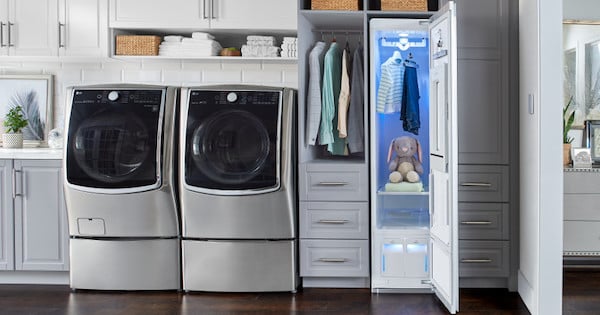 The LG Styler steam closet made its first appearance at the 2015 Consumer Electronics Show and is garnering attention again this year with its wifi connected features and sleek design. It was an Innovation Award winner at CES 2019 with a refreshed look and the promise of a larger capacity option for families. What does this steam closet actually do? Should you buy the LG Styler? We'll dig into the details!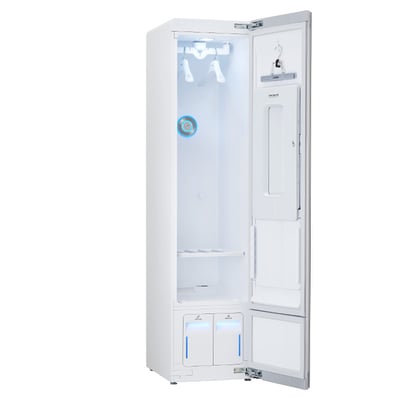 The LG Styler is a mini wardrobe designed to steam, sanitize, and gently dry your clothes and other items, like a miniature steam dryer. Special hangers shake the wrinkles out of your clothes and help press your pants as well. Your only chores will be to clean the lint filter and change the "aroma sheet" if you're using one - these sheets add a light fresh scent to your fabrics - as well as handle the water tanks. The Styler doesn't require any sort of water hookup, but contains a water supply tank and drain tank for the steam that need to be emptied and refilled.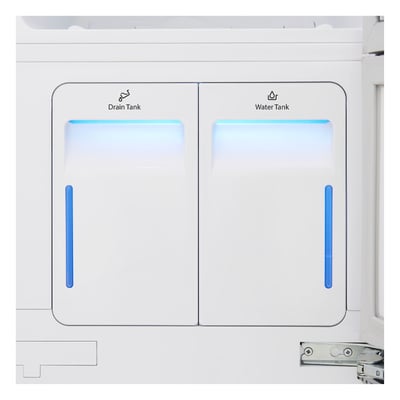 Measuring 17.5" wide by 23" deep and 72.812" tall, this slender appliance will fit just about anywhere. The black mirrored surface and light-up controls are sleek and modern. This upgraded model will also offer support for Google Assistant and LG Smart ThinQ technology, plus plans for customized fashion suggestions and virtual fittings using Augmented Reality (AR).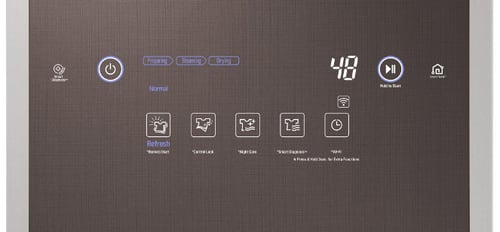 What Can the LG Styler Do?
Designed to pair with an LG washer and dryer to take your laundry room to the next level, the LG Styler can handle dress clothes, toys, helmets, and more. It has four main uses:
Reducing wrinkles

Deodorizing

Sanitizing and removing allergens

Gentle drying
(Short on time? Our video covers the basic features of the LG Styler in under 30 seconds!)
Stick your dress pants in the door and the Styler will automatically press them. Blazers, suit jackets, and button-downs can be refreshed in as little as 20 minutes and ready to wear again. When it comes to stinky hockey helmets or stuffed animals that have seen better days, stick them in the Styler on the Sanitize cycle to destroy odors, allergens, and pollutants.
The Styler's heat pump makes the Gentle Dry cycle energy-efficient and leaves your fabrics feeling crisp and moisture-free. It can care for cotton, wool, silk, velvet, and more to keep the best parts of your wardrobe looking great. You can download additional customized cycles, such as the Air Fresh cycle for ultra-low temperature drying of materials like silk and fur. Although the Styler doesn't promise to completely remove wrinkles from cotton, linen, and similar fabrics, it should greatly reduce them so you can spend less time ironing.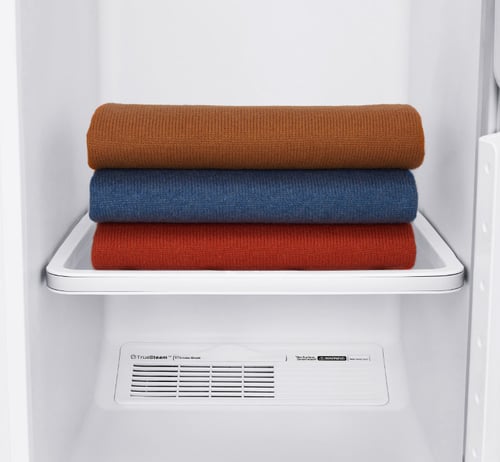 If you ever run into any issues, the Smart Diagnosis feature can help make troubleshooting go more smoothly. You can also use your voice to control the Styler and get notifications on your smart phone when a cycle is complete.
You can find the LG Styler as model S3RFBN. As of this writing it has over 12 reviews - click the link to read them!
Is the LG Styler Right for Your Needs?
The LG Styler might be right for you if...
You wear business formal clothing often and want an easy way to have your dressier outfits ready to go in the morning

You want a way to remove odors and pollutants from your clothes without sending them through the wash or taking them to the dry cleaner

You want a chemical-free option that allows you to dry clean items less often

You want to be able to sanitize items that aren't washable

You want to steam away allergens to keep your symptoms under control
Retailing at around $1,999, this is definitely a luxury item! Like all appliances, it's designed to save you time. If you want to reduce your dry cleaning trips and avoid laundering clothes that just need a quick freshening up, the LG Styler might be a great addition to your laundry room. It can be especially useful if you have a large wardrobe of more formal clothing that you wear often or want to provide the best care for your delicate fabrics.
What do you think about the LG Styler? Would you rather use a (significantly cheaper) handheld steamer, or does this smart appliance fill a void in your laundry room? Leave us a comment below - We'd love to hear from you!