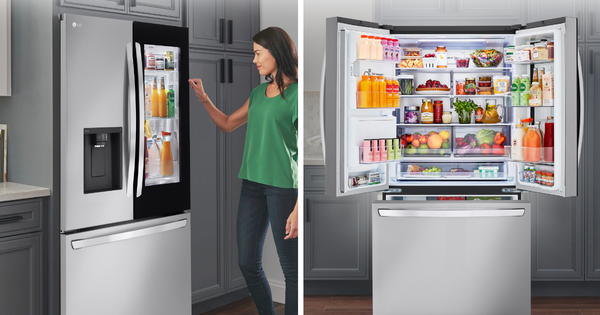 Looking for a refrigerator with seamless design but struggling to find one that can accommodate a large family? You're in the right place for an answer!
LG has recently introduced Counter Depth Max refrigerators, and a lot of people are excited about it. Big families can finally have a seamless looking counter depth refrigerator with the capacity you can only find in standard depth models! In this article, we take a closer look at what these new refrigerators offer and review a particular model with an integrated external tall ice and water dispenser.
Giving You the Best of Both Worlds
A counter depth refrigerator typically has a 24" deep case, so only the door sticks out beyond the kitchen counters and cabinets. It's perfect if you have a kitchen with a cabinet opening for the refrigerator. This helps achieve a more seamless look without having to buy a totally built-in refrigerator, which is a lot pricier than freestanding counter depth models.
However, you will usually lose out in capacity with a counter depth model. A full depth refrigerator provides more cubic footage than counter depths. Basically, you would have to choose what to sacrifice: capacity or the look.
Thanks to LG, you don't have to worry about choosing only one anymore! As of this writing, LG's exclusive new Counter Depth Max refrigerators are available in the French door style, sized between 26 to 27 cu.ft. If you want a full-sized 27 cu. ft. model, you can choose the model that comes with InstaView: the LG LRFGC2706S ($2,899), or the model without InstaView: LG LRFLC2706S ($2,499) that is priced a few hundred dollars less. Counter Depth Max is also available in 26 cu. ft. with LG LRFOC2606S ($3,499), and this model already comes with InstaView and an external dispenser!
These French door Counter Depth Max refrigerators all have the case depth of 24 7/8". The overall depth, which includes the door and handles, is at 31 5/8". You can definitely get a sleeker look for your kitchen with this shallow depth! These models are less than 1" deeper than a traditional counter depth and offer a lot more cubic footage.
These refrigerators were also named as the industry's largest counter-depth refrigerator capacity based on a 2022 internal study to quantify available storage space.
As of writing, the pricing of these refrigerators is between $2,499 and $3,499, again depending on which model with additional features you choose. We suggest that you watch out for national holiday sale periods if you're planning to buy these models and want to get the best price – we've seen them on sale for around $500 - $900 less!
Now, let's take a closer look at the features of the 26 cu ft French door model with modern features.
Review: The French Door Model w/ InstaView & External Dispenser -

LG LRFOC2606S
If you want the Counter Depth Max model with modern upgrades for your family, the LG LRFOC2606S may be perfect for you! This model is feature-packed and is available in fingerprint resistant stainless steel at $3,499. As we've also mentioned earlier, its 26 cu. ft. size will give you enough room for your family's food, and your kitchen will look sleek with the built-in look it gives!
You can simply knock on the InstaView window twice to see your favorite items without opening the door and wasting cool air! It also has an integrated external tall ice and water dispenser that allows you to add cubed or crushed ice and water even to pitchers and other tall containers.
Watch This Video From NECO Expo 2022 To Learn More!
Your food will also stay cool and fresh with the Linear Cooling and Door Cooling+ features. On the inside of the fresh food section, you get four fixed tempered glass shelves, two crispers, and eight total clear door bins. The pull-drawer freezer has 2 tiers of drawers and the ice bin.
This model is also Wi-Fi enabled with LG's ThinQ technology, Smart Diagnosis, and Proactive Customer Care. You can control your refrigerator and freezer temperature remotely and get notifications on your smartphone about your refrigerator usage and other maintenance suggestions! LG covers this model with a one year parts and labor warranty, plus five years parts and labor on the sealed system and compressor, and the linear compressor part only for years 6-10.
Want some cheaper options? If you prefer a model without the external dispenser, you can check out the 27 cu. ft. LG LRFGC2706S ($2,899) instead. If you want the Counter Depth Max basic model without both the external dispenser and InstaView features, see LG LRFLC2706S ($2,499).
Dimensions:
Width: 36"

Depth:

Depth w/o door: 24 7/8"

Depth w/ door: 29 1/4"

Depth w/ handles: 31 5/8"

Height: 70.25"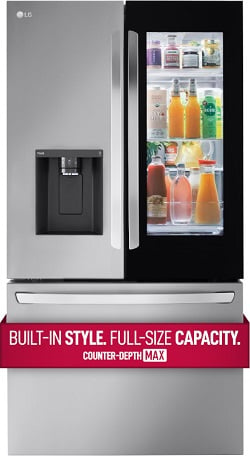 We are excited about the LG Counter Depth Max refrigerators, and many customers are also happy. As it gives the luxury of full depth cubic foot size and a seamless look, we think it's so unique and can potentially be hot-selling.
What do you think about this new LG release? Leave us a comment below. We'd love to hear from you!