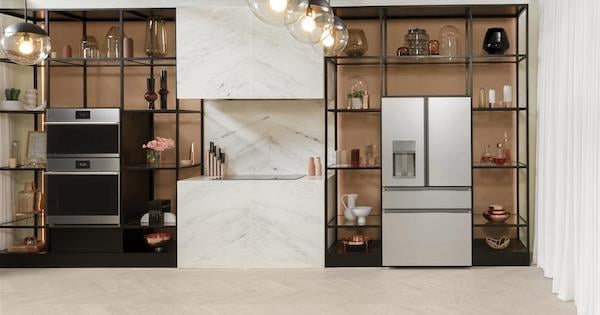 GE's Cafe appliances line made a splash in 2018 with the introduction of the Matte Collection with customizable handles and knobs. The Modern Glass Collection, AKA the platinum glass finish, targets an entirely different style. These sleek appliances were designed with the modern kitchen in mind, focusing on clean lines and minimal hardware.
First announced in February 2019, the Modern Glass Collection is now available in a full suite of kitchen appliances. Glass panels are layered over stainless steel for a glossy, smooth finish, and handles are low-profile or integrated where possible, such as on refrigerators and dishwashers.
If you've ever fallen in love with the gorgeous look of a luxury brand but were disappointed by the price, the Modern Glass collection offers something modern, minimalist, and unique at lower prices. There is nothing else like this finish in the US!
Watch our exclusive video of the Modern Glass Collection from NECO Expo 2019!
Check out the luxe interior of the four door refrigerator featured in our video, complete with a geometric patterned LED panel, a premium gray interior, and copper accents (pictured below).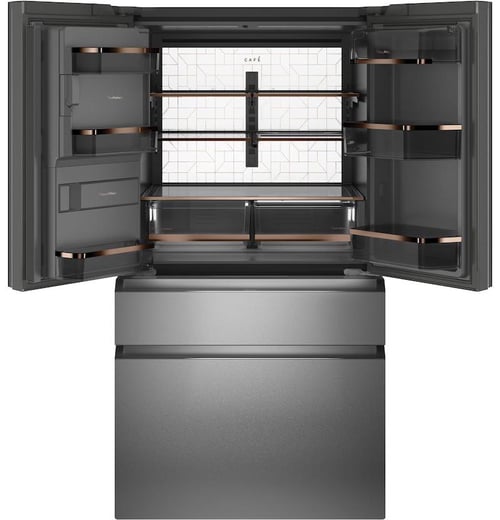 Design & Features
This collection is designed to look amazing when paired with slab countertops and minimalist styles. It matches with almost any color palette - warm or cool, bold or pastel. That versatility could be a factor to consider if you like to redesign your kitchen without changing out the appliances.
The glass finish has a stainless steel coating underneath to give it the clean look of stainless steel without the fuss. The straight edges and clean designs make these appliances easy to clean - no curved handles or extra seams that trap crud! You can easily match the Modern Glass collection with other stainless steel appliances in your kitchen if you're not replacing your entire suite right away (although you may get a better deal by doing so - read more about appliance packages here).
When it comes to cooking, the wall ovens and ranges in this line feature GE smart appliance technology, using easy touch controls with intuitive step-by-step processes to help you choose recipes right from your range or wall oven, and walk through them as you go. Other features include precision cooking modes that eliminate the need to preheat, and fun new options like air frying. If you want to get better cooking and baking results effortlessly, you should definitely take a look at the smart cooking tech in these wall ovens and ranges!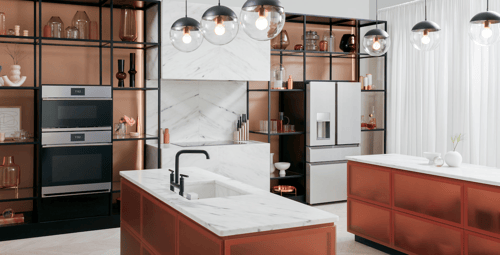 Appliances Available in Modern Glass
GE is starting to roll out this option across more appliances after bringing it to select wall ovens in April. As of this writing, you can find the following appliances in Modern Glass:
Cooking:
Single and double smart wall ovens (in 27" and 30" widths) - Starting at at $3,049 MSRP for single, $4,149 for double

Advantium 5-in-1 smart ovens - Starting at $2,999 MSRP

Slide-in gas, dual fuel, and electric smart ranges (single and double oven models) - Starting at $2,499 MSRP

Over the range and countertop microwaves - Starting at $849 MSRP

Wall mount chimney hoods - Starting at $669 MSRP

Electric and induction cooktops - Starting at $1,629 MSRP
Everything Else:
Dishwashers with pocket handles and hidden top controls (select models also have small LCD screens below the pocket handle to display the cycle status) - Starting at $1,119 MSRP

A 4-door full-depth French door refrigerator (featured in our video) - $4,199 MSRP

A new full-depth 4-door French door with two swing-out doors for the fresh and frozen sections, split down the middle - $4,399 MSRP
For a full kitchen package, the pricing (before taking promotional pricing and package discounts into account) is around $8,700 for a basic kitchen package with an electric range, a microwave or vent hood, a dishwasher, and a refrigerator - much more affordable than luxury appliance packages that are easily $20,000 or more!
CLICK HERE TO EXPLORE PLATINUM GLASS PRODUCTS
If you love to entertain and spend time in your kitchen, these richly featured and gorgeously styled appliances might be for you! Consider learning about appliance packages (click the link to view our handy guide) and keep an eye out for rebates and promotional periods!
CLICK HERE TO VIEW ALL CURRENT CAFE APPLIANCE REBATES!
We're excited to see the growing trend of "affordable luxury" among mainstream appliance brands. What do you think about the Cafe platinum finish? Are you looking forward to installing it in your kitchen? Leave us a comment below - We'd love to hear from you!
Editor's Note: This blog was originally written in October of 2019 and has been completely revamped and updated for accuracy as of the publication date noted above.