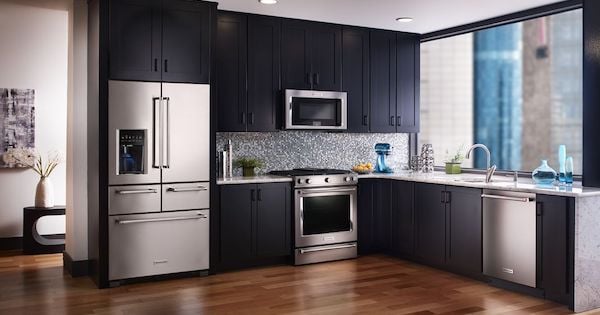 Several manufacturers make refrigerators with drawers, and they come in a few different flavors. These models are sometimes referred to as four door refrigerators, but that can be confusing since... well... most of the time, we're dealing with an extra drawer, not an extra door! The most popular style (which our four door article linked above focuses on) is an additional drawer between the fresh and frozen compartments, usually with adjustable temperature controls. However, LG recently came out with a surprisingly affordable dual freezer drawer refrigerator we'll review below, and we'll also explore other brands like KitchenAid's dual drawers.
When it comes to narrowing down your options for a refrigerator with drawers, here's what you need to decide:
Single vs dual drawer: Dual drawers set side by side are less common than full-width drawers. You'll get slightly more room with a full-width drawer, but ultimately it comes down to your preferences.

Drawer temperature: Do you want a drawer for fresh food, frozen food, or one that you can convert to a range of temperature settings? Many brands now offer adjustable temperature drawers for different fresh foods, but freezer drawers and fully convertible drawers are less common.

Drawer adjustability: Do you want to be able to adjust the temperature or even the humidity? If you tend to have a lot of fresh fruits and vegetables, a drawer with adjustable humidity may be a good idea. If you want a drawer to chill wine or other beverages, then you may like to have some temperature settings to play with.
When it comes to price, most options are over $3,000, although you can find some choices under $2,500.
Now, we'll review some of your options from LG, KitchenAid, Whirlpool, Bosch, and Frigidaire.
Jump To:
1. LG LMWC23626S - Dual Freezer Drawers - $2,299 MSRP
A surprisingly affordable counter depth refrigerator, the LG LMWC23626S is new for 2020 and features dual freezer drawers rather than the typical single drawer found on French door refrigerators. French door models typically have a single pull out drawer split into two levels, but it's easy to lose items in piles. This 22.7-cubic foot model makes it much easier to keep your freezer organized!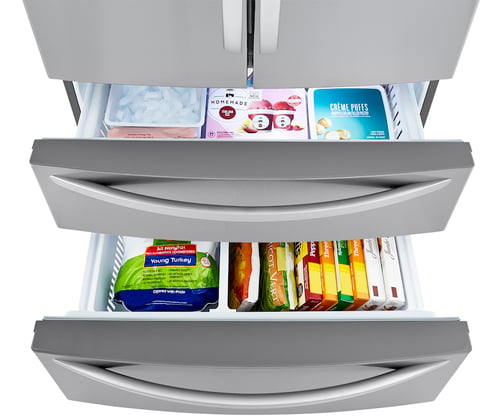 In the fresh food section, you'll find an internal filtered water dispenser (and there's a factory-installed icemaker in the upper freezer drawer). Multiple cooling technologies work together to keep all areas of the refrigerator evenly cool. The exterior is PrintProof stainless steel.
If you'd like more space, a full-depth version retails for $100 less, the LG LMWS27626S. And if you'd like a premium model with extra features like Wi-Fi connectivity, check out the LG LMXS28626S retailing at $2,899.
LG LMWC23626S - $2,299 - CLICK HERE FOR CURRENT PRICING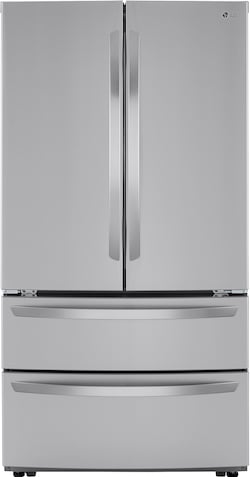 2. KitchenAid KRMF706ESS - Double Refrigerator Drawers - $4,099 MSRP
The KitchenAid KRMF706ESS is a great example of KitchenAid's striking commercial styling. It comes in KitchenAid black stainless steel at $4,199 or in stainless at $4,099 and is full-depth with 25.8 cubic feet of capacity. It has two soft-close drawers: on the left, a drawer with 5 preset temperatures for fresh food, from chilling to thawing. The right drawer is ideal for produce and includes a produce preserver. It is technically a "five door refrigerator!"
The Preserva dual evaporator and compressor system uses two independent cooling systems for the fresh and frozen sections. An included herb storage compartment provides space for fresh herbs. KitchenAid's Platinum interior design features multi-level LED lighting and a gray interior with tempered glass shelves and stainless steel accents. The freezer has three tiers of storage rather than the typical two.
The exterior ice and water dispenser comes with a measured fill feature, so you can dispense exact amounts of water for recipes or even just filling your Keurig coffeemaker! This model is hard to beat if you're looking for a premium refrigerator.
Click here to read over 2,345 real customer reviews of this product!
KitchenAid KRMF706ESS - $4,099 - CLICK HERE FOR CURRENT PRICING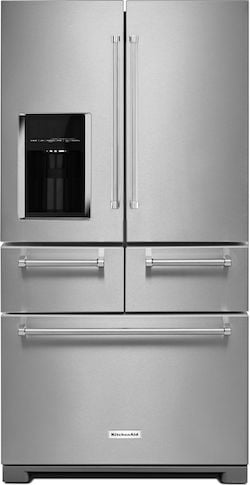 3. Whirlpool WRV986FDEM - Double Refrigerator Drawers - $3,599 MSRP
This Whirlpool model looks awfully similar to the KitchenAid model above... that may have something to do with the fact that Whirlpool owns KitchenAid! The Whirlpool WRV986FDEM is a less expensive option retailing at $3,599 in stainless steel only. The two extra drawers offer the same functions as the KitchenAid model: one with adjustable temperatures and one designed for produce.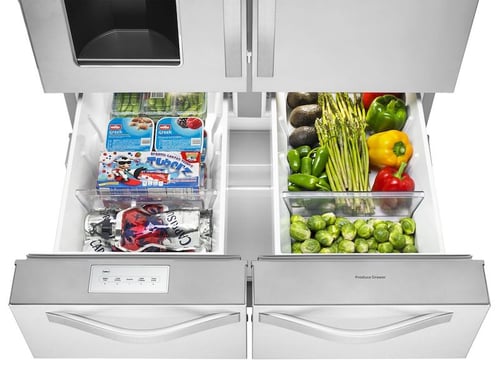 This model comes with dual icemakers: one in-door icemaker for the dispenser and one in the freezer section. The fresh food section offers tons of storage, including three crisper bins, so you can separate out your produce more, and a small items bin as well. Whirlpool's Dual Cooling system uses dual evaporators to manage the humidity in the refrigerator and freezer separately for more even cooling throughout. The freezer has the standard two tiers of storage.
Whirlpool covers this model for one year parts and labor and five years on the cavity liner and sealed system.
Click here to read over 1,245 real customer reviews of this product!
Whirlpool WRV986FDEM - $3,599 - CLICK HERE FOR CURRENT PRICING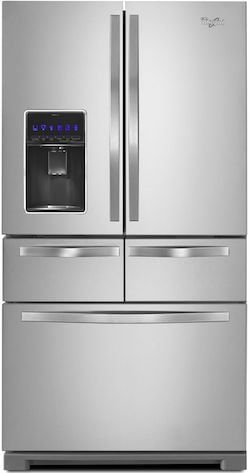 4. Bosch B36CL80ENS - Single Refrigerator Drawer - $3,399 MSRP
The Bosch B36CL80ENS is a counter depth 20.5-cubic foot refrigerator featuring a VitaFresh Pro drawer. You can adjust it from 28-40 degrees as well as adjusting the humidity to suit different items. Pocket handles allow it to blend seamlessly into your kitchen. If you're looking for a dual compressor model, this option is a more affordable alternative to the KitchenAid.
Inside, you'll find LED lighting and plenty of internal storage, including a full-width Chiller drawer in the fresh food section that's perfect for storing raw meats and other items. There's also a filtered internal water dispenser. Bosch also implemented a new storage feature to take advantage of space that is usually wasted: the FlexBar utilizes space at the rear of the fresh food section. You can attach hanging bins and other accessories to the FlexBar.
Stainless steel trim in the fresh food section, Wi-Fi connectivity, and three tiers of storage in the freezer section are additional premium features.
Click here to read over 12 real customer reviews of this product!
Bosch B36CL80ENS - $3,399 - CLICK HERE FOR CURRENT PRICING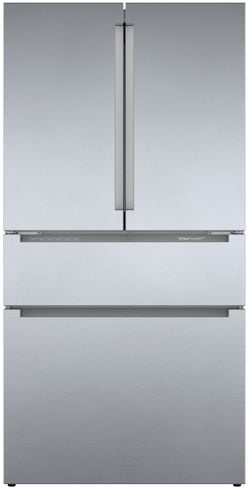 5. Frigidaire FG4H2272UF - Convertible Refrigerator/Freezer Drawer - $3,199 MSRP
Another counter depth model, the Frigidaire Gallery FG4H2272UF was the first model on the market with a drawer that could be fully converted to freezer temperatures. The self-closing Custom-Flex Temp drawer can be set from -6 to 45 degrees. There are a lot of fun features in this refrigerator, including a cold drink timer that will let you know when the drinks you've placed in the freezer to chill are ready to drink.
The extra tall 10" water dispenser pocket is compatible with tall pitchers and water bottles. The right-hand door is larger than the left, so you can access 75% of the fresh food section by opening just one door. Bright LED lighting throughout helps you keep track of your groceries. This model prices at around $3,199 MSRP and comes with a one year warranty, although you can find it for under $2,800 on occasion during holiday sales.
There is now a Frigidaire Professional model with this feature as well, model PRMC2285AF, with an upgraded interior design and sleek modern exterior styling, too: towel bar handles on the fresh food doors and integrated pocket handles on the convertible drawer and freezer drawer. It retails at $3,499.
Click here to read over 785 real customer reviews of this product!
Frigidaire FG4H2272UF - $3,199 - CLICK HERE FOR CURRENT PRICING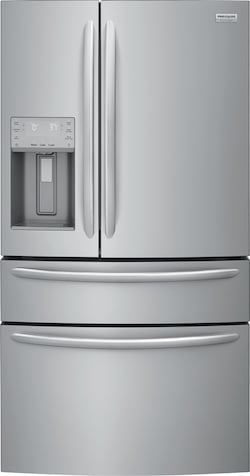 6. LG LRMDS3006S - Convertible Refrigerator/Freezer Drawer - $3,999 MSRP
Last but not least in our review of refrigerators with drawers is the LG LRMDS3006S. Although Frigidaire led the market with fully convertible drawers for about a year and a half, LG has caught up with the Full-Convert drawer. Their previous CustomChill drawer models could be adjusted from 29-42 degrees, but this new drawer can be adjusted down to -7 degrees.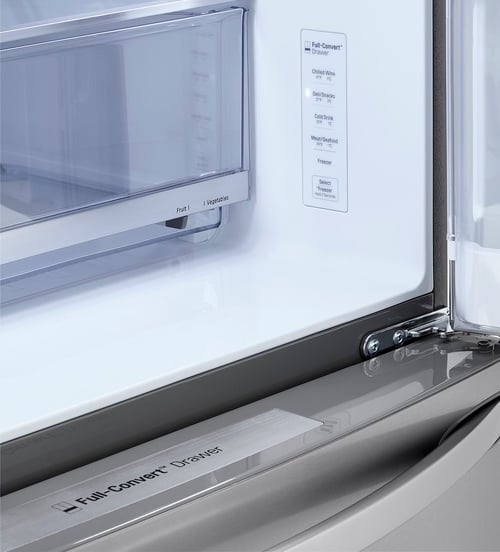 Smart Cooling Plus uses a linear compressor and dual evaporators to quickly respond to changes in humidity and temperature levels. PS: It's Wi-Fi enabled, too. If you want a ton of cool tech features, this is a great refrigerator to consider.
LG LRMDS3006S - $3,999 - CLICK HERE FOR CURRENT PRICING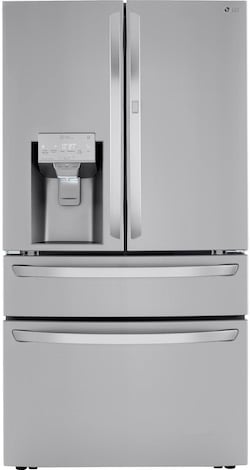 That concludes our reviews of some of the types of refrigerators with drawers on the market today! We hope this helped you figure out your options and decide if one of these models is right for you. Leave us a comment below - We'd love to hear from you!