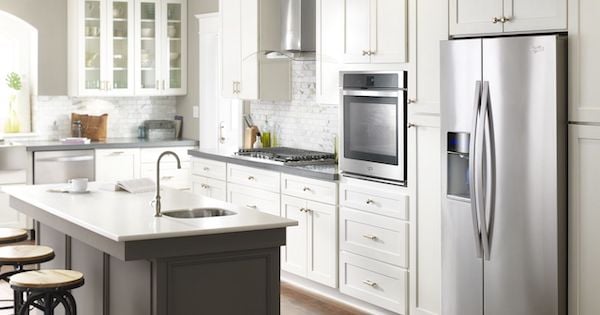 Researching a new refrigerator can be an easy process if you know the right questions to ask. One of the most important questions is, how large of a refrigerator do you want? Equally important is the question of whether that refrigerator will fit in the space you have in your kitchen. So the issue of refrigerator sizes is about both capacity and the external dimensions. In this article, we'll go over both! We'll help you decide what capacity you need and figure out the external dimensions to suit your space. We'll also discuss how different types of refrigerators have different external dimensions and capacity ranges.
We'll start with cubic footage, then move onto dimensions and the size ranges for different fridge types.
Table of Contents
Cubic Footage Overview
Refrigerator capacity is measured in cubic feet and refers to the total interior storage capacity of the refrigerator in both the fresh food and freezer sections. Some manufacturers also list the square footage of the available shelving, and any model you're looking at will show a breakdown of the cubic footage for the freezer and fridge sections. For example, a 22 cubic foot side by side refrigerator might have 14.5 cubic feet of space in the fresh food section and 7.5 cubic feet of space in the freezer section.
How many cubic feet of capacity do you need for your household? This depends a lot on your shopping and cooking habits. If you buy a lot of fresh foods in bulk and cook from scratch often, you may need more space. Here are a few basic guidelines:
A general rule of thumb is 4-6 cubic feet per person, plus a little extra as a "buffer"

A 2-person household may need about 12-16 cubic feet, or at least 18 cubic feet if they cook at home often

A household of 3-4 people will likely need at least 20 cubic feet
Refrigerators around 10 cubic feet are generally used in small apartments - usually anything below 10 cubic feet is considered a mini fridge.
Along with the overall size, you may want to consider factors like:
Refrigerator organization - Adjustable shelves, gallon door bins, and other features that make storing a range of items more convenient

Fridge vs freezer size - If you buy a lot of frozen foods, you may like a model with more freezer space

The type of refrigerator - We'll discuss this more below!
But before you splurge on the largest refrigerator you can find, you need to know how much space you have available to house your new model. (For more factors to consider when buying a new refrigerator, check out our refrigerator buying guide as well!)
External Dimensions Overview
Some people have a lot of space for a refrigerator. If your refrigerator is going into a pre-built cabinet or will be in a cavity between cabinets and a wall, external dimensions are a very important factor.
Refrigerator Width: This is pretty standardized in the industry - most full size refrigerators are 30", 33", or 36" wide. If you are measuring a cavity or pre-built cabinet, subtract 1-2" to get the refrigerator width it can handle, minus some "breathing room" (at least 1/2 of an inch on either side of the refrigerator). If your refrigerator is located next to a wall, leave about 2.5 inches between the refrigerator door hinge and the wall so the door has room to open fully.

Refrigerator Depth: Standard-depth refrigerators are about 34" including the handles, and will extend past your typical 24" deep cabinets by around 6-9". Counter-depth refrigerators have a "case depth" of about 24", but the doors and handles may still extend a little bit past the counters for a total depth of around 30" including the handles (click the link to read more about counter depth options). Keep in mind you will also need about 2.5 inches to accommodate cords and water lines behind the fridge.

Refrigerator Height: You might see several height measurements when looking at the specs for a refrigerator. The overall height or "height with hinges and covers" is the measurement to use in most situations when there is standard-depth cabinetry above the refrigerator cavity or open space. You'll want at least an inch between your refrigerator and any shelving or cabinetry above the fridge. If you have recessed cabinets or cabinets with a "lip," "height to the top of the case" is what matters to you, since the cabinets will sit slightly behind the refrigerator doors.
(Pictured below: An example of "case height/height to top of cabinet" (the blue line) vs "height to top of door hinge" (orange line). On the left is a model installed with recessed cabinetry that has a "lip" that needs to fit in behind the refrigerator. On the right is a model installed with typical cabinetry - the cabinet doors need to be completely above the refrigerator in order to open.)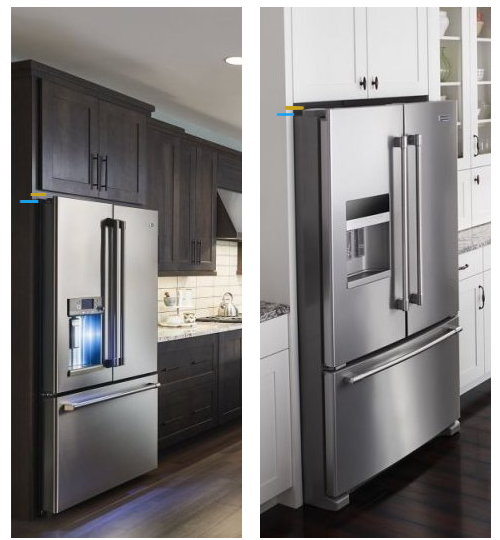 What about all of those other measurements you see in the specs? If you have a narrow kitchen or there is some kind of obstruction in front of the refrigerator like an island, you'll want to check the "Depth with doors open 90 degrees" measure to make sure you can fully open the doors. Being able to open the doors 90 degrees freely means you will have full access to everything inside and that you won't risk scraping or dinging the doors when you open them. Side by side refrigerators and French door refrigerators are good options for kitchens that can't accommodate a wide door swing - you can compare them in our article: French Door vs Side by Side Refrigerators.
You'll also want to consider the width of the doorways, halls, and other areas where the new refrigerator will have to enter your home. The "case depth" or "depth without doors" measurement can be useful in these cases since many delivery and installation services can take off the doors to get the refrigerator into your home and put them back on when the refrigerator is in place.
Next up, we'll go over the typical refrigerator sizes - both capacity and exterior dimensions - of the different types of refrigerators!
Top Freezer Refrigerators
The top freezer style is usually the cheapest refrigerator option and a great choice for households on a budget.
Capacity Range: 10-24 cubic feet

Average/Most Common Capacity: 18-20 cubic feet

Width Range: 23-33"

Depth Range: 24-33"

Height Range: 65-69"
Models in the 18 cubic foot range are often less than 30" wide and under 67" tall. There are a few select models in the 24 cubic foot range that will fill a full 33" width opening. They tend to have the smallest footprints on average out of all other fridge styles so they're a great choice for narrow openings. They also tend to have a good amount of wide open usable space in the fridge and freezer sections, but bending over to access the refrigerator is no longer in style. There are not a lot of counter depth options.
Bottom Freezer Refrigerators
Bottom freezer refrigerators flip the top freezer look upside down. They are less popular than French door refrigerators and there are fewer model options, but they tend to be cheaper.
Capacity Range: 10-25 cubic feet

Average/Most Common Capacity: 18-22 cubic feet

Width Range: 23-36"

Depth Range: 24-33"

Height Range: 65-69"
Very small models around 10 cubic feet are available in sleek designs from specialty brands like Summit (check out our Summit refrigerator reviews for more info) for condos and modern apartments. There are not a lot of counter depth options. XL models over 22 cubic feet are becoming less common as people move towards French door refrigerators for these huge capacities. The wider door swing can be an issue for narrow kitchens, but if that's not an issue then the wide door offers a lot of storage space.
Side by Side Refrigerators
The once-popular side by side refrigerators have the freezer on the left and the fresh food compartment on the right, and tend to have more freezer space (and, as a result, less refrigerator space) than other styles.
Capacity Range: 20-28 cubic feet

Average/Most Common Capacity: 24-25 cubic feet

Width Range: 30-36"

Depth Range: 29-35"

Height Range: 67-70"
As you can see, these models tend to be wider and deeper than top freezer and bottom freezer models. The narrowness of the two compartments doesn't work for everyone but can help you keep everything in sight so nothing gets "lost" behind other items. There are both counter depth and full depth models available, and they tend to be cheaper than French door models.
French Door Refrigerators
French door refrigerators put the freezer on the bottom and split the fresh food compartment in half with two French doors. These models can have HUGE capacities!
Capacity Range: 20-32 cubic feet

Average/Most Common Capacity: 22-27 cubic feet

Width Range: 30-36"

Depth Range: 29-35"

Height Range: 67-70"
Like side by side refrigerators, this type of refrigerator takes up more space. There are a lot of counter depth options available as well as full depth models. They are usually very full-featured models and are usually more expensive than other types of refrigerators.
We hope you enjoyed this brief guide to refrigerator sizes. Before you head out to the store, it's a good idea to double-check your measurements - and check again when you're looking at new models! Please leave us a comment below - We'd love to hear from you!
Editor's Note: This blog was originally written in August of 2017 and has been completely revamped and updated for accuracy as of the publication date noted above.