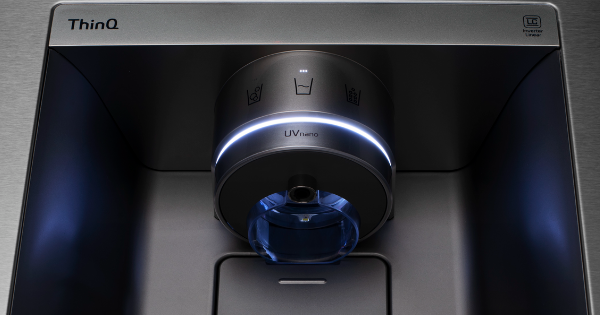 Picture your pre-pandemic life. It's probably a lot different from now - from how we socialize to the way we value cleanliness and hygiene more. We've been washing our hands more thoroughly, covering our faces with masks, sanitizing items we frequently touch, and taking other precautions now to protect ourselves and others from spreading the COVID-19 virus.
This level of care extends to our own homes. Different home items with UV light have started to garner attention lately because of their germ-killing ability, and LG has recently introduced refrigerators that have UV light sanitizers in the water dispenser. Now, you may be wondering… what is the UVnano dispenser all about? Will it take cleanliness in the kitchen to the next level? Here's what we found!
Table of Contents
About LG's UVnano Technology
First off, how does the UV disinfection technology work? Simply put, UV products work to inactivate bacteria and viruses. UV light kills viruses by changing their DNA and RNA and destroying their ability to reproduce. You've probably heard about UV products for quite some time, especially in hospitals, but with the coronavirus spreading widely, it's become more familiar to us. The technology is being adapted in many other products now, including those we use at home.
Korean brand LG has always stood out for their technology innovation, and they haven't lagged in launching features that promote healthier living at home. In 2017, they first launched UVnano on their premium water dispenser products. LG's UVnano technology basically uses built-in ultraviolet light to eliminate 99.99% of harmful bacteria and germs in just a few minutes, per LG's tests.
You can find this feature in some of LG's products:
Wireless earbuds with UVnano charging case

Wearable air purifier with UVnano charging case

Air conditioners with DUALCOOL technology, using a multi-step filtration process with UVnano

InstaView Door-in-Door refrigerators with UVnano water dispenser
The latest refrigerators with InstaView Door-in-Door technology that LG introduced at CES 2021 are among the products that incorporate and highlight this sanitation feature. Let's dig a little deeper into that.
How Does the UVnano Water Dispenser Work?
Among the "germiest" items in the kitchen, refrigerator water dispensers proved to grow yeast and mold, as per the NSF's 2013 International Household Germ Study. The refrigerator water dispenser nozzles should be cleaned weekly to prevent yeast and mold growth.
For 10 minutes every hour, the powerful built-in UV LED in LG refrigerators with UVnano water dispensers automatically operates to reduce up to 99.99% of bacteria (like E. coli, staph, and P. aeruginosa) on the water dispenser nozzle after 24 hours, based on LG's testing.
If you've ever experienced allergies, stomach problems, infections, pneumonia, and other health concerns, you probably know that the bacteria I mentioned above are not something to mess with. And if you haven't, you'd want to avoid them. Being able to drink water without worrying about these bacteria building up in it gives you peace of mind! And knowing that this feature is running around the clock will definitely help put you at ease.
Another good thing is it's automatic. Unlike water filters, you don't have to manually clean your dispenser so often to have a germ-free drink, so there's less maintenance on your part. Sounds impressive, right?
How Do I Use It?
Let me explain how easy it is to operate this feature. It's done in two ways–automatically and manually. Without having you lift a finger, the UVnano function will run automatically every 10 minutes per hour.
Want extra assurance? You can activate it manually – just press and hold the Self Care smooth-touch button in the refrigerator's control panel for three seconds. Such a breeze!
As of this writing, two new-for-2021 side by side refrigerators have the UVnano water dispenser. These models are within the $2,200-$2,400 price range. Let's take a look at one of these models.
Review: The InstaView Side-by-Side Model - LG LRSOS2706S
The LG LRSOS2706S is a feature-packed side by side refrigerator that includes modern upgrades. It is currently available in fingerprint resistant stainless steel at $2,221 and in black stainless steel at $2,332. You get more than enough room for your food with its 27 cu. ft. capacity.
With the door-in-door design, you can quickly access your frequently used food and drinks without having to open the main refrigerator door! You also get the InstaView panel that you'll simply knock on twice to see your favorite items without opening the door and wasting cool air. What's new about this model's InstaView panel is its size – it's 23% larger than the previous models, so you get to see more. Even better, the smooth-touch external ice & water dispenser with UVnano that eliminates bacteria on the dispenser looks sleek. Also, you get flat-panel doors with newly-designed pocket handles, completing the refrigerator's elegant look.
The inside of this model is just as good as the outside. With Linear Cooling and Door Cooling+, your items will stay cool and fresh. The LG Dual Ice Maker with Craft Ice makes cubed ice, crushed ice, and Craft Ice or slow-melting spherical ice! This is perfect if you plan to serve cocktails or other drinks to your guests (read our blog post here for more info on LG Craft Ice!).
This model is also Wi-Fi enabled with LG's smart features, Energy Star rated, and ADA compliant. LG covers this model with a one year parts and labor warranty, plus five years parts and labor on the sealed system and compressor, and the linear compressor part only for years 6-10. If you're looking for a stylish and fully-featured refrigerator, make sure to check this model out.
Dimensions:
Width: 36"

Depth: 33.5"

Height: 70.5"
Click here to read over 40 real customer reviews of this product!
Note: Customer reviews on our website are mixed, but overall reviews are positive on other retailer websites.
We see this feature as a relevant and convenient innovation. Customers who mentioned the UVnano dispenser in their product reviews find it as a nice addition. After all, we're living in an era where sanitation is highly regarded.
How about you? What do you think about the UVnano technology in LG refrigerators? Leave us a comment below. We'd love to hear from you!