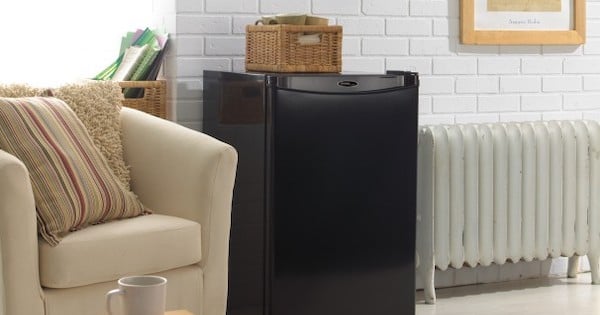 If you are looking for a compact refrigerator for your home, cottage, dorm room, boat, trailer, or just need an extra refrigerator to keep the beer in the garage, Danby is a name that you should consider. Danby is a 65-year-old family-owned business based in Canada that specializes in offering compact refrigeration and specialty appliances. They offer quality products to fit every space and purpose and back them up with an extensive customer service network. Danby products offer modern design and state-of-the-art features and are priced to fit into your budget.
In this article, we'll review four Danby refrigerator models made to fit in compact spaces, starting with two apartment-sized models around 10 cubic feet then moving on to mini fridge models under 5 cubic feet. Click here to skip to the mini fridge reviews if that's what you're looking for!
Table of Contents
1. Danby DFF101B1BSLDB Top Freezer Refrigerator - 10.1 cu. ft. - $739 MSRP
Our first Danby refrigerator review is for model DFF101B1BSLDB, a stainless steel look top freezer refrigerator with reversible doors and no handles for a seamless look. This is a 10 cubic foot model that is roomy enough for one or two people in a small apartment or a cottage at the beach. It can also serve as an extra refrigerator for the office, garage, or basement. It's currently priced at around $739.
The door storage allows you to store tall soda bottles on the door, and it has plenty of shelf space and drawers inside for all of your food storage needs, including clear vegetable crispers and adjustable glass shelves. LED lighting makes it easy to find what you're looking for. Reversible doors with integrated door handles make it suitable for any space and design, and it will fit nicely with other appliances. Its frost-free design will give you better performance, and it has an electronic thermostat for great temperature management.
This top-seller has a lot to offer and could be a great choice for an apartment, cottage, or other settings.
Dimensions:
Width: 23.4"

Depth: 26.1"

Height: 59.5"
Danby DFF101B1BSLDB - $739 MSRP - CLICK HERE FOR CURRENT PRICING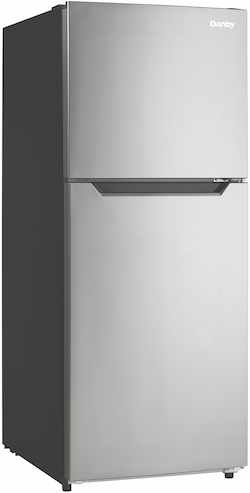 2. Danby DBMF100C1SLDB Bottom Freezer Refrigerator - 10.0 cu. ft. - $1,079 MSRP
Another option is the Danby refrigerator model DBMF100C1SLDB. This is a 10.0 cubic foot bottom freezer refrigerator. If you like the bottom freezer format and you are very short on space, this one will definitely fit the bill with its unique size and design. It has reversible doors with integrated handles, and the stainless steel look doors and black cabinet finish give it a great appearance and allow for easy cleaning.
Inside, you'll find plenty of storage space for your favorite foods, fruits and vegetables, and frozen items. Its electronic thermostat and frost-free design provide better temperature management and minimal maintenance. The interior is illuminated by three bright LED lights. The door shelving is roomy with 1 full-door shelf and 3 half-door shelves. Selling for about $1,079, it is priced just right and offers a lot for the money. If you want to spend more for a more premium look, you might want to consider Summit refrigerators.
It is also available in white for about $1,039. This bottom freezer model does not come in black. This one would be a great choice for any small space or extra refrigerator purchase. It's Energy Star-rated, so it'll save you money, too! A 12-month warranty on parts and labor with in-home service is included.
Dimensions:
Width: 23.4375"

Depth: 26.4375"

Height: 60.25"
Danby DBMF100C1SLDB - $1,079 MSRP - CLICK HERE FOR CURRENT PRICING!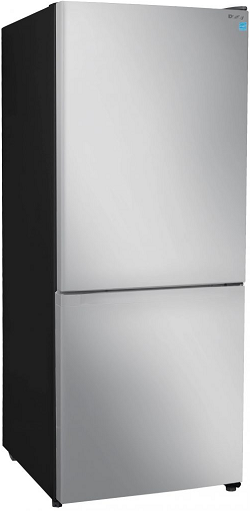 3. Danby DAR044A4WDD Mini Fridge - 4.4 cu. ft. - $369 MSRP
Do you want cold beverages on hand at all times for your office, den, or pool? A compact all refrigerator like the Danby DAR044A4WDD might be the answer! It's available in white or black for just $369, and is Energy Star rated. It has a reversible door hinge and interior light, plus Danby's Canstor beverage dispenser. The pocket handle helps it blend in with any decor.
Inside, it has three adjustable wire shelves: two full-width and one half-width. There are multiple door storage options as well. It has a mechanical dial thermostat to control the temperature. The warranty covers 18 months parts and labor.
Dimensions:
Width: 20.7"

Depth: 20.9"

Height: 32.7"
Danby DAR044A4WDD - $369 MSRP - CLICK HERE FOR CURRENT PRICING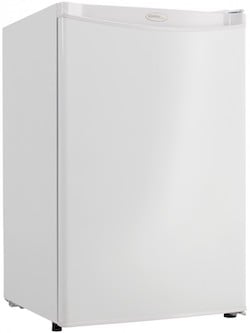 4. Danby DAR026A1WDD Mini Fridge - 2.6 cu. ft. - $299 MSRP
Need an even smaller mini fridge? This 2.6 cubic foot all refrigerator model from Danby fits the bill and can easily fit just about anywhere. Model DAR026A1WDD is Energy Star rated and comes with Danby's CanStor beverage dispenser and door storage for tall bottles. The top is scratch-resistant so you can use it for storage. The door swing is reversible and the integrated door handle keeps this model super compact. It has mechanical dial controls and automatic defrost.
Danby covers this model with an 18-month warranty on all parts and labor, too! It's a great deal for just $299 in white or black (model DAR026A1BDD).
Dimensions:
Width: 17.7"

Depth: 20.1"

Height: 27"
Danby DAR026A1WDD - $299 MSRP - CLICK HERE FOR CURRENT PRICING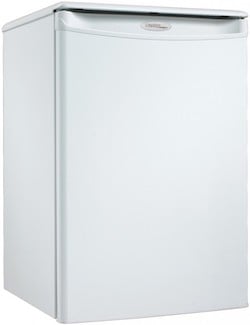 CLICK HERE FOR A COMPLETE LIST OF COMPACT MODELS WITH PRICING
These are only a few of the many products that Danby offers - our Danby refrigerator reviews are by no means exhaustive! We hope this article gave you a better idea of what Danby has to offer. You can't go wrong with these inexpensive, energy-efficient models. Want more mini fridge options? Check out our reviews: The Best Mini Fridges of the Year!
Please leave us a comment below. We'd love to hear from you!
Editor's Note: This blog was originally written in July of 2017 and has been completely revamped and updated for accuracy as of the publication date noted above.