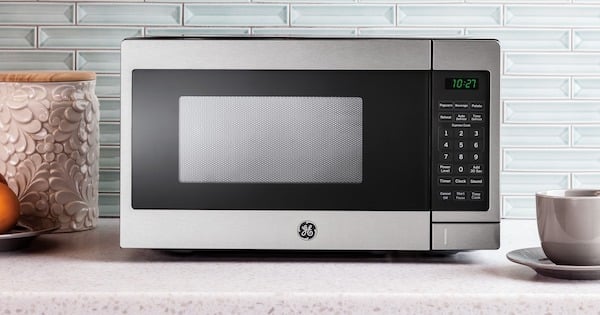 If you're not swimming in oceans of counter space, you may not find the latest and greatest microwaves with their massive capacities all that appealing. It can seem like manufacturers all think that you're looking for a second oven for your countertop! However, smaller microwaves are still available - and you don't have to sacrifice features and power for a compact model. We'll review the three best compact microwave models that customers have reached for time and time again to help you win the battle for more space in your kitchen.
These models are listed in no particular order but are numbered for your convenience. Let's dig in!
Watch Our Microwave Buyer's Guide Video for More Info on Choosing a New Microwave!
1. Whirlpool WMC20005YD - 0.5 cu ft - $179
Available in silver at $179 and in black or white at $169, this pick for the best compact microwave has a unique design: it's made to fit into a corner. This 750 watt microwave is a great option for mobile homes, RVs, and studio apartments. The turntable is still large enough to fit an 11-inch dinner plate!
This model has simple tap touch controls with 10 power levels and just a few presets: Reheat, Defrost, and Popcorn. If you mainly use a microwave for heating up leftovers or quickly reheating beverages, this compact microwave is a great option for small kitchens! It comes with a one year limited parts and labor warranty.
Dimensions:
Width: 15.4"

Depth: 13.75"

Height: 14.12"

Cavity Height: 6.75"

Turntable Diameter: 11.25"
Click here to read over 250 real customer reviews of this product!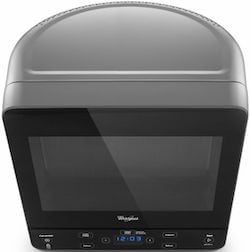 2. LG LMC0975ST - 0.9 cu ft - $159
This microwave is wide but relatively shallow and short. At 1,000 watts it offers the "sweet spot" for cooking power, and LG came up with some additional innovations to make their Neochef countertop microwave really worth your time. For example, the hexagonal turntable ring provides six wheels for the turntable to sit on rather than the typical three. If you've ever struggled to set a turntable into the microwave just right, or been frustrated as tall or heavy items pull the turntable off-balance, you know how great this feature is!
Another factor that has made this one of the best compact microwave models is the Smart Inverter technology. Typically, when you set a microwave to a lower power level - let's say 400 watts - the microwave isn't actually operating at 400 watts. Instead, it's "pulsing," operating at 100% power for a few seconds and then no power for a few seconds. This is why you'll get cooked edges when trying to defrost meat, for example. An inverter microwave can actually operate steadily at the lower power level you've selected. That means more consistent, even cooking and defrosting.
Other great features in this little microwave include bright LED lighting (three times brighter than typical microwave lighting) and an EasyClean interior with an anti-bacterial coating to make wiping down spatters or spills fast and easy. It comes with a one year limited parts and labor warranty and a ten-year parts warranty on the magnetron tube.
Dimensions:
Width: 18"

Depth: 14.5"

Height: 11"

Cavity Height: 8.97"

Turntable Diameter: 11.5"
Click here to read over 400 real customer reviews of this product!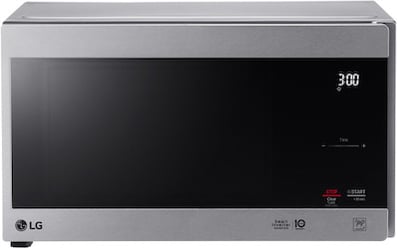 3. GE JEM3072DHBB - 0.7 cu ft - $129
Last but not least on our review of the best countertop microwave models is the GE JEM3072DHBB. It's available in black, white, or stainless steel. It comes with an optional mounting kit that you can use to install it under a cabinet to free up counter space - ideal for small kitchens! It is petite at 0.7 cubic feet and offers 700 watts of cooking power.
Unlike the previous two models on our review, this one has classic and familiar microwave styling with touch-button controls. Cooking options include automatic and timed defrost; Popcorn, Beverage, and Potato presets; and control lockout. Although we love the LG model above for its innovations, if you just want a simple and familiar microwave, this GE model might be a great option for you. The turntable is 9.625" across, which is the smallest out of the models on our list.
Dimensions:
Width: 17.3"

Depth: 12.75"

Height: 10.75"

Cavity Height: 7.8"

Turntable Diameter: 9.625"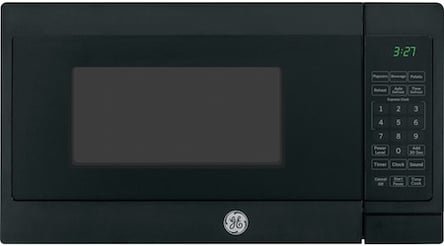 That sums up our list of the top three best compact microwave models. Which model is the best option for you? Well, Whirlpool has the smallest capacity model overall designed to fit perfectly in a corner, but it's actually the most expensive option on our list. You can get a more powerful inverter microwave from LG with great features for less! The GE model is a basic option, but you can mount it under a cabinet to really conserve space, plus it's the cheapest microwave on our list.
If you want the latest and greatest in microwave technology, packed into a small microwave - the LG model is probably for you. If you want a small and cheap microwave, the GE model is a great choice. If you care about conserving space over all else, the Whirlpool model is probably your best bet.
What compact microwaves have you used in the past? What do you think about these models? Leave us a comment below - We'd love to hear from you!