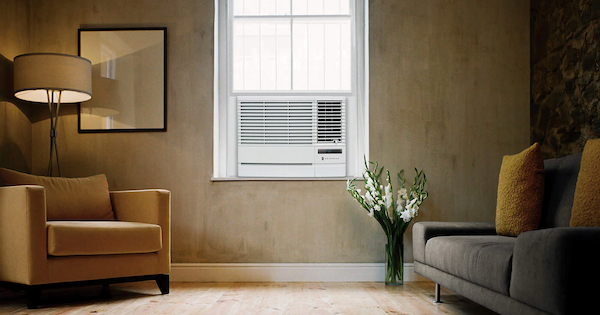 If you are searching for a new window AC unit, you should know that not all air conditioners are created equally. Window air conditioners have become a commodity in the appliance industry and are manufactured under many brand names. These branded air conditioners are available for purchase anywhere from the drugstore to the supermarket, with brand names that you either have never heard of or associate with some other product or industry. These brands usually have no service or parts support after the sale and are made to sell at a lower price with lower end features and quality. However, there are alternatives to these "disposable" air conditioners: brands like Friedrich and Frigidaire. In our window air conditioner review below we will focus on these two great brands.
These brands have been manufacturing quality air conditioners since the 1950s. Their air conditioners are sold through independent retailers and a few national chains. You'll find that they are manufactured to higher quality standards and backed up with manufacturer and dealer support to ensure the quality and longevity of the product. If you want a good air conditioner that will last, consider one from Friedrich or Frigidaire the next time you shop. You'll be glad that you did!
In our window air conditioner reviews, we'll compare a Frigidaire window unit with a Friedrich model (both with 8,000 BTU ratings) to help you choose the best option for your needs!
The Friedrich Chill CP08G10B - $459
The Friedrich Chill series CP08G10B is an 8,000 BTU air conditioner with features that you don't find in most other brands. It's among the quietest window air conditioners in its price range. The Auto Air Sweep feature uses a built in oscillating fan to move the air around the room more efficiently, and a 24-hour timer to allows you to program on and off times. You can choose from three cooling levels and fan speeds.
If you're looking for an easier installation process, this Friedrich window AC unit comes with a "slide out chassis." The chassis is basically the air conditioner's body, and with this feature you can separate the chassis from the frame or "cabinet." That way you can secure the cabinet to the window first, and then slide the chassis into the cabinet and attach the front panel. It weighs 60 pounds, so this is a great feature to have!
This unit can also be installed permanently into the wall by installing the cabinet into the wall and then sliding the chassis into the cabinet and installing the front panel. It also has a washable filter which is easily removable and an exhaust to get rid of stale air. This AC unit would be a good choice for any home in need of a window air conditioner!
Friedrich covers their room air conditioners for five years total - all parts are covered for the first year, and years 2-5 cover the sealed refrigerant system (such as the compressor and other parts). That's a pretty good deal! This unit will fit in windows from 20.125" (minimum) to 36" (maximum) wide and a minimum height of 13.875".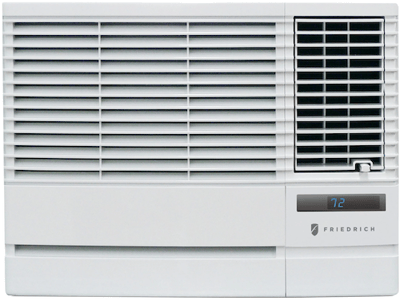 The Frigidaire FFRE083ZA1 - $279
Next up in our window air conditioner reviews is the Frigidaire FFRE083ZA1, an 8,000 BTU air conditioner which also has some unique features that separate it from most other air conditioners in its price range of $279. Frigidaire is one of the best window air conditioner brand names on the market and has been for years. You can see why with this awesome model.
This popular model comes with Effortless Temperature Control so it can maintain a preset room temperature. Sleep Mode offers energy savings by gradually increasing the set temperature a few degrees in the evening, or just use the 24-hour timer. If the power goes out or your window AC unit is accidentally unplugged, it will restart at the settings you previously chose when you turn it back on. A remote control lets you adjust the temperature and choose from three fan speeds.
The air conditioner will alert you when it's time to clean the anti-bacterial mesh filter, and an extra-long power cord is another nice feature. Note that this model does not offer the slide-out chassis like the Friedrich model so it can be somewhat more difficult to install if you're not used to moving 60 pounds around!
This model fits windows with a minimum height of 13.25" and a width of 22" (minimum) to 36" (maximum). Frigidaire covers this window AC unit for 1 year on the full appliance and 5 years on the sealed system.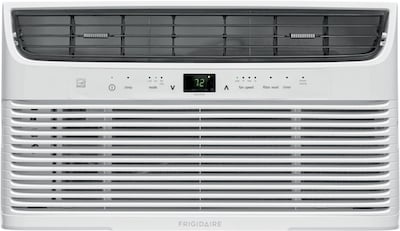 In Conclusion...
As you can see, the Friedrich model costs more but has a more modern design that can fit in narrower windows than the Frigidaire model. You're getting a great warranty with either option, but Friedrich offers more installation flexibility with the slide-out chassis and wall installation option. Also, if you're looking for an air conditioner that will let you exhaust stale air outdoors periodically, you may prefer the Friedrich model. Otherwise if you want a basic option that should be reliable and easy to use, the Frigidaire unit might be perfect for your needs!
Both Friedrich and Frigidaire offer a wide variety of air conditioners including window units, wall units, portable units and mini splits. We hope you found these window air conditioner reviews helpful. Take a look at their products the next time you go shopping and you will surely find a model that will fit your needs.
Please leave us a comment below - We'd love to hear from you!
Editor's Note: This blog was originally written in January of 2018 and has been completely revamped and updated for accuracy as of the publication date noted above.