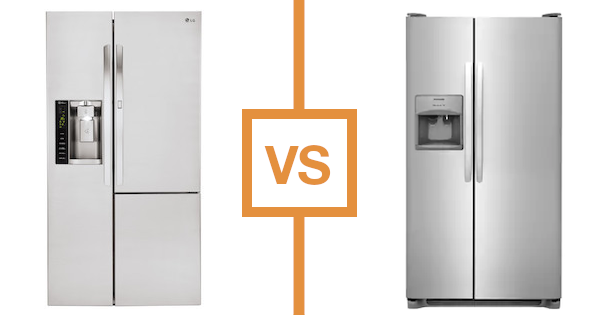 The refrigerator is a crucial home appliance that may only be replaced every 8 to 10 years, so finding the ideal fit that will stand up to the tests of time is important when you're shopping for a new one! One interesting refrigerator style is the side by side refrigerator, known for being spacious and easy to use without bending over to access fresh or frozen items.
Two of the best side by side refrigerator models you should consider are the LG LSXS26366S and the Frigidaire FFSS2615TS. Take a look at our review below to learn more, and check out our list of the best side by side refrigerators of the year for more products to compare!
1. The LG LSXS26366S - 36" - 26 cu ft - $1,799
First up in our side by side refrigerator review is the 26 cubic foot LG LSXS26366S, a high-end model with a door-in-door design that's available in black stainless steel at $1,899 or stainless steel at $1,799. The door in door is a compartment that you can access through the fresh food door without opening up the entire refrigerator and letting cold air escape. The ColdSaver panel keeps the main refrigerator compartment cool, and you can store drinks and snacks in the door in door compartment for easy access.
Learn more about door in door refrigerators in 30 seconds!
The SpacePlus Ice System is an in-door design that saves shelf space. Integrated digital temperature controls on the water dispenser are easy to access and adjust. Four tempered glass shelves with thin frames and two crisper bins maximize your storage space in the refrigerator section. The freezer section has three shelves and two clear bins as well. The door in door compartment comes with its own dedicated bins to add to the storage capacity.
The warranty covers one year parts and labor on the whole refrigerator, five years parts and labor on the sealed system and linear compressor, and parts only on years 6-10 for the linear compressor.
Features:
LED lighting

Door-in-door design with ColdSaver panel

In-door SpacePlus icemaker system to free up freezer shelving space

Smart Cooling

LoDecibel™ Quiet Operation

Auto-closing door hinge
Dimensions:
Width: 35.38"

Depth: 35.75"

Height: 69"
Click here to read over 220 real customer reviews of this product!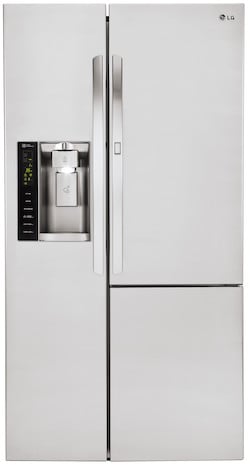 2. The Frigidaire FFSS2615TS - 36" - 25.5 cu ft - $1,199
If you're looking for tried and true when it comes to refrigerators, you might want a Frigidaire. Frigidaire has become a trusted home appliance brand with its refrigerators at the forefront since its founding in 1916. Over 100 years later, and they're offering one of the best side by side refrigerator choices on the market! The Frigidaire FFSS2615TS is a 25.5 cubic foot side by side refrigerator that comes in stainless at $1,199, premium black stainless at $1,299, and black or white at $1,099.
You can get a ton of bang for your buck with this Frigidaire refrigerator. Edge-to-edge adjustable Store-More shelves plus gallon door bins and a deli drawer give you over 100 ways to customize your refrigerator's setup. When it's time to replace the PureSource 3 ice and water filter, the control panel on the front of the door will alert you. Ready-Select electronic controls allow you to adjust the fridge and freezer temperature from 1 to 9. Single-level LED lighting offers cool, bright light so it's easy to find what you need.
If you're looking for a refrigerator with more basic features and styling, this side by side model is a great option that's on the cheaper end but still has a large capacity. It's covered by a one year parts and labor warranty.
Features:
Factory-installed icemaker with PureSource 3 filtration

Adjustable Store-More shelves with clear shelves and bins

Single-level LED lighting
Dimensions:
Width: 35.625"

Depth: 31.75"

Height: 69.625"
Click here to read over 50 real customer reviews of this product!
Frigidaire FFSS2615TS - $1,199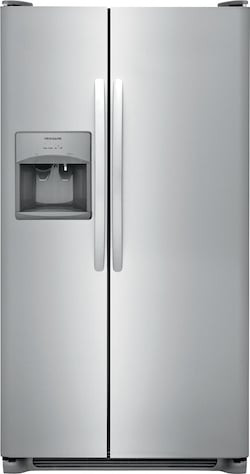 Features Comparison
Internal Features: LG wins here with the door-in-door option and in-door icemaker, plus tempered glass shelving in both the fresh and frozen sections, not just the fresh food section. If you want a deli drawer, you may prefer the Frigidaire model, but that's about all it has that the LG model lacks. The Frigidaire model has more basic temperature controls as well rather than the exact digital temperature controls the LG model offers.

Look & Feel: LG wins again with a sleeker exterior appearance plus a taller ice and water dispenser with integrated smooth touch LED digital temperature controls. However, the Frigidaire model is shallower so it won't stick out into your kitchen as much. They have similar capacities and external dimensions otherwise.

Warranty: Frigidaire offers a basic one year parts and labor warranty, while LG offers more coverage for the sealed system and compressor - both parts and labor.
Overall, we think LG is the winner in this comparison of LG vs Frigidaire side by side refrigerators, but if you are on a budget or don't want as many bells and whistles then the Frigidaire model is a great option. Either way, you're getting a great deal, especially compared to the expense of fashionable French door models!
Which one would you choose, and why? Leave us a comment below - We'd love to hear from you!
Editor's Note: This blog was originally written in March of 2018 and has been completely revamped and updated for accuracy as of the publication date noted above.