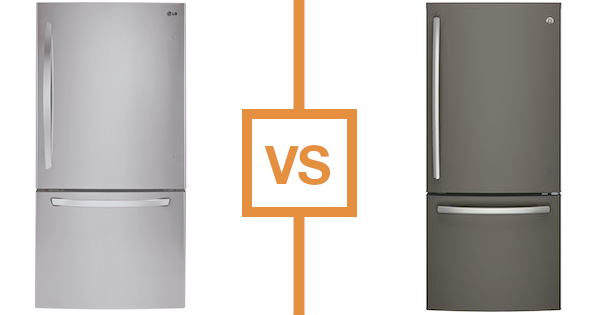 LG and GE are top appliance manufacturers known for their great styling and innovative tech features. If you're looking for an eye-catching refrigerator upgrade, these two brands offer some great potions. Bottom freezer refrigerators are becoming less common thanks to the popularity of French door refrigerators but they're still a great upgrade from traditional top freezer styles for budget-conscious consumers.
To help you narrow down your choices, this bottom freezer refrigerator review compares two models from LG and GE available at similar price points and sizes. Each offers some unique features that would be a big hit in your kitchen! We'll help you compare LG vs GE refrigerators in the bottom freezer style so you can save money and choose the features you need.
Table of Contents
1. The LG LRDCS2603S - 26 cu. ft. - $1,799 MSRP
Let's start out our bottom freezer refrigerator review with the LG LRDCS2603S. Right off the bat, it has some great capacity specs: a 26 cubic feet capacity in a 33" width. French door refrigerators with this cubic footage are almost always 36" wide, so this model is a great pick for households with a lot of people but not a lot of space. It's available in fingerprint resistant stainless steel at $1,799 MSRP.
What else does LG have to offer? Plenty! This model is Energy Star rated (rated Most Efficient 2020) with LED lighting, adjustable door bins and spill-proof glass shelves, plus a freezer with two-tier drawers and a factory-installed icemaker. LG's SmartDiagnosis system allows you to use your smartphone to troubleshoot issues and make service calls easier. Many new refrigerators today use sensors to adapt to temperature changes and make sure every area of your refrigerator is perfectly cooled. LG's SmartCooling system does just that with the help of the linear compressor.
On top of all that, you get full coverage on the first year of parts and labor, five years parts and labor on the sealed system and linear compressor, and an additional five years of parts only on the linear compressor. This XL-capacity refrigerator is a great pick for large households!
Dimensions:
Width: 32.75"

Depth: 29"

Height: 69.88"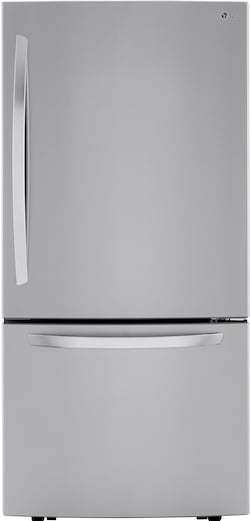 2. The GE GDE21EMKES - 30" - 21 cu ft - $1,998
Next up in our bottom freezer refrigerator reviews is the GE GDE21EMKES. Available in GE's new and exclusive Slate finish or stainless steel at $1,998 and black or white at $1,898, this 30" 20.9 cubic feet capacity refrigerator could be the perfect option for a kitchen upgrade. Learn more about slate vs stainless steel in our article on the topic!
It's Energy Star rated, so it will save you money on electricity. It has a digital temperature display rather than the dial controls found on cheaper fridges. This digital display reflects actual temperature that helps avoid food spoilage. It can also be easily adjusted through the upfront controls. A factory-installed icemaker includes advanced water filtration for clean-tasting ice, and the Turbo Cool setting helps the temperature bounce back fast after frequent openings, such as when putting away groceries.
This Energy Star rated 30'' bottom freezer refrigerator comes with a one-year warranty for parts and labor. The slate finish is unique to GE appliances and a must-see if you're interested in a luxe, earth-toned look for your kitchen.
GE also offers a 24.8 cubic feet capacity 33" wide model, the GE GDE25EYKFS priced at $2,098, if you're interested in something larger.
Click here to read over 125 real customer reviews of this product!
Dimensions:
Width: 29.75"

Depth: 36.625"

Height: 69.875"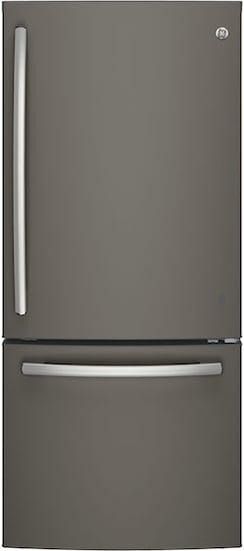 Features Comparison
Capacity: LG wins with 26 cubic feet packed into a 33" width, but if you need something to fit a 30" width then the GE model is a great pick at 21 cubic feet. However, pay attention to the depth as well. The LG model is 29" deep while the GE model is almost 37" deep, so it will stick out more from counters, which are typically 24" deep.

Design: They are both pretty decently featured models with solid refrigerator organization options. LG offers a full-width deli drawer while the GE model is a half-width drawer tucked under a shelf. Both have humidity controlled crispers and plenty of door storage. GE wins in terms of colors and styling since it comes in slate as well as stainless steel, black, or white.

Technology: Both models are Energy Star rated, but LG's linear compressor is an interesting feature since it's more reliable, more efficient, and quieter than traditional compressors. Check it out if you're interested in the Smart Diagnosis troubleshooting feature and if you need a quiet refrigerator for your open floor plan. Both models have digital temperature displays, which is a nice change from the guesswork of electromechanical dials!
That sums up our bottom freezer refrigerator reviews comparing LG vs GE. If smart features and an XL capacity are at the top of your list, check out the LG model. If you want to explore a unique earth-toned metal finish and love efficiency-boosting features, the GE model might be a great option to look into. Both models are similarly priced and could be a great option for your home. If you want to explore more options, check out our review of the best bottom freezer refrigerators of the year!
Which do you think is the best bottom freezer refrigerator? How do you think these two models and brands compare? Leave us a comment below - We'd love to hear from you!
Editor's Note: This blog was originally written in June of 2018 and has been completely revamped and updated for accuracy as of the publication date noted above.