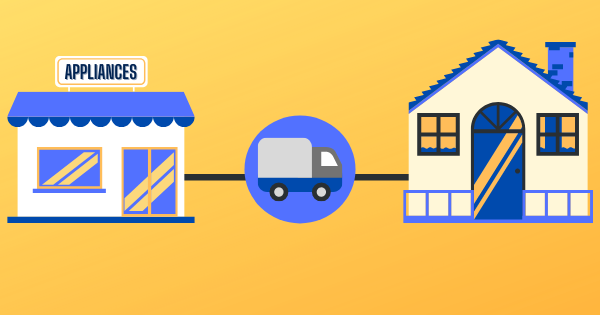 Most of us have had experiences with product deliveries that didn't go as we expected. Maybe it was a vinyl record that was left to melt in the sun all day, or perhaps it was a bulky piece of furniture or remodeling materials that were dropped in your driveway rather than being brought into your home or garage.
These situations are frustrating - and when you're dealing with a heavy appliance that you paid good money for, lack of information about delivery can cost you time, money, and effort that could have been spent on other things. Here is some information about appliance delivery that you might not have considered.
Jump To:
What Does Delivery Mean?
When it comes to appliances, we want to assume that installation is included with the delivery cost - but this is not always the case. It's tempting to choose the store with the lowest delivery charge, for obvious reasons. However, you should make sure you know what you're getting - and what you're not getting.
Our base delivery charge to most areas is $99. What are our customers getting for their money?
We'll bring the appliance into their home.

Simple hookup processes are included - e.g., washing machines, electric ranges and dryers, or a refrigerator without a water line.

We remove the packaging materials.

We can also remove one old appliance for them and dispose of it.

We also include power cords, venting, and hoses for electric ranges, electric dryers, and washers.
(When it comes to more complex installations like dishwashers and gas appliances, we have installers we recommend that will perform the same delivery process we offer above, while also installing your new appliance to current safety and quality standards.)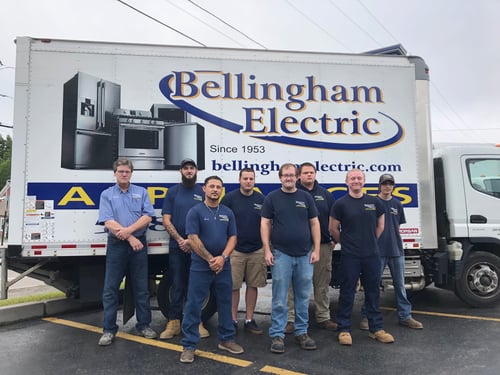 On top of that, there are less obvious benefits.
Our delivery team is specialized. We're not delivering power equipment and construction materials in addition to appliances. Our team is trained to manage appliance delivery and installation from start to finish. That means taking steps to protect floors and door frames from damage and knowing the correct procedures for proper installation.

We'll communicate with you on the day of delivery. We're actually in the process of improving how we reach out to you and let you know we're on our way, but here are the basics:

We have two delivery windows, AM and PM. AM deliveries typically take place between 8:00 AM - 1:00 PM, and PM deliveries are typically between 11:00 AM - 6:00 PM.

We'll try to give you an idea of your place in line, although delays happen that we can't predict, so we can't provide an exact time for delivery.

The drivers will give you a call about 30 minutes prior to arriving at your home to let you know they're en route.

Customer service doesn't end with delivery.

If you have questions or concerns, or in the event that you have a problem with your appliance, we're easy to reach and ready to help.
Do we make every effort to make the process easy? Yes. Do things still go wrong sometimes? Of course! In those rare cases, you're going to have a better experience with us than with a big box store or online retailer. We take responsibility for every step of the process.
We don't need to outline the alternatives. It's highly likely that you've had an important delivery go wrong at some point in the past few years, or you've heard stories from people you know. If you've ever spent way too much time on hold, or been told in so many words "it's not our problem" or "it's their problem, call them"... you know what it's like. Now, imagine that happening with a large, heavy, costly appliance.
Questions You Should Ask About Delivery
Some of these questions should be asked directly to your salesperson. Others are simply to get you thinking critically about delivery policies.
What's actually included? Never assume. Will they charge extra for deliveries to upper floors? Do they hook up the appliance? Do they remove the old one? Or are they going to drop that expensive appliance at your door and call it good?

Is delivery in-house or outsourced? Do they specialize in delivery and installation of appliances?

Are they going to take steps to protect your floors, doors, and so on?

Who do you go to if something goes wrong? Can you talk to the store directly or will you be going in circles with 1-800 numbers?

Are there reviews about this store that mention appliance delivery? Are they positive or negative? Does the store respond to these reviews respectfully and/or try to make it right? (Check their Google listing and social media if they have any.)
What Should You Do at Delivery?
Being proactive is always a good idea. Here are some things you should do when your appliance is delivered:
Be ready for your new appliance. Clear the pathway to the installation location, starting at your driveway or front door. There may be other things you should do as well. For example, if you want your old refrigerator hauled away, unload everything and pack it into a cooler with plenty of ice.

When the appliance arrives and has been unpacked, inspect it for damage inside and out. Look inside that new refrigerator and make sure the shelves are intact. Check the sides and back of a new washer for dents. And so on.

Make sure the model number you received matches what you purchased. This may be a good time to get the serial number as well if you are submitting a rebate.

Make sure you have the owner's manual and any other relevant papers.

Assuming you're working with a solid delivery team like ours, give them space to do their job - because they know what they're doing!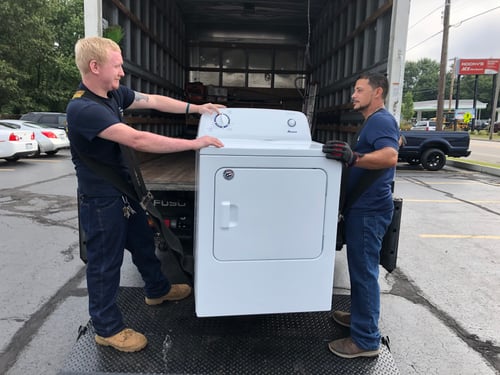 Should You Tip for Appliance Delivery?
Here is our experience: it's not expected, but if you are impressed by the delivery team's work, it is always appreciated. Maybe the team faced challenging weather conditions or navigated an unexpected setback well, or maybe you were simply impressed that they could haul a refrigerator up a flight of stairs!
You can also send us an email or give us a call to share your appreciation. It's always rewarding to hear what we're doing right as we strive to continue improving.
Conclusion
We hope this helped you understand what you should be thinking about when it comes to appliance delivery. If you have further questions, leave us a comment below!